Events
ATC's April Leadership dinner focused on "What it takes to scale your business". We welcomed professionals who were seeking guidance in anticipation of scaling or advice on their current scaling journey. Indeed, making the decision to proactively grow your business is a momentous decision that requires forethought and guts.
These are a few tips from our panelists that will help you when you're ready to make the leap! Get more details about the 2019 Scaling Series, a curriculum-based course to equip executives with the skills necessary to transform your company, HERE.
Invest time into identifying your client profile.
You have to be willing to walk away from business that isn't in your client profile. It's so difficult, but so healthy for your business strategy.
Understand your funding.
What is absolutely critical to the success of your business vs what is important to the success of your business? You may need to look at important needs and make some tough decisions about which funding will go (or not go) towards funding .
Survey your market.
It seems like a no-brainer, but surveying your market in preparation to scale can strengthen your strategy. For example, product #1 from The ABC Company – creative, I know – is not making the revenue impact originally projected.
The company could decide to cut the product and put $3million into developing a new line
OR
They can learn that customers are unimpressed with the lack of durability in the product design and make the decision to put $200,000 into changing the design to a longer-lasting color palette
Finding the right feedback mechanism for your market is critical.
Have you built a culture of accountability?
Scaling companies cannot live without a culture of accountability. Build your values into the hiring process from the beginning to get the core employees who are positive, effective, and phenomenal. They will be the ones to uplift your employees when the company experiences growing pains.
Each of our Leadership Dinners provide an environment to foster relationship-building with the right people and valuable discussions to make sure you are implementing the most impactful and cutting-edge business strategies to reach your goals.
We hope to see you at the next event! Check out our event calendar HERE for details and tickets.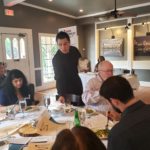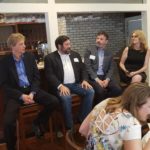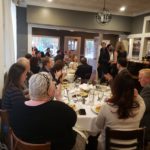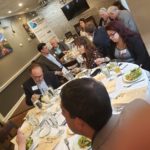 Setting you up for success.
Please join us Monday, April 1st 11 am at the City of Austin's Council Chambers as Austin Mayor Steve Adler, Travis County Judge Sarah Eckhardt, and Austin Technology Council's CEO Amber Gunst help launch April's Million Mile Month.
The Million Mile Month is a global challenge to help get people moving and healthy, through a fun collective goal to achieve one million miles of activity – walking, running, cycling, yoga, swimming, even dance – just move.
Is your organization up for the Challenge?
There is still plenty of time to sign up and engage your employees – full or part-time – local and global, in this fun healthy challenge.
Complete these steps to register:
Organizations can register here; please see the intro video, organization sign-up form, and event implementation materials at the bottom of the page. The program is simple and quick to implement. https://events.healthcode.org/wellness
There is no charge for organizations or individuals. A fun, way to engage employees, families, and communities to be active and healthy.
The Million Mile Month is from HealthCode, a nonprofit whose vision is that everyone should enjoy the benefits of a healthier, happier life. (Info doc)
Individuals can register here. https://events.healthcode.org/mmm2019
Contact HealthCode with any questions: steve@healthcode.org  512 970 7443
Steve Amos
Executive Director, HealthCode
IResolve, Million Mile Month, Marathon in a Month, Green Ribbon Schools / Healthivores Programs
steve@healthcode.org   o: 512-322-9323     m: 512-970-7443
www.HealthCode.org
What is your role with Enterprise Ireland?
I am a Market Advisor for Digital Technologies, based in Enterprise Ireland's Austin TX office. I was previously based in Enterprise Ireland's New York office for two years, where I worked with Irish fintech companies targeting the US financial services market.
My current role involves working with Irish companies across the spectrum of technology, with a specific focus on supporting client activities in Texas and the Southern States.
What makes it so rewarding?
Having the opportunity to raise the profile of Ireland and Irish companies in Texas by promoting it as a hub of innovation and a source of world-class technological solutions is very exciting. The depth of talent and creativity that can be found in Irish enterprise is quite astounding and I love being able to bring this message to those that I meet here at the SXSW event.
What changes in the US tech industry have you witnessed within the last few years?
Looking back to when I moved to the US about two and a half years ago, it's amazing to see the pace at which the tech industry has changed. When I first got here, there was a lot of hype around technologies like blockchain, AI and machine-learning and their potential impact on traditional industries. We are now just starting to see actual practical use cases of how these technologies can be implemented. It seems that every large corporation has a team dedicated to looking at how to best harness these technologies.
There has also been a change in how large enterprises approach working with start-ups. There is less of an attitude of competition with these potential disruptors and more of an openness to collaboration and working together to solve challenges. Many corporates now have venture arms and specific programs for directly engaging with early-stage companies. For example, Oracle opened its first US start-up accelerator in Austin last year.
Where do you see the industry going?
A key trend that I see is the rise of technology ecosystems outside of the traditional big tech hubs. As costs continue to rise in crowded markets like New York and the SF/Bay Area, companies both big and small will need to look to other regions if they want to continue growing. We're already seeing this in Austin, where essentially every tech MNC has established some sort of presence in the area, with many of them continuing to grow their footprint.
Apple already has 6,000 employees in Austin and recently announced the building of a $1bn campus for 7,000 more. I think this emergence of new tech hubs bodes well for Irish companies, as it will provide them with more opportunities to enter and expand into the US beyond the traditional East Coast/West Coast markets.
What do Irish tech companies bring to the table in this industry?
When it comes to the emerging technologies that currently dominate industry conversations, Irish start-ups are showing real ingenuity in areas like AI, blockchain, and IoT. The presence of many large tech multinationals in Ireland, coupled with world-class research institutions, has led to the development of commercially-focused innovations. Irish companies bring a depth of knowledge and experience in how to apply these technologies in real value-added ways and there is also a flexibility in their approach to partnering with large enterprise that allows them to solve some of their most challenging problems. This flexibility is one of the key reasons for the global success of Irish tech companies.
Any tips for digital tech companies looking to expand into the US?
The US is a huge market and any Irish company looking to the US for the first time needs to decide on which region makes most sense as an entry point. This means researching things like where their customer base is concentrated and the business environment of specific locations.
Regardless of where a company decides to direct its focus, the need to be present in-market is paramount. Competition in the US is fierce and those that want to succeed need to be committed by having people on the ground so that they can always be attentive to customer needs and continually build relationships.
It's also often the case that early stage Irish companies don't fully appreciate the costs and complexities of US market expansion. I would encourage start-ups to actively seek advice from other Irish entrepreneurs and companies that have done it before because they can provide insights on what to do and more importantly, what not to do.
How long has EI been attending SXSW?
Enterprise Ireland has had a stand at the SXSW Interactive Expo for the last seven years, where we bring a cohort of Irish tech companies to exhibit. SXSW Interactive is one of the largest and most high-profile technology conferences in the USA and is always a marquee event on the tech industry's calendar. The fact that it coincides with the week of St. Patrick's Day every year means that there is already an increased awareness of Ireland on the global stage and allows us to leverage this publicity to highlight our presence at the show.
Why is SXSW important for Irish companies?
For non-US based start-ups and earlier stage companies, coming to SXSW allows them to validate their product and value propositions in a high feedback environment prior to committing to more substantial market development. Some of our companies come to promote the launch of a new product and SXSW provides an ideal platform to reach a US tech-focused audience.
Of course, with so many major players from a variety of industries in attendance, Irish companies will have access to potential partners and customers with whom they can begin building relationships. There is also a large presence of the US investment community so companies who may be seeking funding have the opportunity to connect with potential investors.
What are you looking forward to most at SXSW this year
I'm looking forward to just getting onto the trade show floor and being in the middle of this kaleidoscope of large brands, corporates, thought leaders, media, investors and start-ups. SXSW really is the perfect storm of everything new and exciting about the US tech industry. Past shows have proven to be the launching pad for global brands like Twitter and Instagram so I can't wait to see what future phenomenon might emerge at this year's show.
From Enterprise Ireland's perspective, we're particularly excited to have some of our companies presenting on stage at the International Innovation Platform, giving them the chance to show exactly what Irish innovation has to offer.
Who are the Irish companies exhibiting at SXSW this year?
LogoGrab
LogoGrab is the leading logo and mark recognition API used to monetize, track and monitor brand logos that appear in visual communications online.
Kinzen
Kinzen is an app that allows you to curate all your news sources in one place in an effort to battle the influx of 'misinformation'.
GECKO Governance
GECKO Governance is a RegTech solution for managing compliance in the Fund Management, Banking & Digital Asset industries. The system is integrated with Blockchain technology and enables users to manage their end to end compliance and regulation requirements from one central dashboard.
KRIB
The revolutionary KRIB fills water heaters from the top down with hot water, which thanks to an intelligent control system, helps KRIB save energy, reduce water consumption and lower energy bills.
ServisBOT
AI technology that is transforming customer engagement through conversational AI and takes away the reliance on human interaction. Uses Conversational AI to reduce operational costs by adding smart chatbots to communicate with customers on webpages.
Poppulo
All in one internal communications platform. Allows companies to manage and curate internal communications.
Design Partners
Design Partners is a product design and interaction design agency. For over 30 years, they've been designing best-selling and award-winning product experiences for brands around the world in three specialist categories: consumer, healthcare and professional.
Swrve
Customer engagement platform that utilizes micro-targeting to increase visibility. Provides real-time marketing automation software over a number of platforms with compelling CTAs.
How to find us at SXSW 2019
Sunday Mar 10-13
Austin Convention Center
Booth 119