Events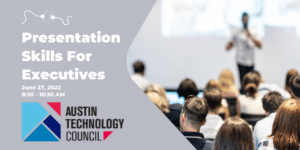 Do you or someone on your team need to improve your speaking skills?  The June 27th ATC Roundtable Breakfast will be a presentation about presentations.
Being able to clearly and concisely share your ideas when the speaker at an event is more important than most people think. Every leader should present great content with an engaging speaking style every time they address an audience. But a busy schedule often means executives are winging it most of the time. The problem is when you wing it, you rarely deliver the best presentation.
Austin Technology Council CEO, Thom Singer, has delivered over 1200 professional presentations over 15 years.  During this time he has learned how to structure a short talk or a keynote to engage the audience. In this presentation he will share the five tips every executive should know about speaking (inside the company or to a conference audience).
This is a "must attend" event for everyone who wants to learn a few realistic tips on how they can be there best when they take any stage.  Be sure to bring any team member who could benefit from being a better speaker.
Join ATC at the new offices of Calavista Software (9225 Bee Cave Rd STE A-350, Austin, TX 78733).
Register Now – https://atc.ticketbud.com/presentation-skills-for-executives
Diversity and Social Justice – A Starting Place

Join the Austin Technology Council for our final webinar of 2022, featuring Jessica Pettitt.
Unlike other online diversity trainings, this course introduces the concepts that the user or learner can utilize in their own lives immediately. Regardless of each participant's identities and lived experiences, the concept of how we coexist, interact, and impact one another is imperative to build better teams, better connections, and deeper relationships.
Spend an hour reflecting on how you fit into the conversation of diversity. Coming to terms with our own unique positive and negative bias as well as how that intersects with our responsibility of perception and sense of entitlement to validation is the foundation of social justice work. Our experiences, choices, and impact, both intentional and unintentional, matter. This is the starting place.
Learning Outcomes
• Recognizing difference and engagement habits;
• Personal reflection and seeking out new experiences;
• Feeling safe and prepared;
• Conscious and Unconscious Bias, both positive and negative;
• Recruitment, Retention, and Fit; and
• The role of Curiosity, Generosity, Authenticity, Vulnerability.
AUSTIN, Texas — The Austin Technology Council will host its annual CEO Summit on Monday, Oct. 17, at Hilton Austin from 1:00 to 8:00 p.m. The event, exclusive to C-suite executives, presidential leadership, and managing directors of corporate offices, provides a platform for networking and learning that extends far beyond the half-day summit.
Between networking, drinks and dinner, attendees will engage in panel discussions on topics including the changing nature of work roles, the future of funding for entrepreneurs and cybersecurity risks and recovery methods. Sarah Jones Simmer, serial entrepreneur, funding expert, former chief operating officer of Bumble, cancer survivor and current chief executive officer at startup Found, will end the night with her keynote speech on the power of resiliency.
"As Austin has emerged to be one of the country's premier technology hubs, mutual guidance is key to scaling rapid growth," Thom Singer, CEO at ATC, said. "The summit is a breakthrough experience for strapped CEOs, C-Suites and technology leaders, giving them the opportunity to step back from the day-to-day time crunch and collaborate with their peers at a grassroots level."
Austin's technology-related jobs total approximately 185,000, or close to 17% of all jobs, compared to 9% nationally, contributing to the industry's steady growth over the past decade. Behind Austin's growing technology sector is a powerful C-suite representing ATC members with ideas that advance the mission of developing life-altering technologies.
"Austin is a city at the forefront of innovation and how its leaders choose to engage with each other now will dictate success in the future," Scott Francis, ATC's chairman of the board and CEO and co-founder of BP3 Global Inc., said. "Making Austin a better place for technology companies to thrive is ultimately what the summit is all about."
For more information on the CEO Summit visit the website.
About Austin Technology Council
As the largest tech industry organization in Central Texas, the Austin Technology Council is a unifying voice and collaborative platform for innovation and technology, supporting the growth goals of its member businesses by providing knowledge and access in the areas of capital, talent, business mentoring, and networking.