ATC Member Blog
Austin is home to a thriving technology industry that has grown rapidly over the past few decades. This vibrant tech community has attracted businesses and individuals from all over the world, creating a unique ecosystem of innovation and entrepreneurship. But the thriving city we live in today did not happen by accident. Community leaders like George Kozmetsky, Carol Thompson, Pike Powers, Laura Kilcrease, Angelos Angelou, and many others established a foundation in the 1980s and 1990s that set us up for all we enjoy today in the tech community.
The Beginning: IBM and Texas Instruments
The roots of Austin's tech industry can be traced back to the 1960s, when IBM and Texas Instruments established their presence in the city. These two technology giants were attracted by the University of Texas at Austin, a leading research institution, and the city's low cost of living. IBM opened its first office in Austin in 1967, and Texas Instruments followed in 1969. The arrival of these companies paved the way for the development of the city's technology ecosystem.
The Birth of Austin's Silicon Hills
During the 1970s and 1980s, Austin witnessed a surge in high-tech companies, which earned the city the nickname "Silicon Hills." This growth was fueled by the establishment of the Microelectronics and Computer Technology Corporation (MCC), a consortium of leading tech companies, in 1983. MCC's presence in Austin attracted more technology businesses to the city, and many startups began to emerge, focusing on semiconductor manufacturing, software development, and computer systems design.
The Sematech Consortium and the Rise of Semiconductors
In 1988, the Sematech consortium, a collaboration of semiconductor manufacturers, was founded in Austin. This initiative aimed to strengthen the competitiveness of the U.S. semiconductor industry and to accelerate technological advancements in semiconductor manufacturing. Sematech's establishment in Austin drew significant attention to the city and its thriving tech industry. As a result, major semiconductor companies like Motorola (now NXP Semiconductors), Advanced Micro Devices (AMD), and Samsung invested heavily in the region, opening fabs and research facilities.
The Dell Effect
Perhaps one of the most influential forces behind Austin's tech boom was the rise of Dell Technologies. Founded in 1984 by Michael Dell, a University of Texas at Austin student, Dell quickly grew into a global powerhouse in the personal computer market. The company created a ripple effect that attracted many other technology companies, vendors, and suppliers to the area. Dell's success also spawned a culture of entrepreneurship and innovation in Austin, leading to the formation of numerous startups and the growth of venture capital investment.
In addition to Dell, several other companies have contributed to the growth of the entrepreneurial spirit in Austin; IBM, Texas Instruments, Tivoli, Trilogy, and others spawned former employees who went on to found and lead countless other companies in the region.
The 1990s
Throughout the 1990s, the technology industry in Austin continued to grow, with many new startups and established companies setting up shop in the city.  The reputation of Austin began to become well known to everyone across the country who worked in technology.  Through the efforts of civic leaders, local government, and the Greater Austin Chamber of Commerce, the city became not only a place to start a company, but also a leading place to open satellite offices or move a company's headquarters. Additionally as the employment opportunities grew, the city quickly attracted young talent to fill these jobs.
The supportive environment for startups and entrepreneurship that emerged in the 1990s has become part of the city's culture. This has fostered a strong community of angel investors and venture capitalists, who are willing to invest in promising startups. We now boast a thriving ecosystem of all the services needed to run a technology company.
Recent Era
In recent years, Austin has continued to grow as a hub for technology innovation. The city is now home to a wide range of companies, from established tech giants like Apple, Google, and Facebook, to innovative startups and cutting-edge research institutions. This diverse ecosystem of innovation has helped to establish Austin as one of the most dynamic and exciting technology hubs in the world.
One of the key factors driving the growth of the technology industry in Austin is the city's strong focus on education. Austin is home to several world-class universities, including the University of Texas at Austin, which has a highly regarded computer science program. This focus on education has helped to attract top tech talent to the city, fueling innovation and growth in the industry.
Another factor driving the growth of the technology industry in Austin is the city's supportive business environment. Austin has a highly entrepreneurial culture, with a strong network of support for startups and small businesses. The city has also offered a range of incentives and tax breaks to businesses in the technology industry, making it an attractive destination for companies looking to establish a presence in the region.
The secret sauce to Austin has been the high quality of life. While the city was more affordable a decade ago, it is still not as expensive as the Valley, New York, Boston, or Los Angeles.  The city offers a diverse and vibrant cultural scene, with a thriving music and arts community, as well as a range of outdoor activities and recreational opportunities. This high quality of life has helped to attract top talent, making it an ideal destination for tech workers and entrepreneurs.
Companies like Tesla, SpaceX, Vrbo, Indeed, ZenBusiness, and many others are leading the way in our current economy.  With groups like Opportunity Austin, Capital Factory and others making waves to keep Austin moving forward.
The Future
The history of the technology industry in Austin is a story of growth, innovation, and entrepreneurial spirit. From IBM's early establishment in the city to the thriving tech ecosystem that exists today, Austin has emerged as one of the most dynamic and exciting technology hubs in the world. With its strong focus on education, supportive business environment, and high quality of life, Austin is well positioned to continue driving innovation and growth in the technology industry for years to come.
It is important that we continue to share the stories of our history and make sure that the tech leaders of Austin do not take for granted those who came before us to create the "Austin Tech Miracle".  We now have competition for corporate relocations, as other cities work hard to attract those jobs.  Plus, the political environment in Texas, while often pro-business, is not always congruent with those we are trying to attract to our region. We cannot take anything for granted and need to work as a united community to ensure we are establishing a future for Austin that continues to let the tech industry thrive.
The Austin Technology Council
The Austin Technology Council is a 30 year old organization that was founded (originally as the Austin Software Council) to put tech on the map as the future economic driver in the region. By hosting networking and educational events ATC has worked to bring the community together and help create an ecosystem that can support the growth of local companies.  As we move ahead, ATC wants to convene grassroots leaders to have meaningful conversations about the next phases of Austin.  If we can come together as a community to cultivate the forward looking attitude that our leaders had thirty years ago, we will establish a new foundation for those who will be founding companies three decades into the future.
"Hello, give me your name, address, shoe size, motorcycle and boots."
Now, we can all agree that approaching a first date like you're the Terminator is not going to go very well. No one likes to be bombarded with personal questions as soon as they sit down — let alone by a stranger they've just met.
Yet this is how most brands approach those first moments of engagement with potential customers online. Most marketers don't even think of the login box being a tool to woo consumers — it's a functional tool owned by security teams in their eyes.
I've spent 20+ years working in marketing, including a number of B2B SaaS companies, and many teams rarely saw the login box as something that we could use to their advantage.
But what if marketers started to see the login box for what it really is: the ideal opportunity to not only help acquire customers, but retain and continue to drive conversions? And not just at the first click but throughout the whole journey?
That's where customer identity, or the login box, comes in.
<>
When it comes to building brand loyalty these days, it's all about the digital experience being as frictionless as possible. That's not news to you though. Every marketer has been chasing the elusive high of frictionless for years now, but it might be useful to outline a few examples of friction when it comes to customer identity.
An ugly registration box that asks the world of you. No customer wants to give you their phone number, state, and gender on the first sign-up.
Three pop-ups within a minute asking if you would be interested in a 10% discount in exchange for your email or mobile number.
Asking for customers to create an account just before a purchase.
Frustrated consumers can simply click the 'x' button on pop-ups in a split second, enter false data to get rid of the friction, or just abandon the whole process. It's been shown, by Baymard Institute, 24% of customers abandon their cart at checkout when they're required to create an account.
All of which leads to no conversions, brand love, or any real desire to repeat the process.
<>
Firstly, you need to be very clear about your objectives. Are you trying to acquire a new customer, or are you furthering an existing relationship?
If you are looking to acquire, then you need to be totally focussed on that. You don't need to see it as your one and only chance to find out EVERYTHING. You also need to be confident in giving your potential new customer some space.
For example, say you're a streaming service and a customer has just clicked on one of your digital ads promoting the new must-see show. They land on the site and all they want to do is start watching. But then you want them to sign up instantly, and this means asking for their name, credit card details, date of birth, etc. Suddenly that impulsive click that brought them to your site has turned into a slog, and they may just give up.
So how about doing something a little different? You could just ask for their email in exchange for a 30-minute free trial. Then at the end, once they are hooked and have to find out what happens next, you can present the payment option.
This scenario is more enjoyable for the consumer, and actually increases the chance of sign-up. It just requires a little bit of patience and putting yourself in their shoes.
Another great feature of the modern login box when it comes to acquiring customers is social login.
<>
We've established that people hate friction, but with security breaches becoming more and more prevalent, there's been a shift towards how the average consumer views brands that suffer data breaches. Security Magazine reported 78% of customers stop engaging with a brand online following a security breach, which has meant a hesitancy with giving details to a new or unfamiliar brand.
One solution to both the friction and security concerns is the use of social logins. This allows for a brand to allow a customer to sign-up and then authenticate themselves using credentials from another brand — Facebook, Apple, or Twitch for example. This is a good thing for the consumer: they already trust a brand such as Apple, and so are more likely to trust logging in with that option.
Social logins also offer an opportunity for brands who wish to make their own identity a social login. For example, a retailer might create its own social login, then allow a brand such as Converse to use that on their site. Customers could then log in and purchase the shoes on Converse's site, but using the retailer's credentials.
Not only does this help increase brand loyalty since consumers associate the social login brand with a seamless authentication process, but it also helps improve personalization, as consumer behaviors can be tracked and learned from across multiple online properties. The retailer now understands how its customers are acting across the whole web, not just on retailer's site.
But how else can you personalize the experience of your customers without freaking them out?
<>
Once you have acquired a new customer, the next goal is to show that you understand them and provide more personalized recommendations and engagements. This is where progressive profiling comes in.
Progressive profiling basically means learning about your customers slowly and with their full consent. To go back to the dating analogy, it's about asking questions over a few dates and not demanding a life story within the first few minutes. For example, say you're a shoe seller: after a customer has visited your website a few times, you can build in a question to the login process that asks, "what shoe size are you?". This can then be used to personalize the experience and only show shoes that are in stock in that size. Research by Aritic PinPoint has shown that this approach can result in up to a 20% increase in conversion rates.
But why not just do this on the first visit?
Because it's intrusive. Why should a customer share something like that when they just want to take a quick look at some shoes? They have no affinity or love for your brand yet, so demanding they share something personal like their shoe size is expecting a lot of them early on.
<>
I know I've used the dating analogy a lot in this piece, but it's because there's so many similarities to how brands can charm customers.
You need to take it slow, but not so slow that they think you're not interested. You also need to show your date that you remember them the second time, rather than asking, "who are you again?". In login terms, this would mean introducing biometric login for a repeat visitor to make it easier for them by allowing them to sign-in with Face ID or their fingerprint.
So take advantage of what the login box and customer identity can actually do for you. It's not just an annoyance to get past, or a security checklist, but a powerful tool that can do a whole lot more for you than it's probably doing right now.
Want actionable insights to improve performance on your consumer app? Put your login experience to the test with our free assessment: https://www.okta.com/form/customer-identity-assessment/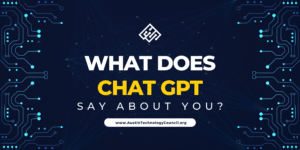 Are you following all the buzz around ChatGPT and other AI services?
We asked ChatGPT to "Write an article on why a tech company in Central Texas should join the Austin Technology Council" —-here is what it created:
********
If you are a tech company based in Central Texas, then joining the Austin Technology Council (ATC) could be one of the best decisions you make for your business. The ATC is a non-profit organization that serves as a unifying voice for the technology industry in the Austin area. It provides valuable resources and benefits to its members, and joining can help your company grow and thrive in this competitive market.
Here are some reasons why your tech company should join the Austin Technology Council:
1. Networking Opportunities:
One of the primary benefits of joining the ATC is the networking opportunities it provides. By becoming a member, you gain access to a community of like-minded individuals who are passionate about technology and innovation. The council hosts regular events and meetups, where members can connect with each other, share ideas, and learn from industry experts. This is an excellent way to expand your professional network, find potential business partners or investors, and stay up-to-date with the latest industry trends.
2. Industry Advocacy:
The ATC serves as a voice for the technology industry in Central Texas, advocating for policies and initiatives that support the growth and success of its members. By joining the council, your company gains access to this advocacy, which can help you navigate complex regulations, secure funding, and compete in a rapidly changing market.
3. Business Resources:
The ATC provides a range of business resources to its members, including access to industry research, mentorship opportunities, and talent recruitment services. By joining the council, your company can tap into these resources, gaining valuable insights and expertise that can help you make informed business decisions and stay ahead of the curve.
4. Brand Recognition:
As a member of the ATC, your company can benefit from increased brand recognition and visibility in the Austin technology community. This can help you attract new customers, investors, and talent, and position your company as a leader in the industry.
5. Collaborative Opportunities:
The ATC provides opportunities for collaboration between members, which can lead to new business partnerships, innovative projects, and cross-industry initiatives. By joining the council, your company can tap into this collaborative spirit, benefiting from the shared knowledge and expertise of the wider community.
In conclusion, if you are a tech company in Central Texas, joining the ATC is an excellent way to connect with other industry professionals, gain access to valuable resources, and position your company for success. The council provides a wide range of benefits to its members, and by joining, you can tap into this network to grow and thrive in a competitive market.
*****
What does ChatGPT and other AI say about you and your company?  Now is the time to be paying attention.