ATC Member Blog
As we stand on the threshold of a new year, it's time to look ahead with renewed vigor and purpose. The Austin Technology Council has been a beacon for the tech community in Austin for three decades. But as we celebrate our past, we must also forge our path forward. This is a rallying call to every member of our vibrant tech ecosystem – your voice, your ideas, and your support are crucial in shaping the next 30 years of tech innovation in Austin.
Community at the Core
At ATC, we believe in the power of community. We are, first and foremost, a community organization, driven by the passion and ingenuity of our members. Every individual in the tech sector, from budding entrepreneurs to seasoned veterans, is an integral part of this tapestry. As we embark on this journey together, let's remember that our collective strength is magnified when we collaborate and share our diverse perspectives.
The Power of Collaboration
Collaboration is the lifeblood of innovation. ATC provides a platform where ideas can intermingle, leading to groundbreaking solutions and advancements. We invite you to join this collaborative effort – whether it's through participating in events, engaging in discussions, or contributing your unique insights. Your involvement is a vital ingredient in driving our tech ecosystem to new heights.
Fostering Conversations
Meaningful conversations are the seeds from which great ideas grow. ATC is committed to nurturing these dialogues. By bringing together the brightest minds in our community, we can tackle challenges, foresee emerging trends, and create opportunities that benefit us all. Your voice is essential in these conversations. Share your vision, your concerns, and your aspirations. Let's shape the future of tech in Austin through open, inclusive, and forward-thinking discourse.
A Call for Support
While ideas and enthusiasm are the soul of our community, tangible support in terms of time and resources is equally important. We gently encourage you to consider membership or sponsorship with the Austin Technology Council in 2024. Your support, whether it's through membership fees or sponsorship, is an investment in our collective future. It enables us to provide better resources, host more impactful events, and offer greater support to our tech community.
Together, We Win
Remember, when our community comes together, everyone benefits. Austin has a rich legacy of tech innovation, but we cannot rest on our laurels. Our future depends on the engagement of the next generation of civic-minded entrepreneurs. Your involvement today is a step towards a thriving, inclusive, and dynamic future for tech in Austin.
As we look forward to the new year, let's recommit ourselves to the spirit of community, collaboration, and conversation. Let's build a future where every member of the Austin tech ecosystem feels empowered and supported. Together, let's make the next 30 years of tech in Austin a testament to our collective vision, effort, and unwavering commitment.
Join us, engage with us, and help us make a difference. Your ATC needs you now more than ever. Let's create a future we can all be proud of.

Unleash the Potential of Austin's Tech Scene with the Austin Technology Council
As we venture into 2024, the landscape of Austin's burgeoning technology sector has never been more vibrant or full of opportunity. For organizations looking to elevate their impact and brand presence within this dynamic ecosystem, there's no better partner than the Austin Technology Council (ATC).  We are a not for profit 501c6 association, and our mission has no agenda other than to promote growth for local companies hand help tech leaders connect and thrive. This is a grassroots movement that can only exist if the community wants to support and help shape our mission.
A Legacy of Empowerment
For over 31 years, the Austin Technology Council has been the gathering place for tech pioneers and thought leaders. Our primary mission? To serve as the connective tissue for Austin's technology companies, linking them with the resources, mentorship, and partnerships essential for scaling their operations and effecting change.
Why Rebrand? Why Now?
We're not just another industry group; we're a movement. ATC is currently undergoing a transformation to return to our grassroots origins, driven by the objective of nurturing a more vibrant, interconnected, and prosperous tech community in Austin. And we're inviting you to be a part of this exciting phase.
Mutual Benefits of Partnership
We believe in the power of symbiotic relationships. When you sponsor ATC events or initiatives, you're not just supporting us—you're strategically positioning your brand as a cornerstone in Austin's tech future. Here's what you gain:
Exposure: Direct access to a diverse network of tech innovators, decision-makers, and potential clients.
Thought Leadership: Opportunities to share your insights through panels, workshops, and guest blogs.
Community Impact: A chance to shape Austin's tech policies and initiatives, enhancing your brand's reputation as a civic leader.
Get Involved
If you're a forward-thinking leader who understands the value of community and the opportunities that the Austin tech scene presents, we invite you to explore sponsorship opportunities for our upcoming events and initiatives.
Sponsorship Opportunities:
Austin Tech Connect Podcast – Have your name mentioned in every episode, help guide your clients to be guests on the show, and have your name in the newsletter each week.
Annual ATC Supporter – Have your logo displayed at every event hosted in 2024, and get special discounts on premium sponsorship for our major events.
Gateway 2023 Sponsorships – The 2023 Gateway Happy Hour (the week of SXSW) had 300 people …and in 2024 we expect even more.
Fall Happy Hour Sponsorships – Our newest event was the addition of the Fall Happy Hour, and we are looking to expand this event in 2024.
The CEO/C-Suite Summit 2024 – This event will continue to play off past year's success, but in 2024 we are developing some new aspects to the meeting. Sponsors who commit early will get to be part of the planning committee
The Austin Tech Hall of Fame – This event will highlight leaders who have had an impact on our Austin Tech Ecosystem.  The awards event will take place in May 2024.
Monthly Roundtable Breakfasts Sponsorships – Every breakfast in 2013 had between 45 and 75 people. You can sponsor one event or the whole series.
Newsletter Sponsors – From 4 weeks to 52 weeks, you can have your name right here on this newsletter that goes out to over 10,000 people in Austin.
Customized Event Sponsorship – Partner with the Austin Technology Council to create an event specially designed to match your expertise.
CIO Roundtable – This is a new event being grassroots organized by local CIO's.  This will take place twice a year.
CEO Peer Forums – Annual program for tech company CEOs to have ongoing Peer-to-Peer groups.
Deal Maker's Forum – All companies (tech companies and the solution providers) have business development people, and we are creating a quarterly meet up specifically for them to meet and learn and share. Sales people who make an effort to build a stronger network and actively seek more skills, sell more of their products and services.
For more information, contact at Thom@AustinTechnologyCouncil.org .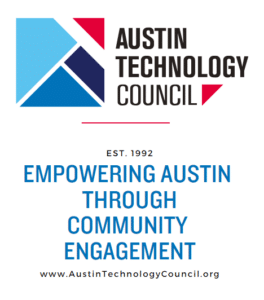 As the Austin Technology Council continues to work with leaders in the tech ecosystem to create a thread that runs through the tapestry of all things "Tech" in Central Texas, we are seeking leaders who are committed to the future. Empowering Austin through community engagement is why ATC has existed for the past three decades.
Austin will never again be the small university town and state capital city that it was in the 1980s.  Back then there were not many career jobs for those who wanted to live in this amazing region.  George Kozmetsky, then Dean of the UT Business School pointed out that there was not places for his grand-children to work if their careers were not in academia or government.  He and a band of civic entrepreneurs set out to create a place where growing companies, specifically technology companies could thrive.
Today we are a thriving international city that tops every list of "Tech Hubs", but we cannot rest on the work of those who came before us.  Now is the time for today's civic leaders to come together to look toward the future.
George Kozmetsky founded the Austin Technology Council in 1992 to help put "Tech" on the map as the future economic driver of our region, and to bring the tech focused entrepreneurs together.  We no longer need the former goal, but uniting the community is more important now than ever before.
ATC is here and working to retool our mission and vision, but we cannot do it with the visionary grassroots leaders in our tech and tech enabled companies in Austin.
We should not believe that the growth we have had for the last thirty years will continue without a collective effort.  ATC is looking to partner with the Austin Chamber, Opportunity Austin, Austin Women in Technology, The Austin Venture Association, and other non-profits that are serving out tech community. We are also seeking our for-profit organizations (tech companies, solution providers, investment / venture firms, etc.. to help support spearhead out paths to the next three decades.
The things we do today will directly impact a baby born today who wants to work and live in the Austin area. Can she start a company, afford a house, and build her career of choice in 2053?  That is squarely on the shoulders of all of us who are here in 2023.
Please join the Austin Technology Council (and / or the other organizations that are impacting Austin today and tomorrow).