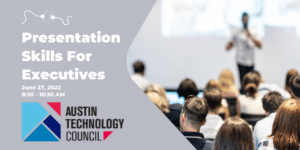 Do you or someone on your team need to improve your speaking skills?  The June 27th ATC Roundtable Breakfast will be a presentation about presentations.
Being able to clearly and concisely share your ideas when the speaker at an event is more important than most people think. Every leader should present great content with an engaging speaking style every time they address an audience. But a busy schedule often means executives are winging it most of the time. The problem is when you wing it, you rarely deliver the best presentation.
Austin Technology Council CEO, Thom Singer, has delivered over 1200 professional presentations over 15 years.  During this time he has learned how to structure a short talk or a keynote to engage the audience. In this presentation he will share the five tips every executive should know about speaking (inside the company or to a conference audience).
This is a "must attend" event for everyone who wants to learn a few realistic tips on how they can be there best when they take any stage.  Be sure to bring any team member who could benefit from being a better speaker.
Join ATC at the new offices of Calavista Software (9225 Bee Cave Rd STE A-350, Austin, TX 78733).
Register Now – https://atc.ticketbud.com/presentation-skills-for-executives