As we enter into a period of global economic turmoil, you may have wondered, "Will Bitcoin go up in a recession?" Unfortunately, no one knows the answer to this question, as we can't predict the future. With that said, it's encouraging to note that Bitcoin was created during the last global recession as a way to mitigate the financial uncertainty created by banks and federal governments during economic crises. Perhaps even more encouraging is the fact that, during recent recessions in countries ranging from Greece to Zimbabwe, Bitcoin prices have noticeably spiked.
Read on to learn more about why Bitcoin was created during the last global recession, how Bitcoin has helped numerous countries during nation-wide recessions, and what this all means for speculations about will Bitcoin go up in a recession of a larger scale.
The Creation of Bitcoin: A Brief History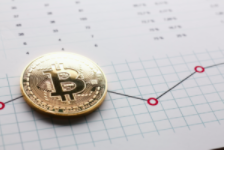 Let's travel back in time to the last global recession. Known as the Great Recession or the 2008 recession, the Great Recession was the longest period of economic decline experienced on a worldwide scale since the Great Depression eighty years earlier. It's no wonder then that the 2008 recession greatly reduced most Americans' trust in traditional financial institutions, such as federal governments and banks.
It was into this world that Bitcoin appeared on the scene. On January 3rd, 2009, Bitcoin was launched by its creator, who operates under the pseudonym Satoshi Nakamoto.
The announcement that Bitcoin had gone live was accompanied by an embedded message that said: "The Times 01/03/2009 Chancellor on brink of second bailout for banks." This statement references a headline made that day in a widespread U.K. newspaper discussing how billions more might be needed for a second bank bailout.
Bitcoin was created during a time of recession to help prevent or mitigate some of the main contributing factors of the 2008 recession. In some of his early writings about Bitcoin, Satoshi discussed how "the root problem with conventional currency is all the trust that's required to make it work." Individuals who deal in traditional currencies, which is of course currently most of the world's population, must have confidence that banks and federal governments will handle that money in a responsible manner.
Meanwhile, federal governments act as if money is infinite, leading to damaging effects on their populations such as inflation and unemployment. And, to quote Satoshi again, banks lend out money "in waves of credit bubbles with barely a fraction in reserve," meaning that national debts balloon without limits.
In other words, Bitcoin was created to both survive and thrive during the next global recession.
Recessions in Other Countries: How Bitcoin Helped
During the last worldwide recession, Bitcoin had just come into existence. The economic downturn we're currently living through will be the first global financial crisis Bitcoin has experienced as an accepted worldwide currency, so it is difficult to predict the exact outcome.
However, Bitcoin has proved to be of great value over the last decade to numerous countries experiencing recessions. Here are a few nations that, in the midst of struggling with their fiat currencies, sought refuge in the stability of cryptocurrency.
Greece
In the wake of the Great Recession, Greece suffered a nearly decade long period of economic turmoil of its own as it struggled to repay massive sovereign debts.
When Greek banks began imposing strict limits on bank withdrawals from individual accounts, many of those citizens turned to Bitcoin, with Bitcoin trades from Greece increased a whopping 79% from the previous ten-week average on Bitstamp.
Turkey
During Turkey's financial struggles in mid 2018, the national fiat currency lost 20% of its value in just a single day. Just a few months later, the country's inflation reached its 15-year high.
Meanwhile, the volume of trades on cryptocurrency exchange sites based in Turkey went up by 37%. Turkey's largest cryptocurrency exchange raised trading volume by 63%, and a smaller trading site reported a 100% spike in trades.
Venezuela
The Venezuelan economy began its decline in 2013, with steep inflation making even the highest denomination printed bill worth around 2 pennies. This left many people unable to pay for essential goods, as their fiat currency had virtually no value.
Venezuelans found relief in Bitcoin. The Venezuelan Bitcoin brokerage site Surbitcoin surged its user base in just two years from 450 users to over 85,000, and the trading volume from Venezuela on LocalBitcoins reached as high as 370 a week.
Zimbabwe
Zimbabwe's high rates of inflation, coupled with the country's ban on all foreign currencies, have led many to turn to cryptocurrencies. Although the national banks are not allowed to use cryptocurrencies, the demand for Bitcoin and other alternative currencies remains high.
Given the national ban, it is difficult to gather data about the precise usage of Bitcoin. However, the presence of Bitcoin in Zimbabwe is so important that the U.N. wrote a report discussing how a significant portion of Zimbabwe citizens, along with residents of several other African nations, use Bitcoin to combat the hyperinflation of their fiat currencies.
Argentina
During Argentina's recent economic turmoil, Bitcoin went up by about 50% in comparison to the Argentinian national currency. On LocalBitcoins, Bitcoins in Argentina traded for up to $12,000, and traded for about 10% higher than that rate on international exchanges.
Hong Kong
At the end of 2019, Hong Kong experienced its first recession in over a decade.
It was around this time that Bitcoin began to regularly trade at over $9,000 for the first time in several months. Meanwhile, LocalBitcoins recorded unprecedented volume from Hong Kong, including a week that neared $13 million.
Will Bitcoin Go Up In A Recession? Evaluating the Evidence
As we can see, during national recessions over the last six years spanning from Hong Kong to Argentina and beyond, Bitcoin has gone up each and every time.
When national governments and banks damage their citizens' trust in fiat currencies, people increasingly turn to cryptocurrencies to provide the financial security they need and deserve. As Slate journalist Sara Nassar wrote, "Economic crises have been important catalysts in the brief history of cryptocurrency."
These past national recessions have demonstrated to countless individuals worldwide how their money, when stored in traditional financial currencies, can be made worthless by government policies or debts in the blink of an eye.
As none of us can predict the future, when it comes to our current global economic turmoil, it's impossible to know with certainty the answer to, "Will Bitcoin go up in a recession?"
However, the evidence that Bitcoin will do well in a worldwide recession is promising. Bitcoin was first created during a recession because its creator believed that banks and governments that cannot always be trusted to handle citizens' money wisely. Moreover, Bitcoin has performed well during recessions that have happened on a smaller scale in individual countries. Now that scale has just become bigger.
Pelicoin Will Keep Your Money Safe
Here at Pelicoin, we know that you need financial institutions you can count on, especially during times of economic stress. That's why, recession or not, we offer the most secure network of cryptocurrency ATMS in the entire Gulf South. Pelicoin's kiosks serve a dozen markets from Austin to Memphis to New Orleans. In fact, you can find local Austin Bitcoin ATMs throughout the city. Our most popular machines live on Duval St., Menchaca Rd., Interstate Hwy 35, and Martin Luther King, Jr. Blvd.
Interested in learning more about why Bitcoin is the currency that citizens in past national recessions have flocked to, or about how Pelicoin's Austin-based kiosks can help you convert your fiat currency into Bitcoin worry-free? Then feel free to browse our FAQs or contact us at support@pelicoin.com.