When the cash in your wallet just doesn't cut it, you may be wondering which bitcoin ATM Austin, Texas locations are best suited for your daily use. Whether you're an ATX local or a visitor enamored with all that Austin has to offer, you can use Bitcoin to pay for a whole host of goods and services. Bitcoin will buy you everything from hotel rooms to cheeseburgers to flights to oil changes.
With more businesses accepting cryptocurrency as valid tender every day, Bitcoin ATMs will soon become as commonplace as banks or regular ATM kiosks; in a world-class tech hub like Austin, you'll want to stay ahead of the curve. Understanding where and how to purchase Bitcoin around the city will turn you into a financial tastemaker.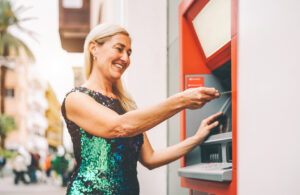 Your Local Bitcoin ATM: Austin, Texas
Luckily, Pelicoin ATMs can be found in four convenient locations around the city so that you'll never have to stray far from filling your crypto wallet. With four Bitcoin ATM Austin, Texas locations accessible 24/7, you'll be able to buy Bitcoin anywhere, anytime. Consult the following list when you're on the go:
Westgate, South Austin, and McKinney
For residents or visitors adventuring south of Downtown, the best ATM to access or purchase Bitcoin is conveniently located at Beatnik's Market on 4415 Manchaca Rd. It's easy to find and use. You'd be surprised how many businesses accept Bitcoin, even in this quiet, mainly residential area.
Downtown and Central East Austin
Look no further than Downtown if you want to experience Austin in its truest form: a colorful and bustling tech hub with a Pelicoin ATM smack in the center of the action, located at Shell gas station, 900 North Interstate Highway 35. If you work in the area, this is an excellent stopover on the way to the office or a hotspot for buying Bitcoin before embarking on thrilling local diversions.
Central Austin, Hyde Park, and Mueller
Suppose you're located in a more northern part of the city. In that case, stop by the Pronto Food Mart located on 4301 Duval St. Central Austin is a great place to explore and a foodie's paradise to boot, so enjoy your adventure while you're in the area; indulge in stylish boutiques or walking tours of historic homes.
MLK and East MLK.
In addition to the Shell downtown, the Shell gas station at 4509 E Martin Luther King Jr. Blvd also hosts a 24/7 Pelicoin ATM. This area is a great place to grab a beer, watch a game at a sports bar, or chow down on some incredible local barbeque.
Not in Austin? Not to Worry!
When looking for a Bitcoin ATM, Austin, Texas certainly has you covered. But what about when you're away on business, moving, or vacationing out of town? That's where Pelicoin steps in.
Pelicoin has ATMs all over the Gulf South, especially in Memphis, Tennessee, a destination that shares Austin's rich and revelrous spirit and musical culture. These sister cities have plenty of excitement to offer one another, and with Bitcoin, the possibilities are endless.
Pelicoin ATMs, Vending Bitcoin Countrywide
Wherever you travel in the South, there's sure to be a Pelicoin ATM near you. Fast, convenient, easy to use, and always trustworthy, we want to make Bitcoin accessible to crypto enthusiasts and first-timers alike. Browse our blog to learn more about how Bitcoin is revolutionizing finance worldwide, or find a location near you today!