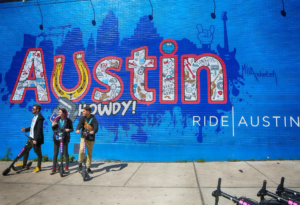 There are so many ways to get involved in the Austin Bitcoin scene, especially since this city is one of America's leading cryptotech capitals. From businesses who accept Bitcoin, to conferences, seminars, and meetups all about cryptocurrency, we'll guide you to the places and events you need to know about to get involved in the Austin Bitcoin community.
Austin Blockchain Collective
The Austin Blockchain Collective is a business group interested in the development of blockchain technologies, the expansion of Austin Bitcoin opportunities, and the maintenance of Austin's current standing as a global leader in business, finance, and technology, in general.
This group promotes many Austin Bitcoin meetups where business owners and blockchain enthusiasts alike can discuss developments in the world of blockchain tech. The collective's own hosted meetup, the Austin Blockchain Collective Community Meetup, is a monthly Austin- based event that provides educational presentations on key aspects of blockchain technology, with post-presentation FAQs where the audience can take deeper dives into specific presentation topics.
TF Blockchain – Austin Chapter
Started in 2018, the TF Blockchain Conference is an up-and-coming conference group that hosts annual events across the country, giving crypto-enthusiasts a fun and personal space to learn from Bitcoin experts about what's next for various blockchain currencies.
Through the Austin Chapter of the TF Blockchain Conference, local Austinians have the chance to participate in the conference in their own city. Read more to learn how to get involved with TF Blockchain's Austin Chapter.
Austin Businesses Accepting Bitcoin Payments
From restaurants like Mai Thai, stores and services like EcoBox, and even home and health services like Hill Country Home Improvements and Vista Ridge Family Dentistry, the local Austin businesses that accept Bitcoin are growing in number and scope. With local businesses jumping into the crypto-scene, ways to use Bitcoin in Austin are expanding.
You can also visit this Pelicoin blog for a more comprehensive list of the Austin businesses that are supporting the growing Austin Bitcoin community.
Austin Bitcoin ATM Services
Pelicoin is the Gulf South's leading Bitcoin ATM network, and we're dedicated to simplifying the purchase and sale of cryptocurrency for Austin, TX and the Gulf South. We offer Bitcoin, Ethereum, and Litecoin exchange and purchase services, as well as crypto-wallet set-up for anyone new to the Austin Bitcoin scene.
Our Austin Bitcoin services can now be found in four locations in and around the city, including on Duval St., Menchaca Rd., East Martin Luther King Jr. Blvd., and North Interstate Hwy 35. To learn more about cryptocurrency or the four Pelicoin ATMs in Austin, TX, contact us today at support@pelicoin.com or 855-PELICOIN.