ATC is proud to partner with Cendea to present the series, "Talent-Leadership-Culture (TLC)". This blog series addresses the questions and gives insight to the art of finding the RIGHT tech leader to hire at the director level and above. Thank you to our experts for sharing their knowledge with the tech community.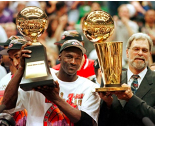 Hopefully you took a break from COVID-19 and had at least a curiosity from lack of live sports to watch ESPN's 10-part special The Last Dance documenting Michael Jordan and The Bulls 1998 NBA Championship season.  For those of you who lived through it, like him or not, it was both nostalgic and refreshing in a time of no sports right now.  For those who were not old enough, you saw the makings of a legend.
He was and is known as MJ, and Mike, and Michael, and Jordan.  He, 22 years later, is still perhaps the most recognized international sports figure as well as one of the most recognizable individuals in the world.  He's also the first and only sports figure to reach billionaire status.
Let's say that you have the option to trade for Michael during his prime.  You'd be an idiot not to consider the trade.  He will sell more tickets.  You probably will win more games.
However, the bigger questions are: Can you manage him? Will he bring you a championship?
Let's look at Michael's TLC.  He completely lacked the more traditional TLC – Tender Loving Care, because he was driven to perfection, and if you were not driven, he had no use for you. A more relevant TLC – Talent, Leadership, Culture, helps you decide on the trade or not. Some of this will be quite obvious, other parts maybe not so much.

TALENT
There are strong arguments that Jordan is the Greatest Of All Time basketball player, aka the GOAT.  It would be hard to imagine him not at least being on any short list – there are only a few reasonable choices.  He should get a half dozen checkmarks because he was an unbelievable all-around player – top scorer as well as top defender, playmaker and go to person, together with an off the chart basketball IQ.

LEADERSHIP
Michael did push people to be better, which worked on many players, but The Last Dance series told us that he ridiculed, shoved, and even punched people.  He has some great leadership qualities as he pushed a high standard for people to follow and never took his focus off of it.  He recognized that the crowds took away from the team bonding on the road, so he sacrificed going out with everyone so that could happen.  However, these Leadership skills are more circumstantial, as we'll discuss shortly.

CULTURE
Everyone needs to fit into the culture.  The problem was that MJ was bigger than life.  His talent was the highest of standards and the whole world was watching him, not The Bulls, The Michael Jordan.  The Culture was built around him, and everything else revolved around that.  That is not someone fitting into the Culture, and there are slim odds that will normally work out.
You're saying how could they win 6 NBA Championships in 8 years if he fails two of the three legs in TLC?
Look again at the picture – there are two people in that picture.  That other guy is Phil Jackson, the true mastermind coach who was able to harness this phenomenal Talent by building and continuously driving a Culture that worked for what he had.  A key part of that Culture was allowing the Leadership skills that Michael had to flourish in that Culture.  This article could be about Phil Jackson, who is on a short list for the GOAT among NBA coaches.
So how in the world would MJ get two X's, bad marks, out of three?
Let's get back to that trade opportunity for Michael Jordan.  How do you need to evaluate MJ?
Talent is typically attributed to individuals, but most of us, like Michael, play a team sport.  Individuals can win awards and accolades and command a big salary, but the team wins or loses.  Your team, even with Michael, can lose while Michael gets MVP and sets all kinds of records.  You need a fully engaged team to win a championship.
Leadership was an unbelievable task that Phil Jackson accomplished, not Jordan.  Yes, MJ did set a high bar and pushed everyone to achieve it.  Michael was actually a good leader in many ways, but Phil was the great leader.  Things had to be right for MJ's Leadership skills to work.  How well would his harsh player interactions work if the Bulls had not won?
Culture is where it all comes together.  Phil was able to capture the players' attention.  He motivated them.  Leadership is about harnessing Talent and having a Culture where you can get everyone on the same page, and thus Phil was a genius.  He let Michael be Michael, and he created the perfect environment where MJ could leverage his Leadership skills best.  And at the same time, Phil jelled together a spectrum of talent and issues.  Scottie Pippen, a superstar in own rights, to be the #2 when he could be the #1 on most any other team.  Dennis "bad boy" Rodman, whose hall of fame caliber skills were overshadowed by his off-the-court and on-the-court insane antics.  Made role players, like Steve Kerr and John Paxson who clearly weren't superior athletes, into the right puzzle pieces.
Michael's Talent did take them to the Promise Land, but only with Phil's Leadership and ability to make the Culture work.  Maybe Michael does deserve a checkmark for Leadership, but only thanks to Phil Jackson.
So, do you make that trade for Michael?
If you don't have good surrounding Talent, exceptional Leadership (like a Phil Jackson), and a Culture where everyone can flourish, then pass.  WHAT?  Yes, even if you have the Talent and Leadership, if you don't have the Culture then PASS

no exceptions!  You might be remembered as the idiot that didn't grab Michael Jordan, but you could be the even bigger idiot that had the GOAT and still couldn't win!!!
Cendea has over 25 years of securing great talent for great opportunities.  Please feel free to call us at 512.219.6000. Wade Allen, President & CEO, x101, or Jim Bledsoe, Senior Partner, x121.