ATC is proud to partner with Cendea to present the series, "Talent-Leadership-Culture (TLC)". This blog series addresses the questions and gives insight to the art of finding the RIGHT tech leader to hire at the director level and above. Thank you to our experts for sharing their knowledge with the tech community.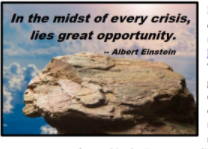 Last month, Wade wrote about leadership in times of crisis.  That crisis continues to linger yet thankfully, life still goes on.  So much has been written about "when the quarantine is lifted" but it's hard to say when that might occur.  For business and the economy, we walk the tightrope of what to keep and what to let go.  We have no magic crystal ball that tells us what to expect when we are to move forward in the "new normal".  We are experiencing change like we've never seen before.  We can reflect back on other historical crises to learn a few things but in reality, we become the architects of that new normal.  I'm reminded of what many of us received when we graduated high school; a congratulatory card with Rudyard Kipling's If on the cover.  "If you can keep your head while others around you are losing theirs" is a great reminder at this time.  Other timely reminders are reflected in the Einstein quote above as well as from JFK: "The Chinese use two brush strokes to write the word 'crisis. '. One brush stroke stands for danger; the other for opportunity. In a crisis, be aware of the danger–but recognize the opportunity."
Wade wrote about principled leadership in last month's blog.  This month, I'm extending that precept and emphasizing the importance of retention of top talent.  There are heroic stories of business owners who kept employees on payroll after a catastrophic loss of a plant even though there was no incoming revenue.  The objective was to keep talent for the reopening.  During our current crisis, numerous CEO's have forfeited their own salaries in order to demonstrate sacrifice and direct payroll toward their valuable workforce.  The stimulus was a well-intentioned effort to assist companies in retention but we've already seen that exhausted.  Now what?
Transparency is essential during this time.  Be candid and open without adding negative fuel to the fire.  Employees generally respond well during times of disruption and chaos but a sure way to lose them is to mislead or lie to them.  Honest communication is more valuable now than any time during our business careers.  Caring for your employees, especially your key talent is critical.  Have you assessed the overall confidence level of your team and showed them you genuinely care?  Fake that and you risk losing them and your business.  If they're asked to sacrifice, they better never catch a whiff of the senior executives being treated more favorably.
Crisis creates opportunity.  We're not all gifted visionaries but have you engaged your team and asked for input on a viable reemergent strategy?  That might range from identifying some advantages over your competition to a more exact execution plan.  Now is also time to assess the talent that you have and identify gaps or weaknesses.  Do you have the right senior leadership?  If not, what will you do about it?  Put on your recruitment hat.  Unless you have a failsafe method of identifying and selecting difference-makers, I'd recommend not going the DIY route.  You need a firm that can help you identify the need across several dynamics: skill requirements, preferences (nice-to-haves), chemistry and culture.  To be lacking talent when the competitive race speeds up will result in huge disadvantages.
While belt tightening is certainly a necessary action right now, it's also time to differentiate by demonstrating clear communication, exploring new strategies, showing key talent how valuable they are and being disciplined in how you lead.  This isn't a Pollyanna thought here but we have the opportunity to realize what a gift we've been given.  Be ready, be diligent but be bold.
---
Cendea has over 25 years of securing great talent for great opportunities.  Please feel free to call us at 512.219.6000. Wade Allen, President & CEO, x101, or Jim Bledsoe, Senior Partner, x121.