NON-COMPETE AGREEMENTS – GUEST BLOG POST.  (If you would like to submit a guest post, please contact Thom at the Austin Technology Council)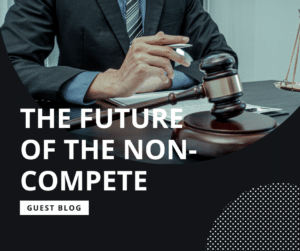 The Federal Trade Commission (FTC) has published a proposed rule that would prohibit enforcement of virtually all non-compete agreements with only a few, very limited exceptions. The proposed rule would supersede all contrary state laws and has an extremely broad definition of "noncompete clauses" that would be banned – including "de facto" non-compete clauses. As a result, the ban may implicate broadly drafted non-disclosure agreements, customer non-solicitation agreements, or obligations of employees to repay their employers for training costs.
The proposed rule contains a narrow exclusion for non-competes entered in conjunction with the sale of a business. As it stands now, the proposed rule would not apply to a non-compete clause that is entered into:
• By a person who is selling a business entity or otherwise disposing of all of the person's ownership interest in the business entity; or
• By a person who is selling all or substantially all of a business entity's operating assets.
However, this exception applies only when the person to be restricted by the non-compete clause is an owner, member, or partner holding at least a 25 percent ownership interest in the entity at the time the person enters into the agreement.
The FTC is currently taking public comments on the proposed rule. The comment period ends on March 10, 2023. Following the comment period, the FTC will probably make some additional modifications to the proposed rule and will eventually end up with a final rule that purports to render almost all noncompetes unenforceable. Any final rule would be effective 180 days after publication.
But I wouldn't put much stock in the rule getting very far after that.
In addition to governmental review prior to becoming final, the proposed rule will almost certainly be contested via litigation. If a final rule is enacted and it is substantially similar to the proposed rule, it will likely be challenged in court on grounds that the FTC lacks the statutory and/or constitutional authority to make such a rule; and via the "major questions doctrine" which says generally that, courts should not defer to agency statutory interpretations that concern questions of "vast economic or political significance."
Based on recent Court of Appeals and US Supreme Court rulings (including SCOTUS "major questions" rulings blocking enforcement of the CDC's COVID-related eviction moratorium and OSHA's COVID vaccination and testing rules), those challenges would likely be successful. At the very least, it seems likely that a district court somewhere would issue a nationwide injunction barring FTC from enforcing the rule while the dispute plays out.
Ultimately, any federal prohibition on non-competes will almost certainly have to come in the form of legislation – passed by both the House and Senate. Given the current balance of power in Congress, that seems unlikely.
Companies should routinely review their agreements, including non-competes, to be sure they are in compliance with the current state of the law. For restrictive covenants in Texas, including non-competes and non-solicits, that means: (A) tying them to the protection of a legitimate business interest of the employer, such as trade secrets, specialized training, or customer goodwill; (B) narrowly tailoring the restrictions so that they are no broader than reasonably necessary to protect those legitimate interests; and, (C) including reasonable limits on time, geographic scope, and scope of activities prohibited.
by Patrick Richter
Direct (512) 758-6496 | Mobile (512) 750-2817
3500 Jefferson St., Suite 330
Austin, Texas 78731
prichter@rigbyslack.com
www.rigbyslack.com