María Amelia Calaf, Katherine Chiarello, & Karen Vladeck from Wittliff Cutter to lead a discussion around maternal/paternal leave for the ATC Women in Tech Roundtable series on May 22nd.
Tuesday, May 22, 2018 from 7:30 AM to 9:00 AM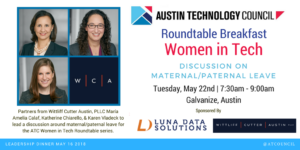 The Women in Tech Roundtable Series feature monthly breakfasts targeted to specific groups within the Austin technology community to come together in a small group of 25-40. These events include featured speakers who are invited to kick off open discussion amongst attendees.  This event will be held at Galvanize: 119 Nueces St, Austin, TX 78701 REGISTER HERE 
---
ROUNDTABLE FEATURED SPEAKERS
María Amelia Calaf is a business litigator representing clients before federal and state district and appellate courts throughout the country. She has advocated for clients in a wide range of industries, including pharmaceutical companies, electronics manufacturers, software developers, investment banks, hedge funds, start-ups and educational institutions.

María Amelia began her legal career as a law clerk to the Honorable Jon P. McCalla, U.S. District Court for the Western District of Tennessee. After that, she practiced in the New York City offices of Boies Schiller Flexner and Goodwin Procter and served as the Manager for Complex Litigation in the General Litigation Division of the Office of the Attorney General of Texas. María Amelia is a mom to three young children.
Katherine Chiarello is an experienced advocate who represents both large and small businesses, as well as individuals.  She has litigated, arbitrated, and mediated cases involving business contracts, business torts, fraud, securities fraud, trademarks, and trade secrets. She has also counseled clients about litigation risk and compliance issues.  

Prior to returning to Austin in 2011, Katherine clerked for two federal judges and practiced at Williams & Connolly in Washington, D.C. Katherine has a six-year-old daughter.
Karen Vladeck is an employment attorney focusing on both counseling and litigation. Karen represents employers and high-level individual employees across a broad range of industries including hospitality, fashion and luxury goods, higher education, real estate, sports, insurance, television, technology startups, trade associations, and non-profits.

Prior to moving to Austin, Karen clerked for the Chief Judge of the Maryland Court of Appeals and was an associate in the Washington, D.C. office of Arent Fox LLP.  Karen has a two-year old daughter and is expecting her second daughter in June.
---
Thanks to our event sponsors:


Thanks our Annual Partners
For details about Austin Technology Council click here.