Virtual Event
Open Forum: Examining Funding Options for Your Scaling Business
January 27, 2021 @ 4:00 pm

-

5:00 pm

Virtual Event

FREE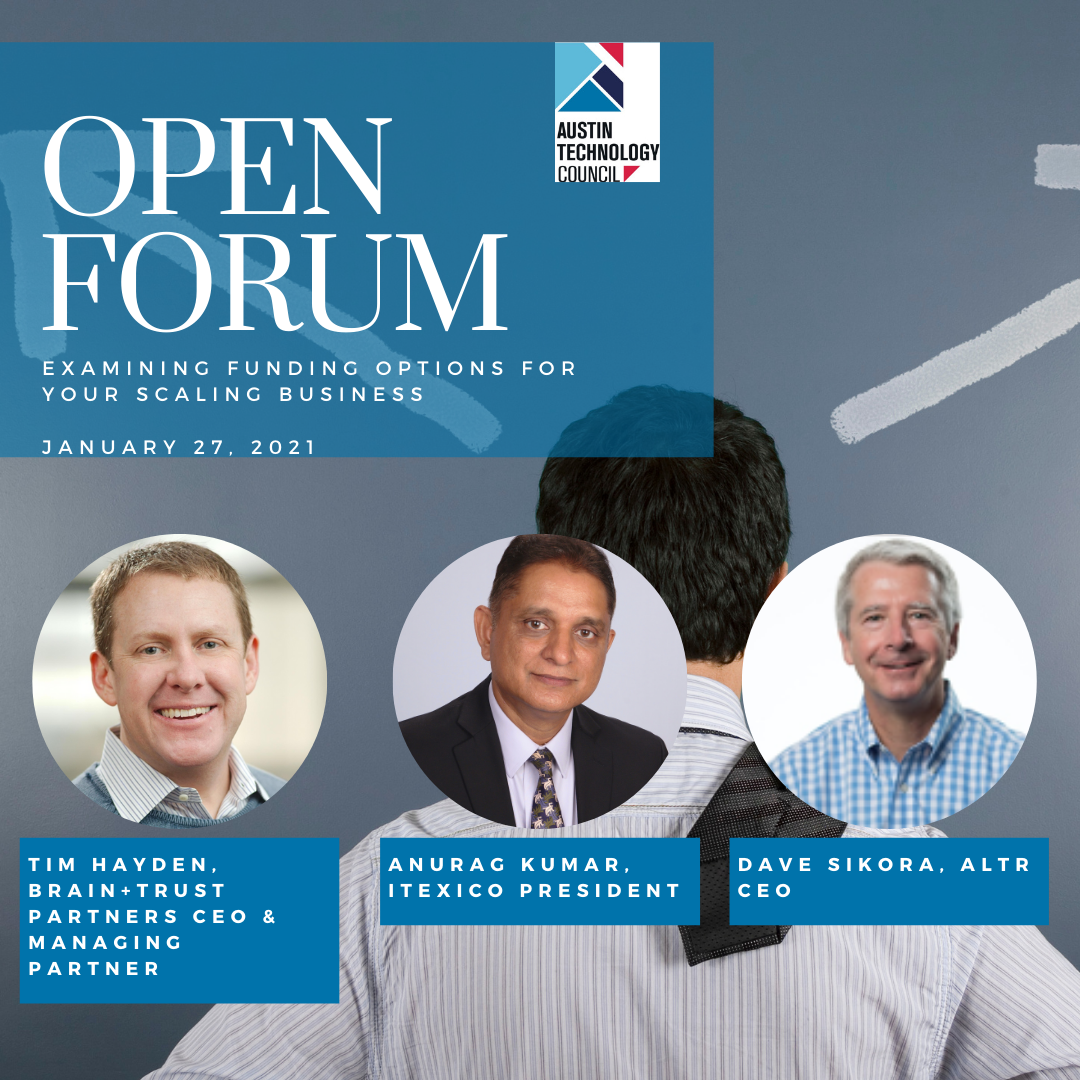 Develop a better understanding from repeat entrepreneurs on funding options for successful exits. Listen to their stories, learn from their experiences, and ask questions to gain the perspective you need to make proactive decisions for scaling your business.
Special thanks to our panelists:
Tim Hayden, Brain+Trust Partners CEO & Managing Partner
Anurag Kumar, iTexico President
Anurag Kumar, is a seasoned, business executive with global experience in Nearshore services, technology consulting, offshore outsourcing and enterprise mobile and cloud solutions.
Most recently in 2020, he sold iTexico, which he had co-founded and bootstrapped, to Improving, Inc.  iTexico is a leader in Nearshore software services with operations in Austin, Bay Area, Guadalajara, Aguascalientes and within nine years Anurag grew it into a multi-million-dollar company with over 300 employees and 250+ clients in US, Canada, UK and Mexico.  In recognition of this growth, iTexico was recognized by Inc. 5000 magazine and Austin Business Journal as one of the fastest-growing companies in US recently in 2015, 2016, 2017, 2019, 2020.  He pioneered the concept of Nearshore Plus, highlighting the advantages of US/Mexico proximity and its associated benefits of increased collaboration, culture alignment, cost effectiveness, IP protection, proximity for its US-based client sites.  iTexico was his fifth start-up.
In addition to his startups, Anurag has held leadership positions with Dell, IBM, KPMG, TCS and other companies in US, Mexico, UK and India. He holds an MBA from Michigan State, MS from Wayne State University and BS from IIT Delhi. He is a Charter Member and former President of TIE Austin, former CEO Chair with Vistage and a mentor and angel investor in Texas. He is also active with Pratham, a global child literacy non-profit organization. He is married to Vandana, a former executive at IBM and UT Austin Alum, for over 34 years and has two adult children currently living in New York and San Francisco.
Dave Sikora, ALTR CEO
David Sikora is currently the Chief Executive Officer of ALTR Solutions, a Software as a Service (SaaS) business delivering disruptive Data Security solutions.  Sikora joined joined Texas Dow Employees Credit Union (TDECU) Board of Directors in 2015 and serves on both the Strategic Initiatives Committee and the TDECU Holdings Advisory Board. In addition to his role with TDECU, David holds seats on several boards including Amberleaf, Kony, Synapse and Loop & Tie and is an active investor and advisor to technology companies.  Prior to ALTR Solutions, David served as Executive Partner for Teakwood Capital, a Dallas, Texas based private equity company, where he executed a business transformation project for Stratfor, a geopolitical analysis and advisory business located in Austin Texas.  Prior to Teakwood, Sikora founded and served as CEO of Digby, where he built the first mobile application storefronts for 50 major brands including Brooks Brothers, Abercrombie & Fitch, UnderArmour, Bed Bath & Beyond, 1-800Flowers, and Home Depot, among others. He has successfully originated and executed business acquisitions across the globe including the U.S., Canada, Europe and Asia. Sikora has also served as CEO of 2 NASDAQ traded software companies, Pervasive Software (NASDAQ:PVSW) in Austin Texas and ForeFront Group (NASDAQ:FFGI) in Houston Texas. At ForeFront, Sikora executed the first Internet Software IPO in the State of Texas in 1995 and led its' acquisition by CBT Systems for $162M.
Upon receiving a bachelor of science in technology from the University of Houston, David earned his MBA from the Harvard School of Business Administration. In addition, he was honored with Ernst & Young's Entrepreneur of the Year for technology, and served as a member of Texas Governor Rick Perry's Technology Advisory Council.
David's charitable endeavors include founding and managing the Girl Scouts Lone Star Council Pervasive PowerCharge and serving as Chairman for the Leukemia and Lymphoma Society's Light the Night Walk.