Leadership Dinner: Debunking the Myths of Going Public
August 18, 2021 @ 5:00 pm

-

8:00 pm

$50 – $75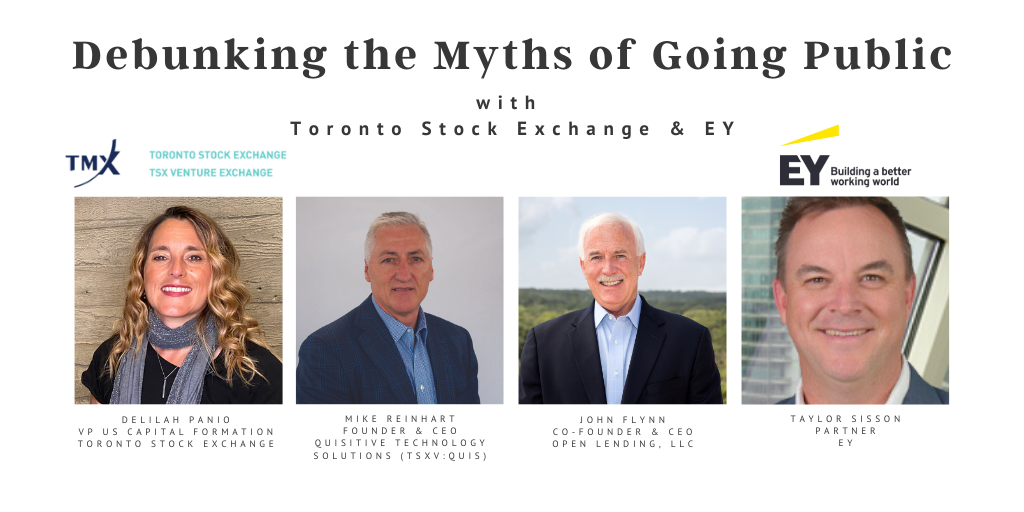 Tech company decision makers are cordially invited to join ATC at the first Leadership Dinner in over 16 months!
Toronto Stock Exchange and EY experts are assembling their expertise and clients who have been-there-done-that to answer your questions about taking your company public.
What are the considerations of going public in my industry?
Pros and cons of alternative venture financing
Pros and cons of public venture financing
Dive into SPAC details
Decision-makers in the Austin tech industry are encouraged to attend.
Agenda:
5:00 PM || Check in, networking, happy hour
6:00 PM || Panel discussion
7:00 PM || Dinner and networking
Special thanks to our moderators:
Delilah Panio is Vice President of U.S. Capital Formation for Toronto Stock Exchange (TSX) and TSX Venture Exchange (TSXV) based in Southern California. In this role, Delilah advises U.S. companies on the opportunity to list and raise capital on Canada's premier equity markets. She is a frequent speaker and pitch competition judge and coach, and was named in the "2019 Top 100 People in Finance" Magazine.
Previously, Delilah spent 10 years at TSX and TSXV in business development and strategy. She has advised many companies on the going public process and provides an understanding of private and public financing options in Canada and the U.S.
Taylor Sisson is a partner with EY more than 20 years experience serving SEC registrants, private-equity investees, and VC funded private companies in the technology (software and hardware), retail, consumer products, and real estate. He's assisted numerous clients with the successful completion of numerous initial public offerings (IPOs), SPAC filings, secondary offerings, debt private placements, acquisitions, and carve-outs. He's also assisted companies working through complex accounting issues.
Taylor also serves as the West region EY Private leader, focused on working with private, high growth companies and helping drive efficiencies in EY private company services and challenging teams to embrace/adopt new audit technologies.
Taylor has served notable Austin clients such as Cirrus Logic, Inc., Silicon Laboratories Inc., Whole Foods Market, Open Lending, E2Open, Torchy's, WP Engine, Tecovas, Inc., and American Campus Communities, among others.
He is also very active in the Austin community, including serving on the board for the United Way of Texas, Boys and Girls Club of the Austin area, and Breakthrough Austin.
Taylor earned a Masters in Accounting from the University of Texas at Austin.
Special thanks to our speakers:
Mike Reinhart founded Quisitive in 2016 and serves as its Chief Executive Officer and Board Director. With more than 25 years of experience leading national Microsoft IT services firms, Mike has a strong reputation with Microsoft leadership and a demonstrated history of working in the information technology and services industry. His passion, relationships, and experience working with Microsoft have driven him to create the Microsoft Partner of the Future vision, a vision which is being executed through a defined M&A strategy to build the premier Microsoft Partner in North America for business solutions and cloud innovation by leading with industry-focused IP.
Well known for his acumen in IT strategy, professional services, management, payments, software as a service, and business intelligence, Mike has built a culture within Quisitive to always drive value for customers and partners in both cloud services and payments solutions. He has grown the company quickly, focusing on geographic scale through organic growth and strategic acquisitions, industry services and solutions, and the development of first-party SaaS solutions, including the recent launch of LedgerPay, an innovative payments technology platform.
Mike is a strong business development professional with a Bachelor of Science degree in Computer Science from the University of Wisconsin – La Crosse and an MBA focused in Management from the University of St. Thomas in Minnesota.
John Flynn is a seasoned entrepreneur and industry veteran with over 30 years of innovative credit union, banking, and financial services experience.
He has been privileged to lead, launch or co-found numerous companies. Passionate about innovation, his work and personal ventures have remained committed to advancing the industry forward and provide solutions to real needs.
Since co-founding both in 2000, John has served as President and Chief Executive O cer of Open Lending, LLC and Lenders Protection, LLC, a wholly owned subsidiary of Open Lending, LLC. In his role, John leads the Sales, Marketing, Business Development and Account Management divisions. He also manages the insurance carrier relationships that support the Lenders Protection program. Under his leadership, Open Lending has been named to the Austin Business Journal's "FAST 50" list five times, recognizing the fastest growing private companies in Central Texas. The company has also been named to the "INC 5000" list of fastest growing private companies nationwide and been named a "Best Place to Work" in Central Texas three times.
John's extensive background allows him a unique perspective for the industry. He brings diverse experience across financial institution leadership and operations, sales and marketing, and business development. He served for 12 years as Chief Executive O cer at Washington Gas Light Federal Credit Union in Springfield, VA. John was previously Senior Vice President of Sales and Marketing for Good2cu.com. He formerly led Marketing at The Equitable where he spearheaded the design and execution of the firm's national marketing program for the credit union industry.
A sought after expert in financial institution operations and profitability, John co-founded Objective Advisors, Inc., a registered Investment Advisory firm dedicated to providing objective financial management services exclusively to credit unions and banks nationwide. John also currently serves as President of IAS (Insurance Administrative Services, LLC), a wholly owned subsidiary of Open Lending, LLC.
In 2015, John co-founded The Finest Federal Credit Union, established to serve the police and law enforcement agencies of New York City. It became the first newly chartered credit union in years. John also co-founded and co-owned CU Mortgage, Inc. and Digital Settlement Services in the Washington, D.C. area. He served on the Board of Directors for the Metropolitan Area Credit Union Management Association, in
Founded in 2000, Open Lending works exclusively with automotive lenders by providing loan analytics, risk-based pricing, risk modeling, and automated decision technology. Based in Austin, Texas, the company services over 400 financial institutions nationwide.