Virtual Event
CEO Conversations with Scott Francis & Tom Kieley
March 8, 2021 @ 6:00 pm

-

7:00 pm

Virtual Event

Free – $20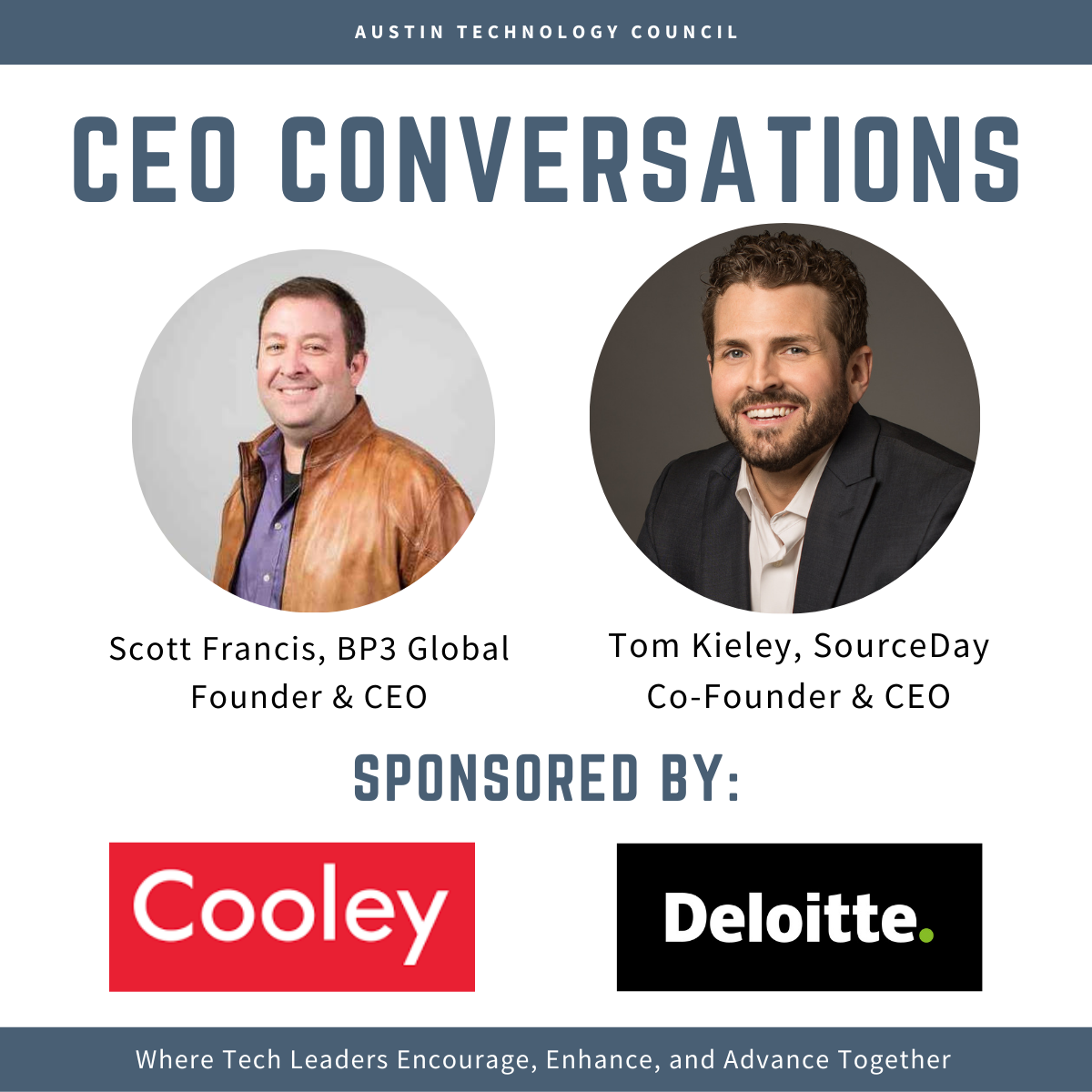 Join the Austin technology community in a fireside chat with Scott Francis and Tom Kielely. The winter storm that swept through much of the country and crippled the homes and businesses of Texans like nothing we've seen before was full of procedural successes and failures. Tom and Scott will discuss how tech misstepped as well as stepped up in a way few expected during the snowpocalypse.
Scott Francis is CEO and Co-founder of BP3 Global, Inc. where we give people faster ways to get things done. We streamline and automate the processes that drive everything from customer experience to employee productivity. Our clients want a specific business outcome, and they want it the fastest way possible, and that is what we deliver. We bring our more focus, more foresight, more followup approach to every engagement.
Scott has always been passionate about education, and serves as President of the Board of the Magellan International School in Austin, Texas, a school that is unique in Austin: International Baccalaureate curriculum, with Spanish Immersion, Mandarin as a second language, and a specialization in Design + Making, serving pre-Kindergarten through 8th grade.
Scott also serves on the board of the Austin Technology Council, whose mission it is to support the technology ecosystem in Central Texas. Prior to BP3, Scott held a variety of senior leadership roles at Lombardi Software and Trilogy Software. Scott holds a Bachelors degree in Computer Science from Stanford University, serves on the Board of the Magellan International School and of the Austin Technology Council.
Tom Kieley is the CEO and co-founder of SourceDay, a supply chain performance software that bridges the gap between the ERP and the supplier network, making it easy to manage changes throughout the direct spend lifecycle. Tom leverages a 16-year career in SaaS technology and operations, working for enterprise software providers including Asure Software, Actian, and Dell. His entrance into the supply chain space began early in his career, where he served as an operations supervisor for Dell Manufacturing.
Tom has a bachelor's degree in industrial distribution from Texas A&M University. He is also the co-founder of RightGift, a platform that helps non-profit organizations, charities, and schools increase awareness and curate wish lists for critical donations.