Austin Technology Council : Leadership Dinner | June 20
June 20, 2018 @ 5:00 pm

-

8:00 pm

$50 – $75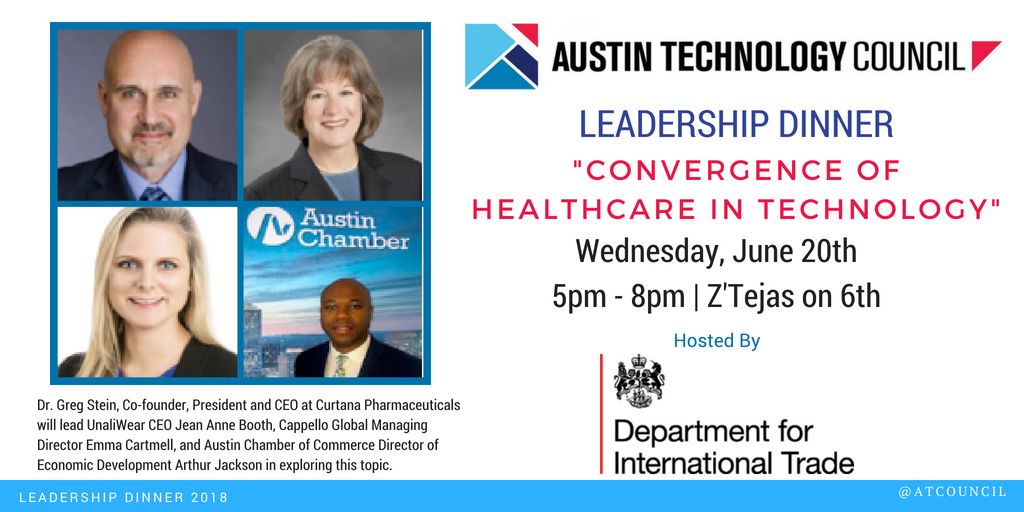 "Convergence of Healthcare in Technology"
Dr. Greg Stein, Co-founder, President and CEO at Curtana Pharmaceuticals will lead UnaliWear CEO Jean Anne Booth, Cappello Global Managing Director Emma Cartmell, and Austin Chamber of Commerce Director of Economic Development Arthur Jackson in exploring the Converge of Healthcare in Technology.
Wednesday, June 20th | 5:00 – 8:00 PM
Z'Tejas Downtown (map)
Thanks to our Host Sponsor
LEADERSHIP DINNER FEATURED SPEAKERS
Wednesday, June 20 | 5:00 – 8:00 PM | Z'Tejas Downtown (map)
Dr. Greg Stein
Co-founder, President and CEO
Curtana Pharmaceuticals
Dr. Gregory Stein co-founded Curtana Pharmaceuticals and became the company's Chief Executive Officer in April, 2013. During his professional career of over 20 years, he has been a clinician and a life sciences executive with experience in the areas of diagnostics, medical devices, pharmaceuticals and biotechnology. Prior to co-founding Curtana, Dr. Stein served as the Vice President, Operations and Medical Affairs at Sova Pharmaceuticals, Inc., a venture-backed company he co-founded in March, 2010. The company is focused on the development of novel therapeutic drugs for the treatment of inflammatory and neuropathic pain. Prior to Sova, he was the Senior Director of Product Marketing at Genoptix, which was recently acquired by Novartis. Genoptix is a specialized laboratory service provider focused on delivering personalized and comprehensive diagnostic services to community-based hematologists and oncologists. Prior to joining Genoptix, Dr. Stein was an entrepreneur with a focus on identifying innovative technology for commercial development in the medical therapeutic, device and diagnostic areas. He has been the founder of two other early-stage drug development companies, Opus Pharmaceuticals and Uzima Bioscience.
Before pursuing a career in the business world, Dr. Stein practiced Emergency Medicine in a busy urban hospital on the west side of Chicago where he served as the Assistant Medical Director of the department and Associate Emergency Medical Services Director for the regional EMS system. Dr. Stein is board certified in Emergency Medicine. He completed his residency at the University of Illinois Affiliated Hospitals in Chicago and is a graduate of the 3-year accelerated Independent Study Program at the Ohio State University School of Medicine. Dr. Stein received a B.A. in Psychology from UC San Diego and an M.B.A. from The Rady School of Management at UC San Diego.
Jean Anne Booth
CEO
UnaliWear
A serial entrepreneur, Jean Anne Booth has 30 years of experience in high technology.  Now on her fourth startup, UnaliWear's Kanega watch has been named by focus groups to be a "wearable OnStar for People" because it provides discreet support for falls, medication reminders, and a guard against wandering in a classically-styled watch that features an easy speech interface rather than buttons.
Jean Anne was previously the founder of Luminary Micro, the creators of the Stellaris® microcontroller (MCU) platform and the first to market with ARM® Cortex™-M3-based microcontroller solutions.  Luminary Micro was acquired by Texas Instruments in May 2009. Jean Anne retired from TI in 2012 after serving as the General Manager for TI's Stellaris family of products.
Jean Anne was also a founder at Intrinsity, which was sold to Apple in April 2010.  Her first startup experience was at Exponential Technology, the creators of a 533 MHz BiCMOS PowerPC microprocessor.  Early in her career, Jean Anne worked with AMD's embedded microprocessor products for 10 years in a number of management, marketing and engineering roles.
Jean Anne holds a BSEE from the University of Texas and an MSCE degree from National Technical University.
Emma Cartmell
Managing Director
Cappello Global
Emma Cartmell joined Cappello in 2017, following a 20-year career building, acquiring, selling and taking companies public. Ms. Cartmell has served in multiple C-level positions for both public and private companies and has deep expertise in the healthcare technology and technology-enabled healthcare services industries.  Under her leadership and guidance, multiple healthcare organizations have created and brought to market successful products and services that have led to successful exits.
Prior to joining Cappello, Ms. Cartmell served as the COO of NantHealth, a $1B private equity fund where she built the team and led investments and acquisitions of more than 50 companies. Before that, Ms. Cartmell was the COO of Personalized Medicine at Abraxis BioScience where she prepared the company for sale and helped negotiate an 8x revenue sale to Celgene for $2.9B.  Earlier in her career, she was VP of Healthcare Advanced Programs and Director of Business Development at SAIC where she held both P&L and revenue-generating responsibilities for a $500M healthcare business and assisted with SAIC's IPO road show materials.
Ms. Cartmell has developed M&A strategies for public and private companies on both the buy and sell-side, with investment targets of up to $1B.  She also advises the Morgan Stanley Equity Research team on the Digital Health Market. She personally invests in healthcare technology start-ups, both individually and as a member of the Central Texas Angel Network, and helps guide them towards successful exits through her extensive healthcare industry knowledge and relationships.
Ms. Cartmell serves on the boards of the following companies and industry associations: HIMSS North America (non-profit), Austin Healthcare Council
(non-profit), Morgan Stanley's Equity Expansion Fund and multiple start-ups, including B.Well, Care.Coach and Accordion Health (acquired in 2017). In 2013, Ms. Cartmell was appointed as an advisor to both the U.S. and British governments on healthcare technology trade and investment, and she presents regularly at Health DataPalooza on the international venture capital markets.
Ms. Cartmell was recently awarded the John A. Page Outstanding Service Award at HIMSS17 for her leadership in HIMSS and the Healthcare Industry.  Ms. Cartmell holds a Masters of Science degree from King's College London.
Arthur Jackson
Director of Economic Development
Austin Chamber of Commerce
Arthur Jackson is the Director of Economic Development for the Austin Chamber of Commerce, which represents the five county Central Texas region.  Home to over 2.1 million residents, the Austin metro is one of the fastest growing and most economically diverse regions in the nation. Ranking on almost every "best places" lists, the region's progressive culture, low cost of living, and access to a highly skilled and talented workforce has positioned the city and region for even greater success.
Arthur's responsibilities at the Austin Chamber include promoting the Austin region as the premier destination for companies considering a relocation or expansion while guiding them through the site selection process. While at the Austin Chamber, he's worked with companies like Merck, Blue Apron, Pfizer, Flextronics, Natera and others to establish an Austin presence. Arthur is also very integrated with local businesses and continuing to improve the local business climate.
Prior to joining the Chamber, he worked in Business Development for Allergan Inc. Part of a Business Development team that set record sales and individually achieved Sales Representative of the year in his pharmaceutical division.
Arthur received his Bachelors of Business Administration in Marketing from Prairie View A&M University (Texas A&M System) and also holds an Executive MBA from the same institution.
This event features subject matter expert speakers addressing best practices, problem solving, and thought leadership in a confidential environment.
The discussion-style event allows executives to freely exchange ideas and experiences, have open discussion on emerging trends, issues, and new market opportunities, and promote research that facilitates the advancement of the industry.
The event will be held at Z'Tejas downtown and free valet is provided to those who register.
Tentative Agenda:
5:00-6:00 pm Networking Cocktail Hour
6:00-7:00 pm Panel Discussion
7:00-8:00 pm Dinner
FAQs
What are my transportation/parking options for getting to and from the event?
Complimentary valet is offered at the event site located at Z Tejas.
How can I contact the organizer with any questions?
Please e-mail info@austintechnologycouncil.org with any questions.