ATC Unplugged: "Stress-Proof: High Performance Under Pressure"
July 14, 2022 @ 12:00 pm

-

1:00 pm

FREE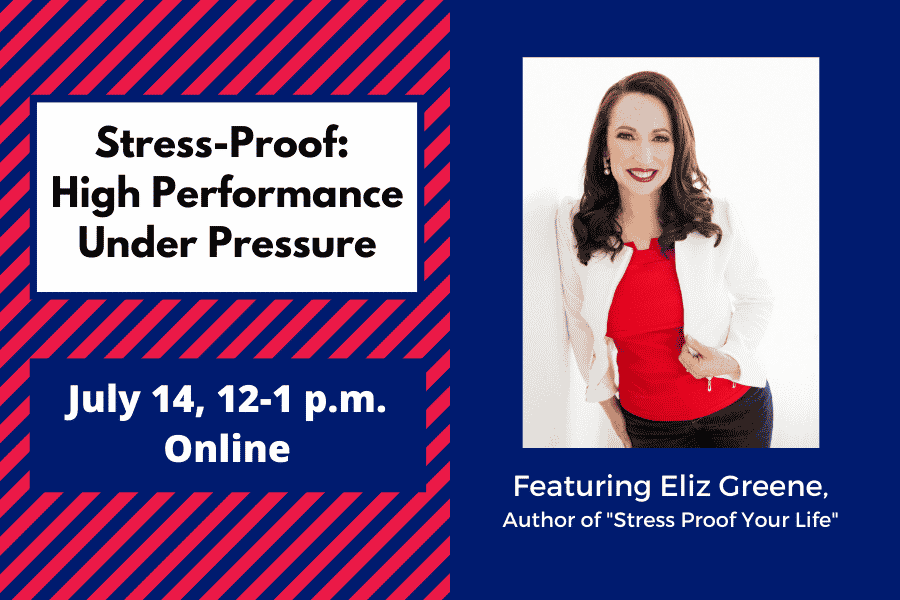 Ever wonder why some people falter under stress while others shrug it off? 
Are you sick of work-life balance strategies that don't work?
Ever wonder if work-life balance is even the right problem? 
Wellness expert Eliz Greene delivers surprising insights and innovative, actionable strategies based on her research on job stress in this interactive, fun, and compelling program.
Through stories from a wide variety of leaders and employees interviewed during her study and her own experience surviving a heart attack while seven-months pregnant with twins, Eliz debunks work-life balance and provides a plan to protect your health, productivity, and sanity under the stress you can't avoid. She uses humor and engaging activities to show it's time to:
Participants will:
 Explore the major causes of stress
 Examine emotional stress triggers to reveal why some people are bogged
down by stressful environments while others thrive.
 Rewire assumptions about generations and gender to improve teamwork,
communication, management, and performance through an engaging exercise.
 Understand different types of stress recovery strategies and identify their own
recovery profile using an entertaining activity.
About Eliz Greene:
Surviving a heart attack at age 35 while seven months pregnant with twins propelled Eliz Greene on a mission to share her story to inspire other busy people to pay attention to their health. Recognizing stress as an essential and often under-addressed risk factor, Eliz conducted a research study on job stress. Eliz is an author and writes a Top Health and Wellness Blog. She was named as a Top Online Influencer on Stress and Heart Health. She's been seen on CNN, PBS, Lifetime, TNT, and many national and local news programs. A national spokesperson and advocate for the American Heart Association, Eliz received the Heart Hero Award in 2010. Organizations such as NASA and CVS have used her strategies to reduce workplace stress. Today, Eliz is happy and healthy living in Milwaukee, Wisconsin, with her wonderful husband, Clay, their amazing (now adult) daughters.