As ATC developed new programming for 2018, the launch of the Sales Tech Roundtable Series brought about a lot of questions.
The most frequently asked question:

What is Sales Tech?
As this is a great question we thought we would help by providing some context to help give more insight to what the event is about, who should attend and what the value of the programming is.
Learn about Sales Tech – Attend the upcoming Roundtable!
Tuesday, July 17

th

ATC will be hosting our next Sales Tech Roundtable at Bank SNB in The Domain. Register Now to Attend!

AN OVERVIEW:

ATC, The BHAG & SALES TECH
What is ATC

'

s Goal and what is the BHAG?
I joined ATC because I was passionate about the BHAG.
For those of you I have not had a personal conversation with about this, it is ATC's big, hairy, audacious goal to help grow 10 Austin based tech companies to $1 billion in revenue in the next 10 years, and another 100 to $100 million in that same time.
In the last two and a half years we transformed our programming to provide thought leadership to do this.
What are your new focuses for programming?
ATC and the BHAG are focused on five areas of discipline within companies.
Each area is important and vital to the growth of companies. If all are not functioning then the entire company fails.
ATC Programming Focuses:
The Executive Suite
Finance & Operations
Engineering & Product Development
HR & recruiting, and
Sales & Marketing
How does Sales Tech fit in?
ATC's big, hairy, audacious goal leaves us with tough questions and big numbers. How do we get to $100 million in revenue? How do we even think to get to $1 billion?
In both questions we are talking about revenue, and there is one department, and only one that asks for money and tasked to bring in revenue.
Sales.
Why is there a Roundtable event for Tech?
To tackle the BHAG questions on how we build revenue we felt we needed an open discussion and flexible format for sales leaders; managers, directors, vice presidents, and CRO's to come together and discuss what it happening in their teams. Talk about the need for ongoing training, no matter how long an employee has been with the company. Real talk about compensation, the fact that 20% of college graduates will end up in sales at some point in their career, but there is not enough being done in colleges and university to develop sales as degree students can achieve.
How is this different than a Sales or Networking Event?
Most sales programming consists of eager, hungry, hunting sales people showing up to a breakfast or happy hour with a stack of business cards in their hands looking for leads. I know from firsthand experience, sometimes it works, most of the time it doesn't.
For sales managers and leaders that push their people to go out and network, this is not the event for you.
This event is meant to create and continue dialogue of how Sales helps to grow and contribute to the success of Austin Technology companies. It will provide thought leaders, topics of discussion and areas of focus that will help guide conversations and allow others to contribute so the ATC Member Community can get closer to realizing the BHAG goal.
When is the next Sales Tech event?
On Tuesday, July 17 we will host our next Sales Tech Roundtable at Bank SNB in The Domain. We will discuss the importance of communication within our teams, and our internal customers, especially marketing. We will also discuss the importance of creating clear and attainable goals.
I hope to see you there and more important, I hope to see your company reach that first $100 million or $1 billion!
Amber Gunst
Interim CEO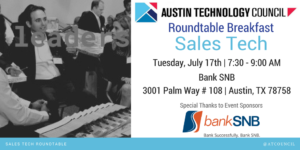 Sponsored By: Bank SNB