Why Investing in Your People is as Important as Investing in Your Forecast
September 9, 2020 @ 11:30 am

-

12:30 pm

Free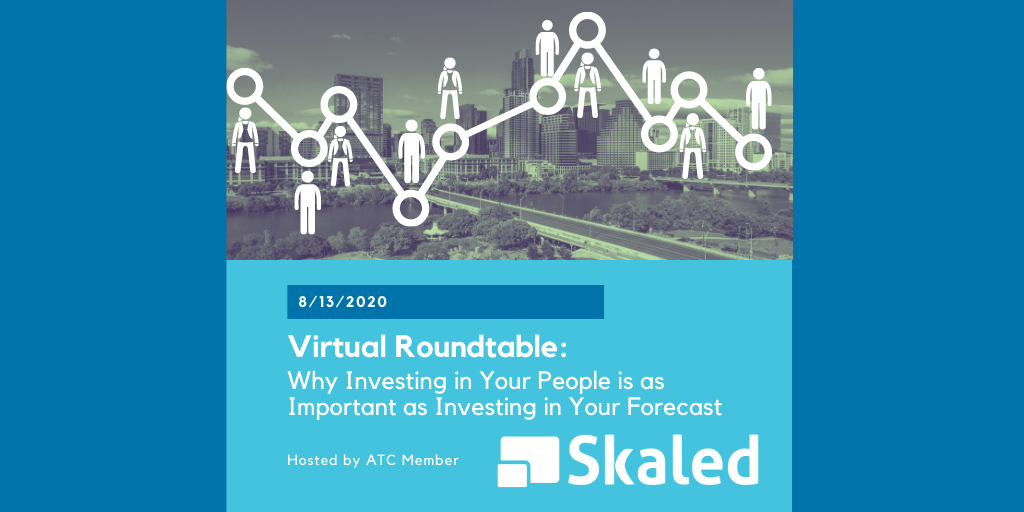 New date – Thursday, September 3, 2020
As business owners and leaders, we know that the success of our business is contingent upon the success of our people. In times like today, focusing on our people is most important but can also be harder to do as we worry about hitting our monthly, quarterly, and annual targets.
In the realm of sales and revenue organizations, we're putting even more pressure on our teams right now and need to reevaluate on how we add these new responsibilities, changes we need to make in communication, and how we can help our people to succeed so the business continues to succeed.
Join us as we walk through the value of:
Feedback and 1-on-1s
Outcomes Over Volume
A Personalized Approach to Employee Communication
An Adaptable Organization
Agenda:
11:15 AM – Networking
11:30 PM – Presentation
12:30 PM – Q&A
Skaled is a modern sales consulting firm that helps companies scale effectively and efficiently. We help our partners optimize their sales process, people, and technology to accelerate business growth. Technology-enabled and practitioner-driven, we customize and deliver successful consulting engagements that drive quantifiable results.
Special thanks to our speaker:
Jake Dunlap is the founder and CEO of Skaled Consulting and a recognized Sales Leader and B2B Sales and Marketing Thought Leader. Jake and the Skaled Team help executives around the world accelerate and scale business growth with data-backed sales solutions and a sustainable customer framework.
Along with the list of enterprise clients Skaled has amassed in a few short years (read: The New York Jets, LinkedIn, Insightly, ADP, Microsoft), the majority of Skaled clients are Startups and Mid-Level businesses looking for accelerated growth with a scalable and sustainable path forward.
In these uncertain times, Jake has naturally positioned himself and Skaled as an Expert in adaptability. Jake spends most days leading Executives and Teams through modern demand gen sequences and into the future of sales and marketing.
Before building Skaled, Jake held the roles of VP of Sales at Nowait (acquired by Yelp), Head of Sales + Customer Success at Chartbeat, and VP of Sales at Glassdoor (acquired by Recruit Holdings for $1.2 billion dollars in 2018).
Tiffany Giddens is currently the head of Global Sales Development at Planview. Based in Austin, she manages 22 reps worldwide as well as helps adjust prospecting strategies based on the needs of the company. Prior to joining Planview in 2019, she ran global sales development for a security software company and has spent most of her career managing and supporting global sales development & inside sales teams. When not working, you can find her hanging out at the beach with her yellow lab, Nacho.