Virtual Roundtable: "Stay Out of the COVID-19 Alligator Pit — Energize Your Mindset" hosted by The Alligator Wrangler
April 7, 2020 @ 11:30 am

-

12:30 pm

Free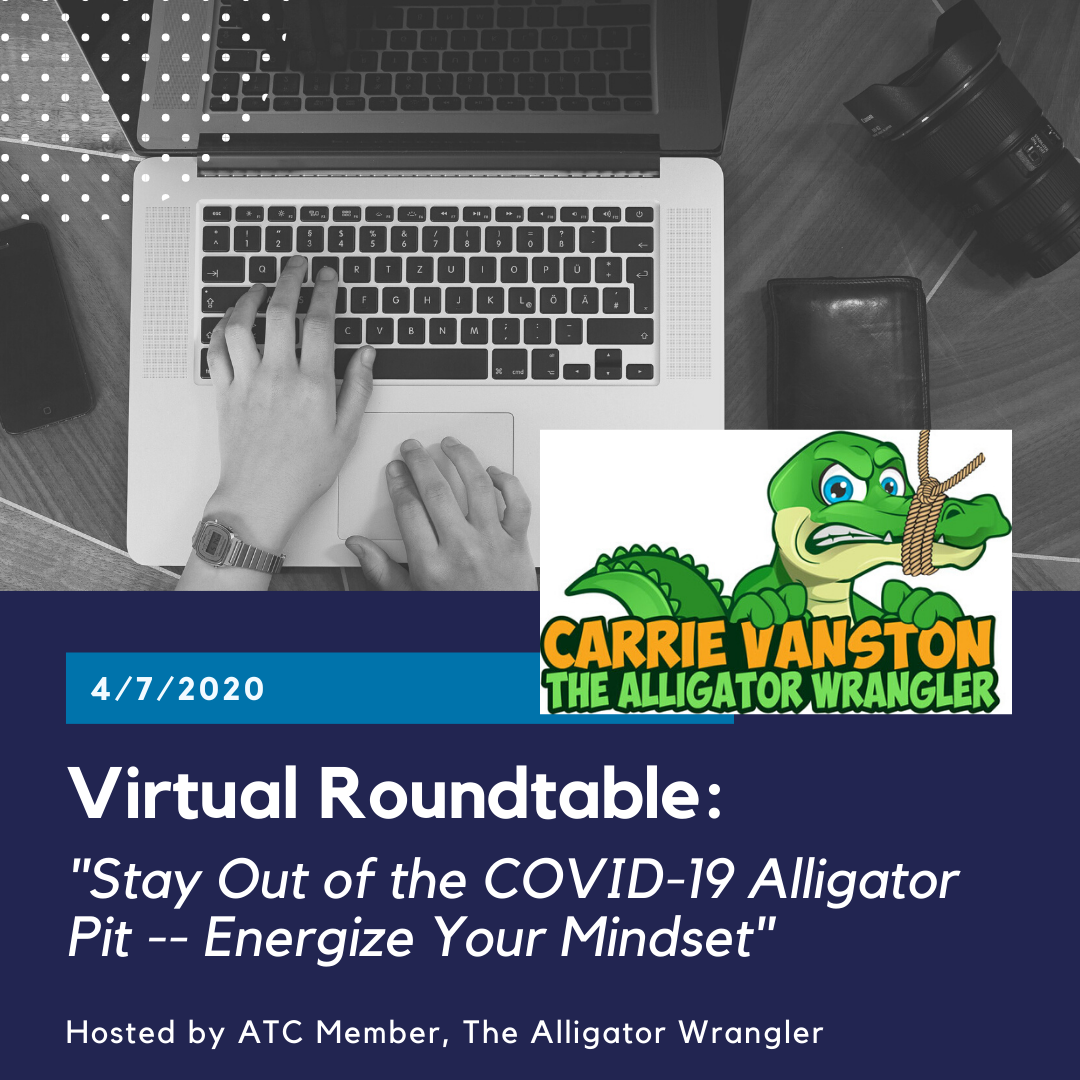 Stay Out of the COVID-19 Alligator Pit — Energize Your Mindset hosted by The Alligator Wrangler
With all the shutdowns and unknowns surrounding the COVID-19 virus swirling around us, it can really feel overwhelming, frustrating, and stressful. Or in Carrie Vanston's nomenclature, a proverbial Alligator Pit just waiting for us to fall into.
So how do we keep our sanity and stay out of the swamp during this period of uncertainty? The trick is moving on from the fixed mind of fear and negative emotions to consciously shifting your mindset to one of empowerment, opportunity, and unexpected outcomes. In other words, a growth-oriented, energized mindset.
For our next Roundtable on Tuesday, April 7, 11:30 am-12:30 pm, ATC member Carrie, The Alligator Wrangler, will give you some tips on how you can get out, stay out, and move on from the pit when the 'gators come snapping. Then the online audience will be invited to join the conversation and discuss challenges, solutions, and opportunities.
You'll leave saying "See you later, alligator!"
___________
About Carrie Vanston
ATC member Carrie Vanston helps business professionals out of the proverbial "alligator pit" of too many demands and frustrations by increasing their leadership and energy levels so they can reach their goals quicker and with less stress.
Carrie co-authored the award-winning book "MiniTrends: How Innovators & Entrepreneurs Discover & Profit From Business & Technology Trends," with Dr. John Vanston. Her article "Five Keys to an Engaged and Innovative Culture" was one of the top 5 most read articles of the year in Texas CEO Magazine.
Carrie previously led Corporate Cultures That Rock, where she helped build transformational organizations. Prior to that she was Vice President of Communications for Technology Futures, Inc. and directed TFI's MiniTrends Project. She is presently a TFI Board Member.
She is a popular speaker on being a more energized, visionary leader. Her presentations have included the Project Management Institute, ETWT, World Futures Society, ICF, IEEE, Texas Women's Chamber, and many others.
Carrie is the Ambassadors Officer at the Association of Corporate Growth Central Texas, a National Adviser at the Academy of Culture Ambassadors, and a member of several other industry organizations.
She is an Energy Leadership Index Master Practitioner (ELI-MP), iPEC Certified Professional Executive Coach (CPC), and Accredited ICF Coach (ACC).
On the personal side, Carrie loves to dance, travel, and spend time with her two children.
—————————————————————————————
Our community members are eager to share their expertise, current services, product launches, etc. but are looking for the right vehicle to share their message. In response to our community's need, ATC introduces Virtual Roundtables, hosted online as a healthy and responsible alternative to our in-person Roundtable breakfasts.