Venture Summit | West 2018
March 13, 2018 @ 8:00 am

-

March 14, 2018 @ 5:00 pm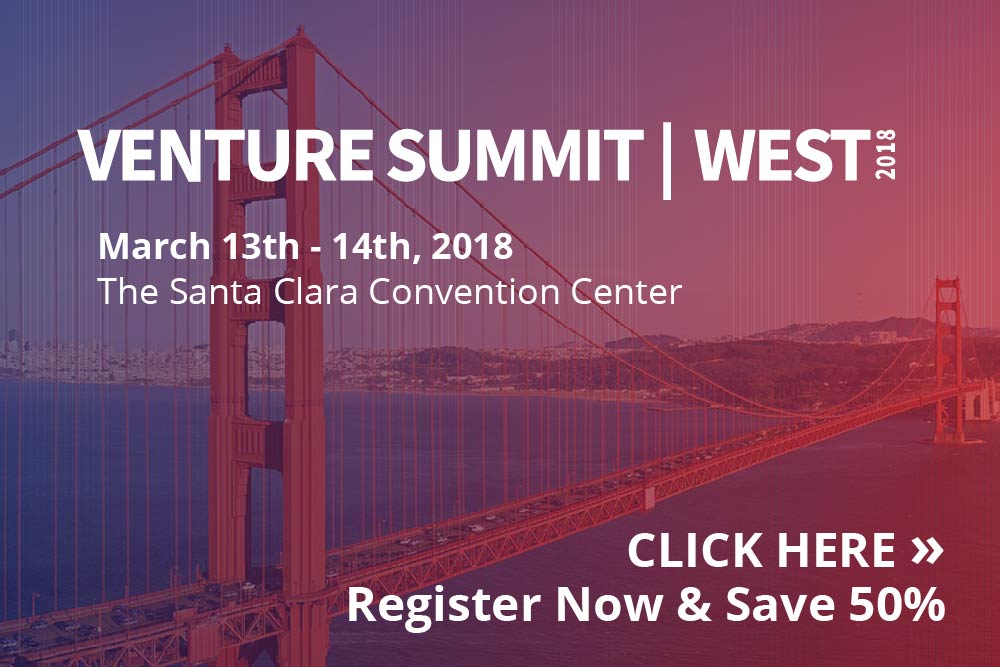 Venture Summit | West 2018 being held on March 13th  & 14th 2018at the Santa Clara Convention Center, Santa Clara, CA.
The 6th annual Venture Summit West, presented by youngStartup Ventures, is the premier industry gathering connecting venture capitalists, corporate VCs, angel investors, technology transfer professionals, senior executives of early stage and emerging growth companies, university researchers, incubators and premier service providers.
Whether you are an investor seeking access to new early stage deals, or a CEO or Founder of a new venture looking for funding, visibility and growth, Venture Summit West is one event you won't want to miss.
As you may know, this exclusive venture summit will bring together over 500 Venture Capitalists, Corporate VCs, Angel Investors, Investment Bankers and CEOs of early stage and emerging growth companies; will feature more than 50 leading VCs on interactive panel discussions; presentations from more than 50 Top Innovators; and high-level networking opportunities.
Partial list of VCs that attended the 2017 Venture Summit West included:
Lara Abbaschian, Vice President, Lightstone Ventures | Omid Akhavan, Principal, MVM Life Science Partners | Mark Austin, Partner, Bright Capital | Amolak Badesha, Investor, Sand Hill Angels | Eric Bahn, Venture Partner, 500 Startups | John Balbach, Managing Partner, Adapt Capital | Angela Bao, Senior Investment Manager, Sinovation Ventures | Parker Barrile, Partner, Norwest Venture Partners | Ashley Beckner, Principal, Omidyar Network | Sandeep Bhadra, Principal, Menlo Ventures | Ashley Bittner, Principal, Owl Ventures | Brandon Blaesser, Analyst, NewWorld Capital Group | Andre Bliznyuk, Partner, Runa Capital | Neda Blocho, Partner, Pear | Kiki Broe, Senior Associate, Three Leaf Ventures | Sasha Brown, Principal, Ecosystem Integrity Fund | Claire Celeste Carnes, Partner, Providence Ventures | Noah Carr, Principal, Bain Capital Ventures | Sarah Catanzaro, Investment Associate, Canvas Ventures | Joanne Chen, Partner, Foundation Capital | Darren Cooke, Investor, Life Science Angels | Eugene Chou, Investor, Sapphire Ventures | Heather Crawford, Investor, Band of Angels | Mark Cupta, Investor, Prelude Ventures | Marianne De Backer, Vice President, Johnson & Johnson Innovation | Anne DeGheest, Founder, HealthTech Capital | Sara Deshpande, Partner, Maven Ventures | Iana Dimkova, Director, GE Ventures | Cong Ding, Investor, Comcast Ventures | Dan Doble, Senior Technology Manager, SABIC Ventures | Yizhen Dong, Principal, Eleven Two Capital | Doug Dooley, Investor, Venrock | Ted Driscoll, Partner, Decheng Capital | Marah Dudenhoeffer, Manager, Verizon Ventures | Tom Eggleston, Managing Partner, Charmides Capital | Andrew ElBardissi, Principal, Longitude Capital | Chenoa Farnsworth, Managing Director, Blue Startups | Curtis Feeny, Partner, Voyager Capital | Shawn Flynn, Investment Director, Bay Angels | Rayfe Gaspar-Asaoka, Associate, Canaan Partners | Frederik Groce, Analyst, Storm Ventures | Isabelle Hau, Partner, Omidyar Network | Brian Heimberg, Investment Director, Tsing Capital | Yashwanth Hemaraj, Principal, Benhamou Global Ventures | Peter Henig, Founder and Managing Partner, Greenhouse Capital | Francis Ho, Managing Director, Samsung Catalyst Fund | Mohammad Islam, Senior Associate, Draper Fisher Jurvetson | Ajay Kamat, Partner, Pear | Eylul Kayin, Associate, NEA | Sean Kearney, Managing Director, Three Leaf Ventures | Asad Khaliq, Investor, Aspect Ventures | Maxwell Kim, Associate, InterWest Partners | Angela Tran Kingyens, Partner, Version One Ventures | Masashi Kiyomine, Investment Director, Mitsui & Co. Global Investment | Nathaniel Krasnoff, Investor, Wildcat Venture Partners | Ellen Koskinas, Managing Director, Hearst Health Ventures | Vanessa Larco, Partner, NEA | Jake Latcham, Venture Principal, Schlumberger Technology Corporation | Tony Lazar, Investor, Harvard Angels | Noah Lewis, Managing Director, GE Ventures | Larry Li, Managing Partner, Amino Capital | Robin Li, Vice President, GGV Capital | Ephraim Lindenbaum, Managing Director, Advance Ventures | Ryan Han Liu, Associate, IPV Capital | Susan Liu, Vice President, Scale Venture Partners | Silvia Mah, CEO, Hera Labs | Jillian Manus, Managing Partner, Structure Capital | Susan Mason, Managing Director & Co Founder, Aligned Partners | Melina Mathur, Associate, Asset Management Ventures | Brad McManus, Director of Investments, Motorola Solutions Venture Capital | Tytus Michalski, Managing Partner, Fresco Capital | SC Moatti, Managing Director, The Angels' Forum | Sergio Monsalve, Partner, Norwest Venture Partners | Saam Motamedi, Investor, Greylock Partners | Stephanie Mui, Associate, NEA | Ravi Mulugu, Investor, Siemens Venture Capital | Ben Narasin, Partner, Canvas Ventures | Uriridiakoghene Onovakpuri, Principal, Kapor Capital | Mariya Osadchaya-Isa, Principal, Speedinvest | Min Park, Investor, Samsung Ventures | Preetha Parthasarathy, Investment Director, Intel Capital | Mar Perez, Principal, VentureHealth | Colleen Poynton, Vice President, Core Innovation Capital | Nasir Qadree, Head of Education, Village Capital | Lei Qi, Investor, SAIC Ventures | Ulrich Quay, Managing Director, BMW i Ventures | Vivek Ramaswami, Investor, Redpoint Ventures | Robert Ravanshenas, Associate, Maven Ventures | Bill Reichert, Managing Director, Garage Technology Ventures | Evan Renov, Partner, Beechwood Ventures | John Ricci, Founder, US Angel Investors | Adrian Rich, Partner, Dorsey & Whitney LLP | Akhil Saklecha, Managing Director, Artiman Ventures | Carol Sands, Managing Partner, The Angels' Forum | Jake Saper, Principal, Emergence Capital | Ken Sawyer, Managing Director & Founder, Saints Capital | Justin Schmidt, Partner, Aadya Capital | Katie Schwartz, Investor, Crosslink Capital | Kimmy Scotti, Partner, 8VC | Kim Seals, Managing Director, Golden Seeds | Alex Sharata, Managing Partner, A-Level Capital | Abhishek Sharma, Vice President, Nexus Venture Partners | Jacob Shea, Partner, Structure Capital | Valerie Shen, Investor, Kleiner Perkins Caufield Byers | Richard Simoni, Managing Director, Asset Management Ventures | Todd Simpson, Venture Partner, iNovia | Michael Staton, Partner, Learn Capital | Deborah Stephens Stauffer, Principal, Atrium Capital | Alex Suh, Founding Managing Director, California Technology Ventures | Li Sun, Senior Associate, Bessemer Venture Partners | Rajesh Swaminathan, Investment Director, Applied Ventures | Gaurav Tewari, Managing Director, Citi Ventures | Leigh Thompson, Senior Technology Scout, Dow Ventures | Nick Triantos, Venture Partner, Ignition Partners | Esther Tricoche, Partner, NewSchools Venture Fund | Marc Van Den Berg, Partner, DBL Partners | Sonali Vijayavargiya, Founder & Managing Director, Augment Ventures | Chuhan Wang, Associate, GGV Capital | Tim Wang, Investor, The Westly Group | Paul J. Weinstein, Partner, Azure Capital Partners | Phyllis Whiteley, Venture Partner, Wildcat Venture Partners | Seth Winterroth, Partner, Eclipse | Henry Wong, Chairman, Diamond TechVentures | Darren Young, Investor, Micron Ventures | Eugene Zhang, Founding Partner, TEEC Angel Fund and many more.