Virtual Event
The Improving Edge Conference
June 7, 2021 @ 10:00 am

-

June 11, 2021 @ 4:00 pm

Virtual Event

FREE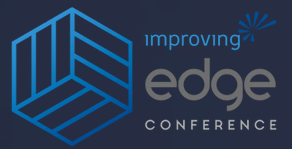 Stay on the emerging EDGE of the industry
Engage. Empower. Elevate.
Improving Edge was designed from the ground up to bring as much value to the community as possible. By leveraging our long standing relationships and community connections, we have pulled together a schedule of speakers that should bring value to individuals, executives, and team leaders alike. If you are looking for inspiration, new tips and techniques, or fellowship in the community then the Improving Edge is for you.
Improving considers the industry community to be a key stakeholder in our business, and because of that we aim to share time, knowledge, and experience freely to that community. The Improving Edge adds to other programs like lunch and learns and articles to share lessons learned. At a time when so many of us are facing continued struggles, new problems, and looking for advice in an ever tightening business environment, we felt that it was the perfect time to double down on giving back to the community. The collective goal of Improving, the speakers, and the whole Edge team is that this conference makes today's, and tomorrow's, struggles a bit easier for you and your teams to solve.