Virtual Event
Technology and Innovation in the Middle East – is Bahrain your route to regional expansion?
March 31, 2021 @ 11:00 am

-

12:00 pm

Virtual Event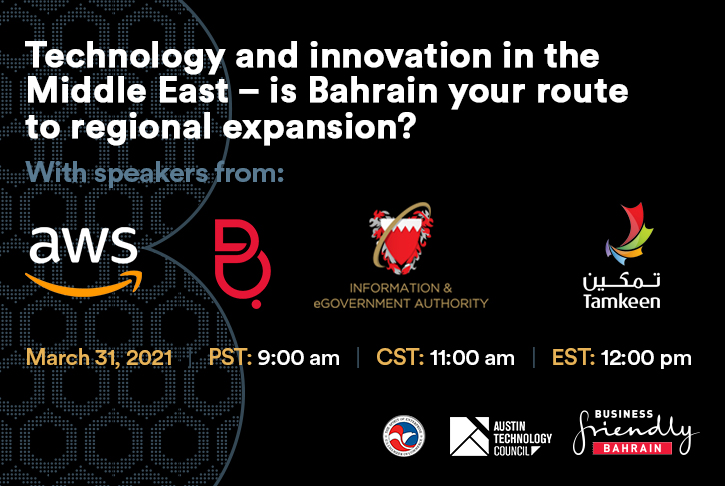 Bahrain Economic Development Board, in partnership with the US Chamber of Commerce and Austin Technology Council, invites you to join a tech-focused webinar for American Businesses titled 'Technology and innovation in the Middle East – is Bahrain your route to regional expansion?' on March 31st.
We're pleased to announce Amazon Web Services, which launched the region's first hyperscale data centre in Bahrain in 2019, as part of our panel line-up, with Head of Middle East and Africa – Public Sector at AWS, Mr. Zubin Chagpar, speaking.
With the pandemic proving the necessity of holistic digital transformation across sectors, can countries in the Middle East become drivers of innovation rather than consumers of innovation? The 50 minute event will cover digitalisation efforts across the region and how US companies can tap into the technology and innovation sectors using Bahrain as a gateway and hub.
As well as providing an overview of the technology and innovation landscape in the region, our leading experts will delve into digital investment opportunities within the sector and the incentives, funding schemes, and regulations that make Bahrain a compelling destination for tech businesses. We hope it serves as a useful introduction to this persuasive opportunity, not to mention a crucial guide for how best to access it.
To join us, please click here to register. You can use the same link to log in on the day of the event. We look forward to meeting you.
*Kindly note that the environment works best on Google Chrome. You can click on 'System Check' in the login page to assess your system's compliance with the environment.