Open Forum: Proactive Comms & Culture Plans for Returning to the Office
June 24, 2020 @ 10:00 am

-

11:00 am

FREE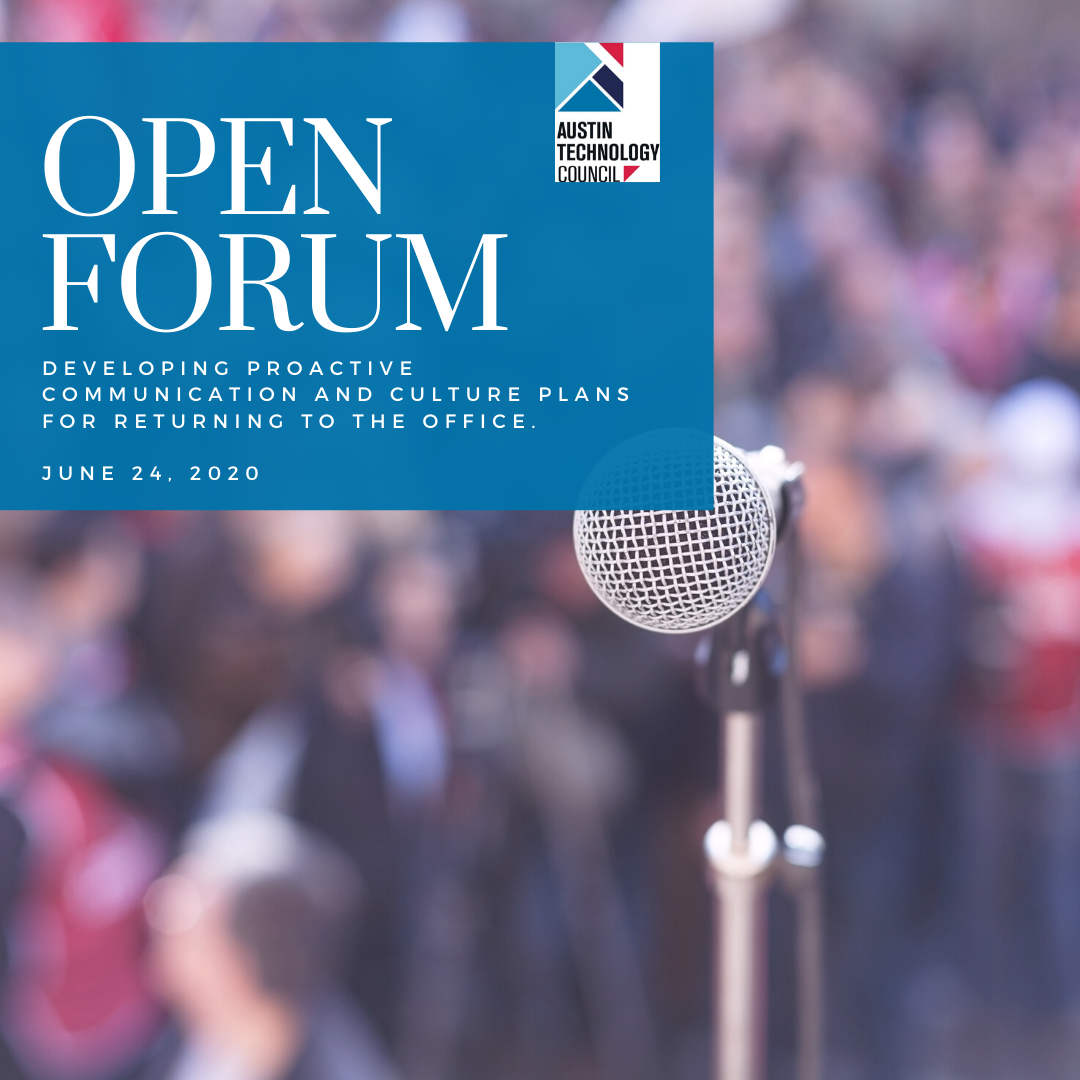 As executives and companies are planning the partial return of employees to the office, they are recognizing the challenges go beyond the physical safety and mandates of the office space. Questions around how to manage a blended work situation with staff continuing to work remotely while others return to the office. Balancing the need to establish a new approach to managing your business with building a supportive culture that addresses employee, stakeholder and customer concerns is critical in moving the tech industry forward.
Join the discussion with Shay Sabhikhi, CEO of CognitiveScale and Jennifer Cobb Moynihan, Principal at Elevate Communication on what you need to expect and plan for to have these crucial conversations.
Special thanks to our speakers:
Jennifer Cobb Moynihan, Principal – Elevate Communication
Jennifer Cobb Moynihan founded Elevate Communication, based in Austin, Texas to serve and support founders and executives in the Texas region. She believes an executive brand is built from an insightful story which shares the leader's passion for the company, the products, and their customers. Jennifer thrives on helping other entrepreneurs and executives retain their individuality while sharing the story of their company in both external messaging programs and organizational communications. Jennifer has 15+ years of communications and marketing experience in the technology, energy, communication and CPG sectors. She has been a communication advisor and founder for 10+ years with clients including senior executives from Microsoft, Google, Amazon, YouTube, IBM and SAP, preparing them for speaking engagements in tech and business media for Bloomberg, Fast Company, Forbes, Fortune, Inc, Wall Street Journal and Wired to consumer outlets including Rolling Stone, New York Times, Marie Claire, Glamour, Cosmopolitan, and USA Today. She is on the board of Naturally Austin, a national advisor for Springboard Enterprises and served on the Austin Community Foundation Women's Fund grant committee in 2020.
Shay Sabhikhi, CEO – CognitiveScale & ATC Board Member
Shay is responsible for overall company growth and strategic direction. He has more than 18 years of entrepreneurial leadership, product development, and management experience with growth-stage, venture-backed companies and high-growth software divisions within Fortune 50 companies.
Previously, Shay was the global leader for Smarter Care at IBM. He successfully led and managed the acquisition of Curam Software to establish IBM's leadership at the intersection of Social Programs and Healthcare. He has a BS & MS degree in Electrical & Computer Engineering from the University of Texas at Austin and an MBA from the Acton School of Entrepreneurship.
Shay served for two years as the Vice Chair of Innovation for the Greater Austin Chamber of Commerce, where his mandate was threefold: 1) initiate programs that support a strong and unique innovation ecosystem in the Austin region, 2) attract world-class talent to Austin's corporations and research institutions, and 3) attract more investment capital to support growing businesses.