Leadership Dinner: Going Public
March 30, 2022 @ 5:00 pm

-

8:00 pm

$50 – $75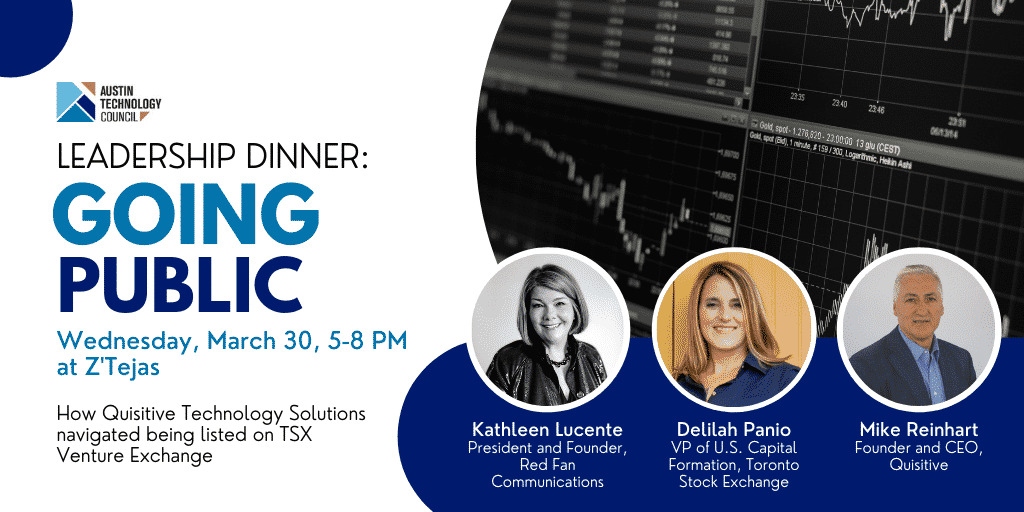 Learn the ins and outs of taking your company public at our upcoming Leadership Dinner. Experts from Dallas-based Quisitive Technology Solutions will share their story of listing on TSX Venture Exchange, and how they are using public venture capital to fuel their growth.
Decision-makers in the Austin tech industry are encouraged to attend.
Agenda:
5:00 PM || Check in, networking, happy hour
6:00 PM || Panel discussion
7:00 PM || Dinner and networking
Meet our Expert Panelists:
Delilah Panio is Vice President of U.S. Capital Formation for Toronto Stock Exchange (TSX) and TSX Venture Exchange (TSXV) based in Southern California. In this role, Delilah advises U.S. companies on the opportunity to list and raise capital on Canada's premier equity markets. She is a frequent speaker and pitch competition judge and coach, and was named in the "2019 Top 100 People in Finance" Magazine.
Previously, Delilah spent 10 years at TSX and TSXV in business development and strategy. She has advised many companies on the going public process and provides an understanding of private and public financing options in Canada and the U.S.
Mike Reinhart founded Quisitive in 2016 and serves as its Chief Executive Officer and Board Director. With over 25 years of experience leading global Microsoft IT services firms, Mike has a strong reputation with Microsoft leadership and a demonstrated history of working in the information technology and services industry. His passion, relationships, and experience working with Microsoft have driven him to create the Microsoft Partner of the Future vision. This vision is being executed through a defined M&A strategy to build the premier Microsoft Partner globally for business solutions and cloud innovation by leading with industry-focused IP.
Well known for his acumen in technology strategy, professional services, management, and IP development, Mike built a culture within Quisitive to always drive value for customers and partners in both cloud services and payments solutions. In 2018, Mike took Quisitive public, listing on the TSXV to accelerate growth and enable the firm's M&A strategy. In the years since, he has grown the company quickly, focusing on geographic scale through organic growth and strategic acquisitions, industry services and solutions, and the development of first-party SaaS solutions, including the recent launch of LedgerPay, an innovative payments technology platform.
Mike is a strong business development professional with a Bachelor of Science degree in Computer Science from the University of Wisconsin – La Crosse and an MBA focused in Management from the University of St. Thomas in Minnesota.
Kathleen Lucente is the President and Founder of Red Fan Communications. Kathleen has witnessed and played a part in the evolution of communications ever since her entrance into the tech industry more than 20 years ago, first as a journalist, then as a PR professional. Nothing if not resolute, Kathleen has acted as a public relations shaman for some of the largest technology companies and some of the smallest, most promising startups during many of the most turbulent times in tech, from the rise of global telecommunications, nanotechnology and personal computing to international mergers, acquisitions and IPOs.
After a successful and award-winning career working for IBM, JPMorgan, Ketchum Worldwide and other global brands and agencies, Kathleen moved to Austin just as the city began its meteoric rise as a hotbed for tech startups and investment.
In the time since, she has helped countless companies of all stages clarify their purpose, tell their unique stories, differentiate from their competitors and establish lasting relationships with clients and customers. The tenacity with which she approaches her clients' problems is matched only by her dedication to the Austin community. She serves on several boards—including Austin Gives and the ABC Kite Fest—and donates much of her and her staff's time to local nonprofits that have tangible impact throughout the community, including the Corporate Engagement Council for the Austin mayor's office and the Mike & Sherry Project, an Austin-based organization providing mental health support to local bar and restaurant workers.