DoD Tech Transfer Event
July 10, 2017

-

July 13, 2017

$715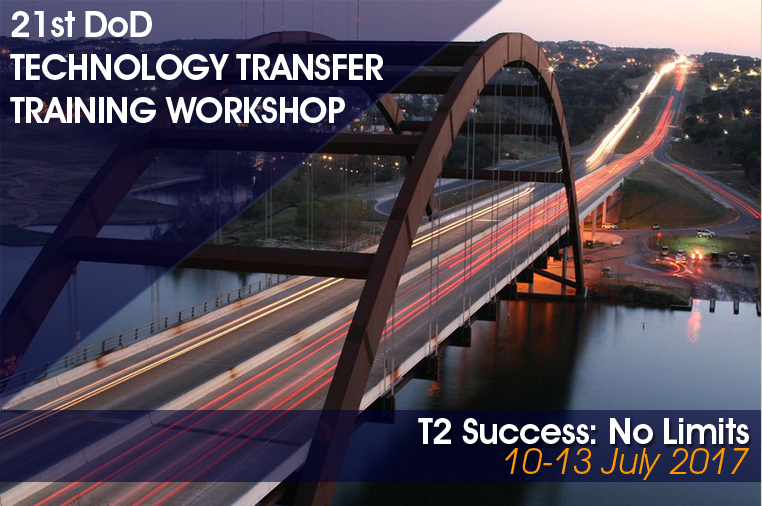 The DoD T2 Training Workshop is a forum for T2 professionals, including laboratory Office of Research and Technology Applications personnel, intellectual property attorneys, and supporting T2 staff to participate in developing new strategies, sharing lessons learned and best practices, resolving T2 problem areas, and developing a consensus on issues of concern. The DoD T2 Training Workshop also provides one-of-a-kind training opportunities from recognized T2 experts on topics critical to the professional development of the DoD T2 workforce.
This year, theyare continuing to make the workshop more interactive and encourage networking among participants. Some features of the DoD T2 Training Workshop include:
A first-timer's training session which will provide you with some helpful details about the DoD T2 program.
Concurrent Roundtable Discussions on topics of interest to members of the DoD T2 community. When you register, you will have the opportunity to select two concurrent 45-minute roundtable discussion topics. Please select carefully as you may not have the opportunity to change tables at the workshop.
An opportunity to help shape the agenda by providing questions you would like answered during the workshop.
Our popular Wednesday evening dine-arounds that provide an informal setting for attendees to socialize and meet new faces.
There are a number of sessions that require pre-registration. These include the Monday afternoon first-timer orientation, the roundtable discussion sessions, and the Technology Commercialization Assessment training session that is being presented in the Beginner T2 Topics track on Wednesday. Make sure that you sign up for these sessions when you register.
Continuing legal education (CLE) credits will be available.
Click here for a copy of the invitation letter from the Director, Defense Laboratories Office, Office of the Assistant Secretary of Defense (Research and Engineering).
Tuition Fee: $715.00
Deadline for Hotel Reservations: 12 June 2017
Deadline for DoD T2 Training Workshop Registration: 23 June 2017
Deadline for DoD T2 Training Workshop Payment/Cancellation: 30 June 2017
Review the Event/Refund Cancellation Policy which applies to ALL payment methods.