Webinar – Unleash the Power of Your "Nerd Workforce"
December 5 @ 12:00 pm

-

1:00 pm

Free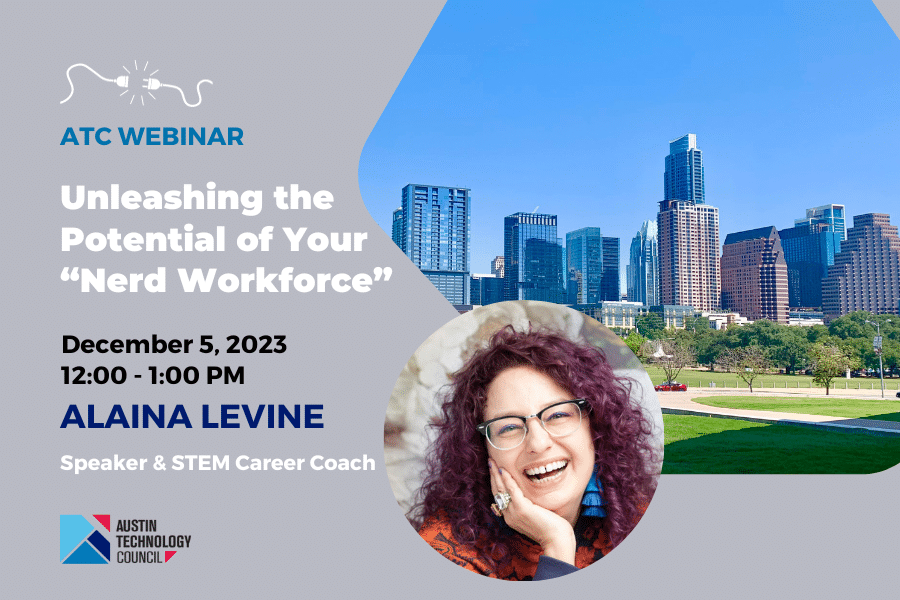 Unleash the Power of the Nerds! 
Your science- and engineering-educated colleagues, aka your Nerd Workforce, have a huge amount of talent, skills, and intelligence. But how do you nurture these invaluable team members to enable them to be their most creative and innovative? How do you support their career growth so they are at their peak performance and at your organization for years to come?
In this lively, fun, and value-driven webinar, delivered by Alaina G. Levine, Nerd, professional speaker, author, and expert in STEM career development and nerd workforce success, you will learn how to grow your STEM talent, increasing employee innovation, loyalty, and retention. Learn about the hidden superpowers of these extraordinary individuals and how to catalyze cultures that engage, ignite, and channel the energy and brilliance of your nerd workforce into extraordinary results – and enjoyment for all. Here's to the Power of Nerds!
Alaina G. Levine is an award-winning Nerd, professional speaker, career and speaking coach, TEDx speaker, science writer and corporate comedian. She is the author of two books, Networking for Nerds (Wiley, 2015), which beat out Einstein (really!) for the honor of being named a Top 5 Book by Physics Today Magazine, and Create Your Unicorn Career! (forthcoming). As President of Quantum Success Solutions, LLC, she is a prolific speaker, emcee, and expert on career and workforce development, networking, and leveraging failure for innovation, and masterfully weaves these concepts together with an emphasis on diversity, equity, inclusion, and belonging. She has delivered ~1000 speeches and webinars for clients in the US, EU, Mexico, Canada, Africa, Asia, and South America (including over 100 engagements in 2020), and has written close to 500 articles in publications like Science, Nature, Scientific American, National Geographic News Watch, World Economic Forum, and Smithsonian. Most recently, she wrote "Your Unicorn Career", a careers column for Science Magazine (#1 scientific journal in the world). She studied at the American University in Cairo as a US Department of Defense Boren Fellow, and holds bachelor's degrees in mathematics and anthropology from the University of Arizona, where as a student, she competed in national billiard tournaments under her moniker, Lady Dyn-o-mite.
*The use of the word "Nerd" is meant as a compliment (and badge of honor!) to the smart STEM-educated professionals on our teams.