Austin Technology Council : Leadership Dinner || May 15
May 15, 2019 @ 5:00 pm

-

8:00 pm

$50 – $75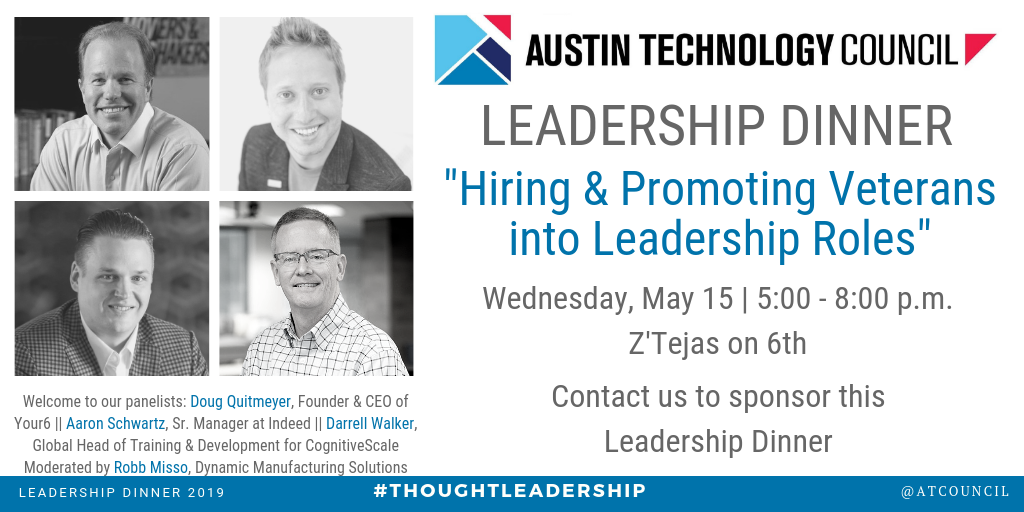 "Hiring & Promoting Veterans Into Leadership Roles"
This event features subject matter expert speakers addressing best practices, problem solving, and thought leadership in a confidential environment. The discussion-style event allows executives to freely exchange ideas and experiences, have open discussion on emerging trends, issues, and new market opportunities, and promote research that facilitates the advancement of the industry.
The event will be held at Z'Tejas downtown and free valet is provided to those who register.
AGENDA:
5:00-6:00 pm        Networking Cocktail Hour
6:00-7:00 pm        Panel Discussion
7:00-8:00 pm        Dinner
Get to know our moderator:
Robb Misso, Founder and CEO of Dynamic Manufacturing Solutions has 25 years' experience in the Semiconductor and Manufacturing Industries with a background in Business Development and Operational Leadership. Robb is one of the founding members of Austin Regional Manufacturer's Association (ARMA) and was recently a past Chairman of the Board for ARMA. Robb also has joined the Executive Leadership Team for the American Heart Association. Robb's driving passion is workforce development and leadership development; He speaks within the community to promote these initiatives. He is the Vice Chair of the Austin Community College Welding Program and is actively involved with the Austin Chamber of Commerce participating in their annual advocacy trip to Washington, D.C. to lobby on behalf of manufacturing companies in the United States. Dynamic Manufacturing Solutions was recently acquired by Ultra Clean Technology on April 15th 2019.
Get to know our panelists:
Doug Quitmeyer, YOUR 6 – Veteran Staff Sergeant Doug Quitmeyer is co-founder and CEO at YOUR6 out of Austin, TX. Mr. Quitmeyer was a member of the US military where he was a sniper team leader, squad leader, as well as a liaison instructor to other special operations military units. While in his instructor role, he was responsible for developing, auditing and updating training curriculum, as well as training in tactics, techniques and procedures in a Land Warfare environment. Upon discharge, Mr. Quitmeyer became a firearms tactics instructor for police and military units. Eventually, he presented his resume to a state workforce commission, which recommended positions as an exterminator or security guard based on his military skills. This left Quitmeyer disenchanted with how Veterans are perceived in the workplace. His experience left a burning desire to change how people—especially Veterans—are hired. As a natural teacher and coach, Your6 provides Mr. Quitmeyer an outlet in order to change people's awareness of their own, and others' capabilities and potential. Quitmeyer has a bachelor's degree from St. Edward's University in Interdisciplinary Studies, with a focus on business management and communication.
Aaron Schwartz, Indeed – As a Senior Manager with the Indeed Employer Insights Team, Aaron Schwartz leads a national team of Recruitment Evangelist's who pair platform data with industry trend analysis to share Indeed's story and bring the value of the company's programs and solutions to life. As an evangelist himself, he has helped hundreds of employers optimize their recruitment solutions and make the key hires they need to grow their businesses.
Aaron was a distinguished and award-winning member of the Dingman Center for Entrepreneurship at the University of Maryland and also served as a Sergeant in the 931st Army Brigade in the Israel Defense Forces.
Darrell Walker, Cognitive Scale – Darrell Walker leads the global training and enablement function at CognitiveScale, an Austin-based high growth startup in the AI technology space. CognitiveScale delivers software which operationalizes AI by developing, deploying and managing multiple cognitive processes.
In his role, Darrell provides a contextual training and enablement ecosystem supporting customer, partner and CognitiveScale sales and technology professionals. During his 3 1/2 years at CognitiveScale, Darrell has also led the service delivery, technical support and sales operations functions.
Darrell began his professional career working at the Johnson Space Center in Houston for a year as a field service engineer, a commitment he made to his dad, before joining the US Navy submarine service as an electronics technician. He credits his 12+ years in the Navy with his sense of accountability and responsibility which drives his commitment to whatever he is doing. Darrell served on two 637-class, fast attack nuclear submarines, assigned to SCI special projects, finally getting to shore duty in Pearl Harbor as the lead instructor for submarine electronics systems. After leaving the Navy, Darrell transitioned into the civilian workforce as a defense contractor through Navy Research and Development Center, San Diego, training anti-submarine warfare specialists how to detect and track submarines. Upon completing his Master's Degree in Educational Technology from San Diego State University he left the military industry and transitioned into commercial enterprises. He has a rich background which includes senior training and enablement leadership roles at Siebel Systems, Oracle, and CA Technologies, in addition to previous tenures in semiconductor manufacturing and other startups.
Darrell is passionate about helping military veterans transition into the civilian workforce and has a wealth of experience which enables him to provide real-world advice and counsel.
FAQs
What are my transportation/parking options for getting to and from the event?
Complimentary valet is offered at the event site located at Z Tejas.
How can I contact the organizer with any questions?
Please e-mail info@austintechnologycouncil.org with any questions.
Email caitlin@austintechnologycouncil.org to sponsor this event.