2019 New York Venture Summit
July 9, 2019 @ 5:30 pm

-

July 10, 2019 @ 5:30 pm

$416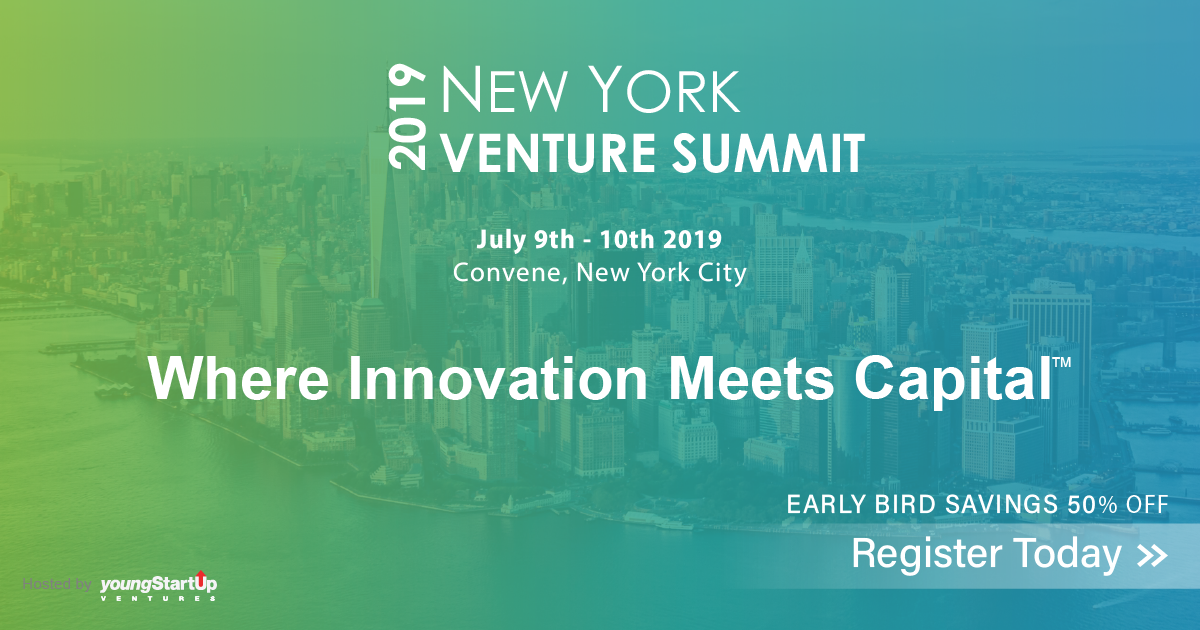 The 19th annual New York Venture Summit, presented by youngStartup Ventures, is the premier industry gathering connecting venture capitalists, corporate VCs, angel investors, technology transfer professionals, senior executives of venture backed, emerging and early stage companies, university researchers, incubators and premier service providers.
Whether you are an investor seeking access to new deals, or founder and/or CEO of a new venture looking for funding, visibility and growth, The 2019 New York Venture Summit is one event you won't want to miss.
Partial list of over 125 VCs and Angels confirmed to speak and judge includes:
Jenny Abramson, Founder & Managing Partner, Rethink Impact | Nick Adams, Managing Partner & Co-Founder, Differential Ventures | Karine Agajanian, Senior Analyst, Anzu Partners | John Albright, Managing Partner, Relay Ventures | Andrew Aldrich, Principal, American Family Ventures | Jay Amarasekera, Senior Technology Manager, SABIC Ventures | Mark Austin, Managing Director, Viridian Capital | Michael Baldwin, Senior Associate, Moderne Ventures | Natalie Bartlett, Investor, General Catalyst | Liza Benson, Partner, Moderne Ventures | Lily Bernicker, Associate, Collaborative Fund | Eric Bielke, Investment Director, GE Ventures | Laura Bock, Investor, QED Investors | Eric Breese, Investment Manager, Evonik Venture Capital | Matt Brennan, Partner, General Catalyst Partners | Joel Brightfield, Principal, SixThirty | Ciara Burnham, Partner, QED Investors | Daniel Burstein, Managing Partner, Millennium Technology Value Partners | Don Burton, Founding & Managing Partner, LearnStart | Jason Cahill, Founder & Managing Director, Carbon Ventures | Alex Carusillo, Venture Associate, OCA Ventures | Benjamin Cukier, Founder, Centana Growth Partners | Soraya Darabi, General Partner, Trail Mix Ventures | Tyler Dean, Investor, Point72 Ventures | Parth Desai, Investor, Flare Capital Partners | Alan Du, Investor, Millennium Technology Value Partners | Tyler Durham, Principal, Schlumberger Ventures | Kenny Estes, Co-Founder & Partner, West Loop Ventures | Dave Fan, Principal, Alumni Ventures Group | Michael Fanfant, Senior Associate, Runa Capital | Matt Fates, Founder & General Partner, Pulse Ventures | Sana Fathima, Investment Manager, Lockheed Martin Ventures | Mark G. Fields, Partner, Alsop Louie Partners | Linda Fingerle, President and Managing Director, Tappan Hill Ventures | Lindsay Fitzgerald, Managing Director, American Express Ventures | Haley Fradkin, Investment Associate, Plum Alley Investments | Daniel Franke, Associate, M Ventures | Ben Freeberg, Senior Associate, Alpha Venture Partners | Kyle Fugere, Head of Ventures, dunnhumby Ventures | Alexander Galitsky, Co-Founder and Managing Partner, Almaz Capital | Anna Garcia, General Partner, Runway Venture Partners | Elaine Gilde, Board Member, New York Angels | Stephen Gilfus, Founder, Blackboard Inc. | Karim Gillani, General Partner, Luge Capital | Samara Gordon, Senior Associate, Hyperplane Venture Capital | Edward Greer, Corporate Technology Scout, Dow Ventures | Amanda Groves, Partner, PLUS Capital | John Gu, Investor, Spring Mountain Capital | Whitney Haring-Smith, Managing Partner, Anzu Partners | Will Hawkins, Senior Associate, Founder Collective | Martin Heidecker, Director, Investment Manager, Boehringer Ingelheim Venture Fund | Cat Hernandez, Partner, Primary Venture Partners | Ann Hickey, Vice President, Town Hall Ventures | Kyle Howard-Johnson, Investor, Catalyst Investors | Vinay Iyengar, Investor, Bessemer Venture Partners | Deborah Jackson, Founder, Plum Alley Investments | Dhruv Jain, Investor, Bessemer Venture Partners | Christina Jenkins, Lead Investor, Portfolia | Del Johnson, Principal, Backstage Capital | Jay Karandikar, Venture Partner, New Crop Capital | Hana Khosla, Investor, Activant Capital | Avery Klemmer, Investor, FirstMark Capital | Jak Knowles, Vice President Venture Investments, Leaps by Bayer | Steve Konsek, Program Director, National Science Foundation | George Krautzel, Managing Partner, MissionOG | Ricky Lai, Senior Associate, Portag3 Ventures | Eddie Lee, Senior Associate, White Star Capital | Oivind Lorentzen, Investor, Oak HC/FT | Marissa Lowman, Head of Education Practice, Village Capital | Bion Ludwig, Partner, Savano Capital Partners | Coppelia Marincovic, Investment Manager, Solvay Ventures | Elizabeth McCluskey, Principal, Impact Engine | Shripal Meghani, Partner, Cleveland Clinic Ventures | Arpesh Mehta, Investment Director, DSM Venturing | Andrée-Lise Méthot, Founder & Managing Partner, Cycle Capital Management | Ed Michael, Co-founder and Managing Partner, LionBird Ventures | Bá Minuzzi, General Partner, BABEL Ventures | Karolina Mrozkova, Associate, White Star Capital | Sonia Nagar, Partner, Pritzker Group Venture Capital | Greg Neufeld, Partner, ValueStream Ventures | Stuart O'Keeffe, Principal, Great Oaks Venture Capital | Jason Palmer, General Partner, New Markets Venture Partners | Victor Pascucci III, Managing Partner, Lightbank | Matt Perlman, Principal, IA Capital Group | Victoria Pettibone, Managing Director, Astia Angels | Daniel Pianko, Partner, University Ventures | Adam Plotkin, Partner, ff Venture Capital | Jean-Noel Poirier, Managing Partner, Clean Energy Venture Group | Greg Pope, Principal, Anzu Partners | Bryan Rabenau, Principal, BP Ventures | Suraj Kumar Rajwani, General Partner, DoubleRock | K.P. Reddy, Founder, Shadow Ventures | Alison Andrews Reyes, General Partner, 1843 Capital | Lisa Rhoads, Managing Director, Easton Capital | Douglas Roth, Managing Director, Connecticut Innovations | Boris Ryabov, Managing Partner, Bright Capital | Ernst Sack, Partner, Blue Bear Capital | Praveen Sahay, Managing Director, WAVE Equity Partners | Zak Schwarzman, Partner, MetaProp | Thomas Seo, Vice President, Citi Ventures | Connie Sheng, Founding Managing Partner, Nautilus Venture Partners | Jaidev Shergill, Managing Partner, Capital One Growth Partners | Zacary Sherman, Associate, Pereg Ventures | Nicole Shimer, Investment Associate, Insight Partners | Bennett Siegel, Investor, Coatue Management | Raj Singh, Managing Partner, JetBlue Technology Ventures | Jean Sini, Angel Investor | Corinne Spears, Associate, University Ventures | Lutz Stoeber, Investment Director, Evonik Venture Capital | Neil Swami, Principal, Catalyst Health Ventures | Erica Van, Associate, Charles River Ventures | Maria Velissaris, Founding Partner, SteelSky Ventures | Patrick Walsh, Director, National Grid Partners | Jamie M. Weston, Managing Director, Spring Mountain Capital | Simon Wu, Principal, Cathay Innovation | Anthony Xu, Partner, New Ground Ventures | Lisa Xu, Investor, FirstMark Capital | Wesley Yiu, Senior Associate, Triphammer Ventures | Chris Young, Partner, Revel Partners | Greg Zaic, General Partner, NMT Capital | Katherine Zamsky, Managing Partner, Carbon Ventures | Stephanie Zepeda, Senior Associate, Arbor Ventures | Lu Zhang, Founder & Managing Partner, Fusion Fund | Chris Zock, Managing Director , Sandbox Insurtech Ventures and many more.