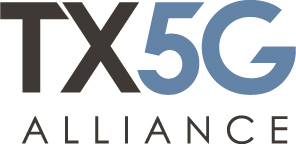 Texas 5G Alliance
4407 Bee Caves Road, West Lake Hills, TX, USA
The Texas 5G Alliance was formed to advocate for the connectivity of the future. Our mission is to educate Texans on the exciting possibilities of 5G technology and the infrastructure that will be required to meet the demands of smart cities. The Texas 5G Alliance is a coalition of stakeholders that are unified behind the vision for a connected future in Texas.
The way we communicate and stay in touch has changed dramatically over the past few years. Reliable access to mobile data has become critical to our daily lives, enabling communication, providing on-the-go internet access, and powering our "smart devices," like home appliances, fitness trackers and digital assistants (think Amazon Echo or GoogleHome). In the next five years, 5G and the Internet of Things (IoT) will drive even more of our lives – and things – online, creating an even greater impact on our data and usage.
Learn more about Texas 5G Alliance here.
REQUEST INTRODUCTION