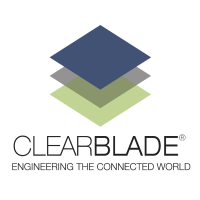 ClearBlade, Inc.
103 E 5th St, Austin, TX 78701
Category: Software
clearblade.com
ClearBlade is the enterprise Internet of Things software company to rapidly engineer and run secure, real-time, scalable IoT applications.
ClearBlade enables companies to build IoT solutions that make streaming data actionable by combining business rules and machine learning with powerful visualizations and integrations to existing business systems.  Built from an enterprise-first perspective, the ClearBlade IoT Platform runs securely in any cloud, on-premise, and at the edge.
The ClearBlade Edge Platform brings the full power of the ClearBlade Platform to gateways and industrial servers on the plant floor, job site or building facility.  Safely behind the firewall, the ClearBlade Edge intelligently syncs with the ClearBlade Platform guaranteeing security, connectivity, execution and speed.
ClearBlade is developer focused with an extensive library of proven and tested pre-built components and integrations.  ClearBlade accelerates the time–to-market while significantly reducing the cost and risk of delivering IoT solutions, creating new business models and revenue streams.
ClearBlade is headquartered in Austin, TX.  For more information about the company and our software, please visit https://clearblade.com/.
REQUEST INTRODUCTION