News
ThreatWarrior, a leader in AI-powered network threat analysis, announced today that it has established a partnership with Involta, an award-winning national IT service provider and consulting firm.
The partnership combines ThreatWarrior's Cyber Immune Response™ technology with Involta's diverse IT and security services, bringing enhanced defense and hybrid IT capabilities to clients nation-wide.
"With cybercrime increasing daily, it's critical businesses have advanced technology to defend themselves, and also the support to manage and execute their defense strategies," said Pete Slade, founder and CEO of ThreatWarrior. "Through this partnership, Involta's customers will benefit from AI-driven cybersecurity and hybrid IT intelligence, helping them remain diligent in the fight against ever-changing cyber threats."
Leveraging advances in behavior analytics and machine learning, the ThreatWarrior platform detects and neutralizes threats in real time. It utilizes multiple engines to decrease the complexity of cyber defense, helping organizations of all sizes identify and respond to network anomalies. With ThreatWarrior, businesses can expedite and enhance how they handle cyber threats.
"The integration of ThreatWarrior within our SOC services portfolio is very exciting for Involta. It allows us to provide next generation security solutions for our clients that need advanced, alternative ways to detect and respond to threats inside their network," said Annalea Ilg, CISO of Involta.
The partnership will accelerate adoption of the ThreatWarrior platform and provide significant cybersecurity advantages to Involta's national clientele.
About Involta:
Involta is an award-winning national IT service provider and consulting firm. Involta helps organizations plan, manage and execute hybrid IT strategies using a broad range of services, including colocation, cloud computing, managed IT, cybersecurity, fiber and network connectivity. Involta has industry-specific services for healthcare, manufacturing, financial and technology, and delivers advanced hybrid IT solutions while maintaining its brand promise of Superior Infrastructure, Operation Excellence, and People Who Deliver.
About ThreatWarrior:
ThreatWarrior is lowering global cybercrime by democratizing advanced cybersecurity, making it possible for all organizations to defend themselves. The cybersecurity platform combines adaptive AI, network traffic and behavior analytics, incident forensics and response in a single solution to protect businesses from constantly-evolving cyberattacks. With ThreatWarrior, businesses can predict and eliminate cyber threats before they've caused damage. To learn more, visit https://threatwarrior.com, and follow us on Facebook, LinkedIn and Twitter as we deliver cybersecurity to the masses.
On the morning of April 1st Austin Mayor Steve Adler, Travis County Judge Sarah Eckhardt, ATC's CEO Amber Gunst, Humana's Texas VP Brock Purslow, Amy Foster Texas Beef Council's Nutrition Coordinator, and HealthCode's ED Steve Amos; gathered at City Hall to kick off HealthCode's 6th annual Million Mile Month; a global challenge to engage people to be active and healthy, while supporting more connected communities. Watch the CBS Austin video on HealthCode's blog. We want to give a HUGE SHOUT OUT to the Austin tech community's participation.
By the end of April over 13,600 people from 70+ "states" from around the globe had accomplished 1.2 million miles of activity. Way to go!!!
Check out the global Million Mile Month Leaderboard
There were many amazing stories, but one of the coolest involved ATC's member Humana. Humana has its own innovative GO365 wellness program AND they shared the Million Mile Month with their customers.
THE RESULTS
As a result, nine of Humana's member organizations were included in the top 100 global organizations! Accomplishing over 30,000 miles of activity and burning 1.3 million calories.
Way to go Humana and your amazing members!
Plus, their client the Texas Association of School Business Officials, plans to feature the Million Mile Month and their experience in an article that will go to 850 school districts across the state. How cool is that!
"Humana is dedicated to influencing all communities positively in our communal goal of becoming healthy, happy, and genuinely connected in every aspect of life. We were thrilled to see that so many of our corporate customers, especially in the thriving tech community, not only signed up, but truly engaged their employees in the HealthCode's worthwhile programming. We hope that through this, employees not only continue a healthy lifestyle, but can attest to the holistic benefits of working in the Austin tech scene," said Humana's Brock Purslow.
Congratulations to other Austin Technology Council participating organizations who made the leader board: Humana, Retail Me Not, woom bikes, City of Austin, and Texas Association of School Boards.
No need to wait to next April, join in the fun this July with HealthCode's Triathlon in a Month OR prepare your team for the next Healthcode event – Marathon in a Month. Registration for Marathon in a Month opens August 15. There is no cost to join. Check out information at https://events.healthcode.org/wellness   or contact Steve@HealthCode.Org.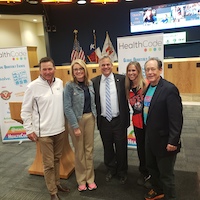 If you're looking to transition into a new industry – say, the tech industry, perhaps? – you're likely wondering what the best learning & development option is for you. A professional bootcamp like the ones offered by the FlatIron School may be your best fit. If you're wondering what steps you should take to gain the skills you need for your dream job, Lauren Bauml, campus director at the FlatIron School, has some great insight into the bootcamp option!
There are 5,200 new tech jobs in Austin last year. This is a prime time to revisit your professional goals.

The Austin Technology Council is our member's biggest cheerleader. We are proud to connect member employees with media opportunities like the one you just saw. Our organization is frequently contacted to source tech leaders for high-visibility media opportunities like:
live interviews with local & national new outlets
guest appearances on radio & video podcasts
community highlights in printed publications
expert speaker/panelist invites to distinguished community events
and many more
Members: email Caitlin to tell us about your expertise so we can connect you to the right opportunity.
Future Members: email Caitlin to discuss this and more member benefits like it and how ATC can help your company reach its goals.