News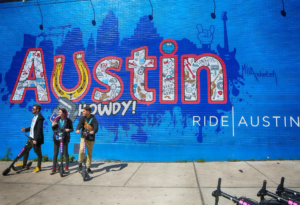 There are so many ways to get involved in the Austin Bitcoin scene, especially since this city is one of America's leading cryptotech capitals. From businesses who accept Bitcoin, to conferences, seminars, and meetups all about cryptocurrency, we'll guide you to the places and events you need to know about to get involved in the Austin Bitcoin community.
Austin Blockchain Collective
The Austin Blockchain Collective is a business group interested in the development of blockchain technologies, the expansion of Austin Bitcoin opportunities, and the maintenance of Austin's current standing as a global leader in business, finance, and technology, in general.
This group promotes many Austin Bitcoin meetups where business owners and blockchain enthusiasts alike can discuss developments in the world of blockchain tech. The collective's own hosted meetup, the Austin Blockchain Collective Community Meetup, is a monthly Austin- based event that provides educational presentations on key aspects of blockchain technology, with post-presentation FAQs where the audience can take deeper dives into specific presentation topics.
TF Blockchain – Austin Chapter
Started in 2018, the TF Blockchain Conference is an up-and-coming conference group that hosts annual events across the country, giving crypto-enthusiasts a fun and personal space to learn from Bitcoin experts about what's next for various blockchain currencies.
Through the Austin Chapter of the TF Blockchain Conference, local Austinians have the chance to participate in the conference in their own city. Read more to learn how to get involved with TF Blockchain's Austin Chapter.
Austin Businesses Accepting Bitcoin Payments
From restaurants like Mai Thai, stores and services like EcoBox, and even home and health services like Hill Country Home Improvements and Vista Ridge Family Dentistry, the local Austin businesses that accept Bitcoin are growing in number and scope. With local businesses jumping into the crypto-scene, ways to use Bitcoin in Austin are expanding.
You can also visit this Pelicoin blog for a more comprehensive list of the Austin businesses that are supporting the growing Austin Bitcoin community.
Austin Bitcoin ATM Services
Pelicoin is the Gulf South's leading Bitcoin ATM network, and we're dedicated to simplifying the purchase and sale of cryptocurrency for Austin, TX and the Gulf South. We offer Bitcoin, Ethereum, and Litecoin exchange and purchase services, as well as crypto-wallet set-up for anyone new to the Austin Bitcoin scene.
Our Austin Bitcoin services can now be found in four locations in and around the city, including on Duval St., Menchaca Rd., East Martin Luther King Jr. Blvd., and North Interstate Hwy 35. To learn more about cryptocurrency or the four Pelicoin ATMs in Austin, TX, contact us today at support@pelicoin.com or 855-PELICOIN.
Dear Austin Technology Leaders and Innovators,
In 1995 I was at the Pearl Jam concert at Red Rocks in Colorado. They played their song "Rearview Mirror" which spoke to me in many ways. This was four years post Rodney King's beating by LAPD, three years post-riot.
While I don't know the exact inspiration of the song, the lyrics "I couldn't breathe, holdin' me down, Hand on face, pushed to the ground" to me spoke to the gravity of what Mr. King must have felt.
This morning, as I walked the trail this song played, and I was struck again by those very lyrics, but this time my thoughts went to the picture of George Floyd with a police officer's knee on his neck. It has been 29 years since Mr. King's horrific beating, and nothing has changed in the violence against unarmed black men and women.
This past week has been a time for me to listen, to observe, and to contemplate my role and Austin Technology Council's role in this discussion on race, equity, violence, and responsibility. We, as a tech community, can no longer afford to offer only "thoughts and prayers" or make unfulfilled promises to do better and try harder. This is a time of action.
ATC is ready to act.
I am committing to each of you that my team and I will work towards providing valuable opportunities to bring us together to discuss actions we can all take in creating diverse and equitable work environments. I am committing to each of you that these discussions will not be just "talk" that has no measurable outcome and will be open to everyone committed to understanding how combating bias (both conscious and unconscious) and racism in the workplace can lead to a safer community for all. I am committing to each of you that we will listen to learn and understand your experiences and how you wish to be part of the many solutions we will need to tackle this issue.
Next Wednesday, we will host our first Open Forum event at 11:30 am. This virtual panel discussion will include Lauren Washington, Cofounder of Black Women Talk Tech and Fund; Phil Walker, Managing Partner at Career Partners International; and Preston James, CEO & Cofounder of DivInc., sharing their experience and providing positive steps we can all take both personally and professionally to support our fellow Austinites in the African American community.
This will be an ongoing discussion reaching out to all and we will do our best to include diverse voices working together to solve the problems our tech community faces. I have said many times that the reason tech thrives even in the worst of circumstances is because we work together to solve problems. This is a problem that is long overdue for a solution and I hope you will join with me to do something about it.
In Solidarity,
Amber Gunst
CEO
Austin Technology Council
Prior to COVID19, corporate innovation relied on iconic events. Think CES, SXSW and Money2020. These events were the meeting point for ideas, for partnerships and for progress. They drew other innovators from their peers to startups to service providers who all believe they have a better way to operate business. Through these physical meetings and discussions, we've reached new milestones, new products are built and ideas are crystalized.
Looking ahead, it's hard to imagine we will return to these large scale events anytime soon. Many of our corporate partners are looking for alternative paths. We asked ourselves: Can we replicate the benefits of physical events virtually? What would that look like?
While many companies are still adjusting to the new normal, we've gone ahead and launched our first of many virtual events. We wanted to take advantage of the abundance of talent that now has extra time on the weekends to not only come share their ideas but to build it to solve real problems that our corporate partners are facing.
Quick Summary of our virtual hackathon themed Future of Work launched on 05/08~05/10:
$9,000 prizes were awarded to 3 winners. We had teams from Manila (Philippines), New Delhi (India), Oslo (Norway), and London (UK).
Over 400 participants signed-up across Linkedin, DevPost and Slack.
20 executive mentors from Intel, Walmart, BakerHughes, Maersk Drilling and more.
10 judges from Seton Ascension, Chevron, Indeed, St. Edwards and UT Texas Innovation including the CIO of Daimler.
Our generous sponsors included:
Bridge Purchasing Solutions, DLA PIPER, St.Edwards University Career & Development, University of Texas – Texas Innovation Center, Hedera Hashgraph, Hupbeat, Arcblock, Austin Young Chamber and AustinInno.

The Challenges:
Energy Challenge – Help get energy industry workers back to work faster. How can we leverage emerging technologies like Hedera Hashgraph, AR, IOT or other ideas to showcase expertise or verify work?
Healthcare Challenge – Help showcase verified/trusted testing results. How can we create a digital passport / ID using emerging technologies like ArcBlock's blockchain identity layer, IOT or other ideas to safely allow workers and consumers to return to the public?

The Winners:
Lassio – 1st Place – $5,000 – Oslo, Norway + Austin, Texas
Enabling industrial machine learning through blockchain and crowdsourcing the energy industry's data labelling jobs to independent subject matter experts.
Uncle John – 2nd Place – $3,000 – New Delhi, India
A web-based automated security guard for acting as a gatekeeper for the company and their offices to monitor incoming visitors and check whether they are Coronavirus-free.
Fuel For Thought – 3rd Place – $1,000 – Austin, Texas
Fuel for Thought is an AI and hashgraph-based platform that allows energy workers to hone in on their technical skills while connecting them with other workers and large companies looking to hire.
This event not only showed us that we can convert physical experiences to virtual, but also there are many benefits from removing the confines of reaching only audiences that are in close physical proximity for ideas and talent.
We are beyond excited about our first of many virtual events and we will be hosting a virtual Executive Summit in June. If you are a corporate executive or an innovation leader at your firm, please apply to attend here: YGC Executive Summit