Member Offer
Amid the current environment, global supply chains need support shipping essential goods
to businesses and communities. If your company has shipping needs, from packages to
pallets, Delta Cargo has worldwide charter solutions.
For information on schedules and pricing, please contact DLcargo@delta.com or call
1-800-352-2746.
After a week or more of remote work, continuing to build business relationships, keep the community connected, and offer professional growth opportunities is still top of mind for tech business leaders. Our community members are eager to share their expertise, current services, product launches, etc. but are looking for the right vehicle to share their message. In response to our community's need, ATC introduces Virtual Roundtables, hosted online as a healthy and responsible alternative to our in-person Roundtable breakfasts.
ATC promotes and supports the growth of the Austin Tech community, even in this uncharted reality. Through the ATC Virtual Roundtables, we work with your company to craft an impactful industry topic and then invite tech leaders to participate in open discussion facilitated by your company's subject matter expert.
Virtual Roundtables are hosted online via fellow ATC member StarLeaf's video conferencing platform. StarLeaf is the expert in video conferencing and unified communications and they have provided a few immediate no-obligation resources for ATC and our community to stay connected. <<ATC Members, go to the Member Offers page via your Member Portal for information on StarLeaf's offer>>
If you are interested in hosting a Virtual Roundtable please reach out to Beth Darby, Head of Sales, Beth@AustinTechnologyCouncil.org.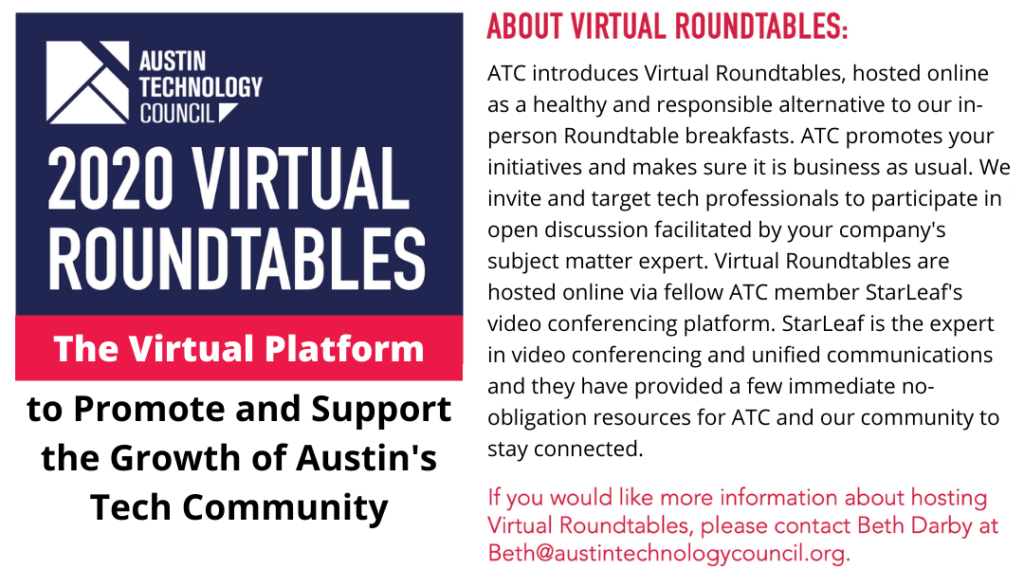 Good News
We are reducing prices on PCBs for production orders by an average of 44%. This change is effective immediately on factory.macrofab.com.
Reduced PCB pricing is permanent and has already taken effect for all new orders going forward as of May 1 at 1 am CST.
Why is MacroFab lowering prices?
We are focused on giving you the best possible way to order PCB assemblies at any volume and that means continually lowering our prices as we gain negotiating power with our suppliers. You can expect to see more price reductions from us this year.
Are there unit volumes where I am most likely to see reductions? Will every PCB quote see a 44% reduction?
This pricing change affects all production orders. You will see meaningful price reductions for orders of 100+ units and most significant savings for 1,000+ units. When we applied this new pricing model to thousands of prior orders we saw an average of 44% savings. Generally, we observed a PCB price reduction of 20% for lower volume orders and as much as 80% for high volume orders.
Will this lower PCB pricing affect my lead times?
It depends. You will be able to select the right balance between the best price and best lead time when you place your order, so you're always in control.
Does this change mean my entire order will be 44% less expensive?
No, this change applies specifically to PCB pricing. There will be additional price reductions for components that we plan to announce as we negotiate high volume discounts.
Are there other ways to get a lower price for my order?
Yes, if your volume is high enough. Our goal is to always provide the best possible price online, but for complex or high-volume orders our sales team can get significant price reductions from the price you see online. These reductions typically follow one of two patterns:
High volume component sourcing allows us to work with our distributors to negotiate deep discounts.
Fixed price, long term manufacturing agreements allow us to provide a demand forecast to the supply chain, which results in discounts which we pass on to our customers.