Industry Article
Texas has embraced Bitcoin – not only as a revolutionary technology, but as a viable form of currency, with Bitcoin ATMs becoming established in cities like Austin and San Antonio, among others. And now, bitcoin mining in Texas has taken off with two of the world's largest cryptocurrency mines under construction in Rockdale, located just outside Austin.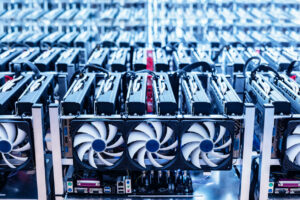 Bitcoin Mining in Texas
Rockdale, Texas once boasted a thriving economy due to it being the home to the Aluminum Company of America, also known as Alcoa. Unfortunately, when that company left town in 2008, the local economy took a serious downturn.
In 2019, Beijing-based company Bitmain, the world's largest maker of bitcoin-mining computers, decided to set up shop in one of the plants formerly occupied by Alcoa. The company concluded that bitcoin mining in Texas would be beneficial due to the large amount of space necessary to host such an operation, as well as the inexpensive energy resources available. At the time of its announcement, the plant was on track to be the world's largest bitcoin mine.
Not long after Bitmain announced its plans for bitcoin mining in Texas, Louisiana-based data center company Whinstone US Inc. also set its sights on building a bitcoin mine in Rockdale. The allure of expansive space and inexpensive, renewable energy resources proved to be irresistible to the US-based firm, who has satellite mining facilities in the Netherlands and Sweden. "We see our new facility as a game-changer in the industry and are excited to expand on U.S. soil," said Lyle Theriot, COO, and Co-Founder of Whinstone US. The Whinstone US mine is currently on track to be even larger than the Bitmain mine.
While both Whinstone US and Bitmain have chosen to set up shop at the old Alcoa plant in Rockdale, US-based startup Layer1 has begun bitcoin mining in Texas – albeit a bit further west, solidifying the Lone Star State as a rising star in America's cryptocurrency game.
Find Local Bitcoin
The Texas Bitcoin market is growing larger by the day, and the more people that buy into cryptocurrency, the more value it holds. The most secure and straightforward way to acquire this new currency is through a Bitcoin ATM, which combines new technology with a recognizable interface for ease of use.
One Bitcoin ATM company, Pelicoin, has set up a number of secure locations in and around Austin and San Antonio. Now, users can make cryptocurrency transactions with ease, without having to deal with online transactions that may not be entirely secure.
If you'd like to learn more about cryptocurrency or Bitcoin ATMs, check out Pelicoin's blog to stay up-to-date with the latest happenings in the world of cryptocurrency. Additionally, visit our FAQ if you have any questions regarding our services, and call us at 855-PELICOIN if you don't find the question you have on that list.
When the time comes to migrate their technology stack from an outdated on-premise solution into something better suited to the needs of their business, many companies feel like they have to choose between colocation services and cloud platforms. In reality, however, this is largely a false choice. Thanks to the power of cloud interconnections, colocation data centers are fast becoming the new epicenters of the cloud computing revolution.
What is Cloud Interconnection?
Also known as direct cloud on-ramps, cloud interconnections create a direct link between a private server and a cloud platform. In most instances, the cloud provider operates a public cloud environment. The advantage of the interconnection is that the customer doesn't have to use a public internet connection or a series of "go-betweens" to connect to cloud resources. There are tremendous security and performance advantages to this approach. In the first place, the connection is much faster because there is less competition for bandwidth. A customer's servers are connected directly to their cloud assets, completely eliminating any intermediary stops that might result in bottlenecks or increased latency.
Since cloud interconnections bypass the public internet, they are far more secure than other methods of accessing the cloud. Data is not exposed to dangerous "man in the middle" attacks, and the overall connectivity infrastructure is far more reliable. Stronger security means less chance of data loss or a cyberattack that could bring a company to its knees, such as ransomware or DDoS attacks.
How Interconnection Will Change the Future of Colocation
Cloud interconnections typically come in two forms in a data center. They can be facilitated through physical cables that connect a customer's equipment to a cloud provider's servers or through virtual connections that use secure, software-defined networks. The second option provides more versatility because it doesn't require both parties (the cloud customer and the cloud provider) to have assets within the same data center environment.
Although cloud computing services are often treated as a competitor to colocation services, most colocation providers have embraced the potential of cloud computing to provide their customers with unmatched IT flexibility. In fact, a key competitive advantage for a data center is the number of cloud providers available through their interconnection marketplace. This has seen the proliferation of services like Megaport, which provides software-defined networking environments that allow companies to rapidly provision cloud resources and create dynamic hybrid IT environments that meet their evolving business needs.
Advantages of Cloud Interconnection for Data Centers
For many companies, the appeal of migrating into a colocation data center is the ability to gain access to an extensive suite of cloud interconnection options. Private, on-premises data solutions are not only expensive to maintain and quite inefficient in terms of energy usage, but they're also limited in connectivity. Getting a dedicated interconnection from a major public cloud provider can be quite expensive, usually involving some capital investment in new infrastructure. While that might be viable for an enterprise operating out of a private hyperscale data center, it's beyond the reach of most small to medium businesses. Even if they could afford to put such a solution in place, the investment would effectively lock them into using it for the foreseeable future and limit their IT flexibility.
Colocation data centers offer a less expensive and more versatile solution. Facilities that have invested in cloud interconnections can deliver a wide range of expansive cloud services to their customers without locking them into a relationship with a single vendor. That benefits both colocation customers, who get to build their network using the best available platforms, and the data centers themselves, which can greatly expand their IT capabilities without having to create their own services from scratch and maintain them.
For example, a data center that wants to offer its customers a disaster recovery-as-a-service (DRaaS) solution may not be in a position to design the applications and software necessary to deliver it. By partnering with a cloud provider that offers DRaaS services, the data center can set up a cloud interconnection at a fraction of the cost and make the service available to their customers. Even better, adding new cloud interconnections takes far less time than building a new solution from the ground up. This arrangement also allows data centers to focus on the operational tasks that help them to deliver consistent uptime rather than trying to compete with existing cloud services that are already available.
Data centers still have a number of key advantages that make them an attractive option compared to a pure cloud solution. The ability to reduce latency by locating colocation customers closer to their end-users is something no cloud provider can truly match. A quality data center also provides much greater visibility into how computing resources are being utilized and is in a position to be more responsive to their customers' needs.
How Cloud Interconnection Can Help You Develop a Competitive Advantage as You Adopt the Hybrid Cloud
Colocation customers stand to benefit the most from cloud interconnections within a colocation data center. That's because it puts a world of innovative technology services at their fingertips. While their essential data and applications can remain on their own private servers, they can build a network within the data center environment that extends far beyond the data floor to incorporate a wide variety of cloud computing platforms.
This is the essence of hybrid IT deployments. They leverage the security and control that only private infrastructure can provide with the dynamic and scalable power of cloud computing. With a truly hybrid IT deployment, organizations can customize their network on the fly, adding or eliminating services as business needs arise. For larger organizations that have many different departmental needs when it comes to their networks, a hybrid IT arrangement allows them to incorporate radically different software capabilities into their network with minimal friction.
With hybrid IT options at their disposal, even smaller companies can rapidly shift their technology priorities to meet the changing demands of their industry and deliver a quality customer experience. They can scale faster by adding cloud capacity and branch into new services to keep pace with changing customer needs. In a world where disruption and change have accelerated for almost every industry, the ability to react quickly and adapt to shifting expectations is critical for any company trying to develop a competitive advantage.
Experience Cloud Interconnection with vXchnge
As an award-winning colocation provider, vXchnge has long believed in the power of cloud interconnections to transform data center services. It's why we've worked hard to provide our customers with lightning-fast direct cloud on-ramps to help customers connect quickly and securely to the platforms they depend on. With multiple data centers located in key growth markets across the country, vXchnge facilities deliver low-latency connectivity that allows our clients to connect to their customers faster and more securely.
Every one of our data centers is engineered for perfection and backed by a 100% uptime reliability SLA. To learn more about the power of cloud interconnections within vXchnge data centers, talk to one of our colocation experts today.
Sustainability is more than just a high-minded buzzword. As debates over energy consumption become more intense, companies can no longer afford to ignore where their power is coming from when it comes to setting up their IT systems. For many companies, IT sustainability is a major priority that goes hand-in-hand with their broader data center strategy.
Why More Enterprises are Focusing on IT Sustainability
While organizations routinely face regulatory pressures to adopt more sustainable technology solutions, an equally powerful push for greener business practices overall is coming from today's highly-informed consumers. Increasingly, customers are demanding greater transparency about how companies produce products and services. Many of them are even willing to pay more for products that are created with more sustainable practices and believe that a commitment to sustainability is essential to helping a company build brand trust.
Although consumers view their own decisions and behavior as important in the collective effort to improve sustainability, a recent study found that 72 percent of them believe businesses are among the most responsible entities for improving global sustainability outcomes. That means that whether a company is truly dedicated to renewable energy and reducing its carbon footprint, it would be well advised to behave as if its customers are.
According to a 2019 research report by Swedish KTH (Royal Institute of Technology), internet services make up about ten percent of the world's total electricity consumption. Organizations that depend upon their online networks to deliver services and connect with customers need to think about how their IT infrastructure is impacting overall energy usage. In order to become more sustainable, they must endeavor to make their systems as efficient as possible and find ways to do more with less.
How to Enhance IT Sustainability With Modern Hybrid Cloud Frameworks
Overcoming the carbon footprint of modern IT infrastructure is a significant challenge for any organization. Part of the problem is due to the resources required to manufacture the technology itself. Consider, for example, the UN estimate that 81 percent of the energy expended over the lifetime of a computer is expended during the production process (the same study found that even an average computer and monitor takes 530 pounds of fossil fuels, 48 pounds of chemicals, and 1.5 tons of water to manufacture).
Given those substantial sunk costs, then, it's even more important for organizations to find ways to deploy that hardware in the most efficient ways possible. Many companies have already taken a positive first step by migrating their technology stack out of wasteful, outdated data centers and into state-of-the-art colocation facilities that make much more efficient use of power and cooling resources. This new generation of data centers was largely responsible for the low year over year growth in total data center power usage in the 2010s.
With organizations now turning to hybrid cloud deployments to expand their IT capabilities, they have a new opportunity to promote sustainability by relocating energy-intensive processing functions in public cloud infrastructure that relies more heavily upon renewable power sources. Part of the challenge with promoting sustainable energy is determining where, exactly, the energy is coming from. A company may optimize its infrastructure to be incredibly energy efficient, but it could still be leaving a sizable carbon footprint if it's drawing from a local power grid that uses dirty fossil fuels (like a coal plant, of which there are about 300 still operating in the US).
One of the best ways to avoid this problem is to use their colocated hardware for low-energy storage while relocating more energy-intensive processing workloads to public cloud environments. That's because the hyperscale data centers that house the world's largest cloud services are among the most energy-efficient facilities in the world. Hybrid cloud deployments afford companies a great deal of flexibility when it comes to workload placement, allowing them to leverage the most efficient resources while minimizing their consumption of "dirty" energy sources.
Choose a Data Center Partner Who Shares Your Core Values!
Selecting the right data center partner is equally important when it comes to promoting sustainability. If the facility has a high power usage effectiveness (PUE) rating (anything higher than the 2019 global average of 1.67), then it probably isn't doing everything it could to optimize power consumption. These facilities are typically using outdated cooling infrastructure or don't have the sophisticated environmental monitoring systems in place to manage conditions on the data floor effectively. Even simple measures like installing automatic lights or climate controls can do a great deal to reduce overall power consumption. A data center that isn't making this bare minimum commitment likely isn't taking the more difficult steps to promote efficiency.
Similarly, a facility that doesn't offer the hybrid connectivity necessary to interface with the leading public cloud platforms is putting its customers in a position where they'll have to rely on legacy systems and cope with the effects of server sprawl, both of which cause IT systems to use far more power than their workloads would otherwise require. Newer equipment tends to be manufactured with much higher energy efficiency standards, so walking into a data center that makes extensive use of older equipment is another red flag for companies looking for a true sustainability partner.
Discover Hybrid Sustainability with vXchnge
vXchnge data centers are designed from the ground up for reliability and energy efficiency. We use Renewable Energy Certificates (RECs) to ensure that we're supporting green power even in markets where it isn't readily available. With the insite intelligent monitoring platform, you can monitor every aspect of your deployment's energy usage to maximize efficiency. And thanks to our cloud interconnections, you can easily connect your network to leading cloud providers and process your workloads in the most energy-efficient environment possible. To learn more about how you can embrace sustainability with vXchnge, talk to one of our colocation experts today.