Industry Article
Meeting new people is scary. Making small talk is scary. Getting out of the office and meeting people is scary. I've been there. You're sitting at a table looking around awkwardly in between forced smiles you exchange with people that you accidentally make eye-contact with. Your brain is going into overdrive searching for something witty to say or a question that you can ask the people around you. All you want is to go back into the peace and quiet of your home or office.
For introverts, networking is an evil necessity. Networking is essential for opportunity finding, job searching, relationship building and sharing your name and abilities for whatever arises as a result. However, it all has to start with the worst combination of The Introvert's Scary "S" Trio: Small talk, Strangers and Socials. Luckily for you, I, a fellow introvert, have compiled a list of networking tips to help you be less anxious when you attend your next event.
Bring a friend or coworker. Having someone that you are already comfortable talking with at your side can really help to ease the conversation. Through bringing a friend, you both can benefit from networking so it's a two-for-one event!
Establish your purpose. It can be less awkward for you when you attend your networking event if you know exactly why you are there. Set a goal for yourself. It could be anything from making three new connections, supporting a coworker, learning more about a new business venture or just simply to listen to a keynote speaker or presentation and share thoughts on it.
Come up with some questions before the event. Having a few questions for different scenarios can make it easier to keep a conversation going. Come up with some basic get-to-know-you questions. Also, think of some topics about yourself that you would like to share.
Allow yourself to recharge. Being social can be very draining. Allow yourself to take time to step out and take some alone time and get your energy back up for when you re-enter the event.
ATC is proud to partner with Cendea to present the series, "Talent-Leadership-Culture (TLC)". This blog series addresses the questions and gives insight to the art of finding the RIGHT tech leader to hire at the director level and above. 
Thank you to our experts for sharing their knowledge with the tech community.
Attracting the Right Executive Leader
The Austin Technology Council recently did a survey among its membership and discovered that one of the biggest struggles they have is hiring at the Director level and above.  Many factors make it difficult to identify the RIGHT people – from the need to hire for international growth, financial issues, training up to promote from within, to simply just starting the process itself.  Then there's the potential to utilize executive search firms – who to use and securing the budget to pay them.
Doing nothing doesn't solve the problem when you are trying to grow.  So whether you are dealing with a start-up company or one that is expanding, one of the impediments that can cause that growth to flatline is the inability to add the key talent necessary to make that happen.  Ideas and products are great, but someone must be able to organize and properly lead the people to turn those into profit.
There are several periods on the normal growth curve where a Senior Talent Gap could seriously interfere with progress, as shown below: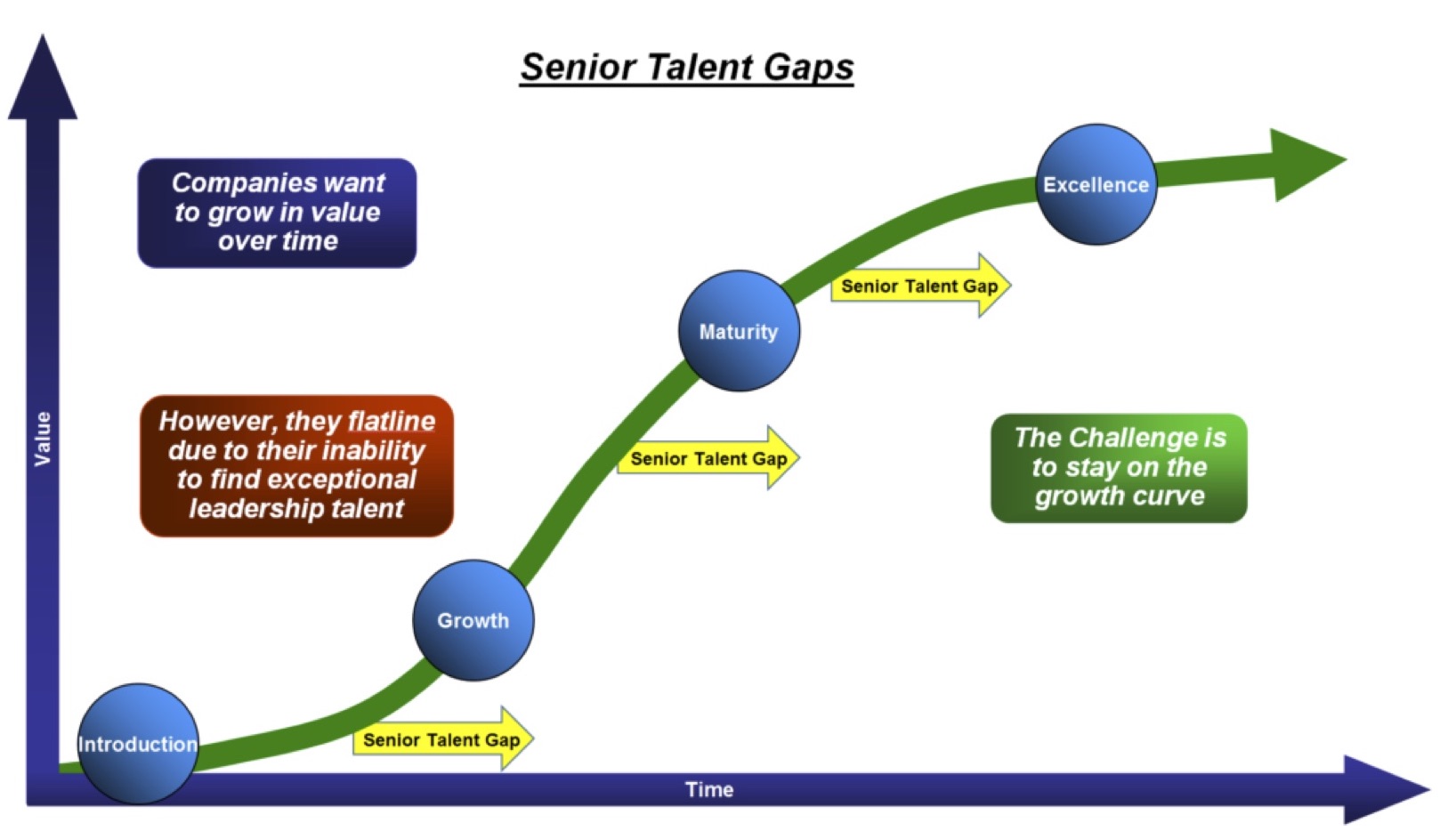 Most companies are in the business to grow over time, but exactly what does that mean?  Growth in headcount or territory or revenue? Value is often determined by the trust and respect the enterprise gains over time and also perhaps what someone would pay to buy the company or the product offering in a competitively priced market.
Far too many companies—even those with exceptional products or technology—fail to advance from Introduction to Growth to Maturity to Excellence.  And far too often, this is due to not adding the right leadership at the right time to take them to the next level.
The challenge is always to remain on the growth curve, but the roadblocks include:
We don't have the resources

We don't know how to get there

That's someone else's problem

It will just happen.
Sitting and ignoring the elephant in the room doesn't make it go away.  You need to clear out any and all roadblocks. And if you don't have the right people in place, then you need a clear plan to recruit them.
If you have a minor water faucet issue at home and you can fix it, you fix it.  If it's major and you can't fix it, then you hire a plumber. You need and want specific expertise.
It's no different for securing the right talent—if you have the ability to go out and secure the right talent on your own, then go do it.  But remember, you should be looking to maximize shareholder value—as in a Return on Investment (ROI). And ROI means that you invested either your time or your dollars to get that return.
The old saying is very true: it takes money to make money!  If spending money produces a greater ROI, then you should be figuring out who can help you maximize that ROI.
Just as the legal profession has a spectrum of options from attorneys that focus on contracts to those who focus on real estate or M&A, finding talent has a spectrum of options from entry-level to mid-level positions to executive management.  Entry-level and many mid-level positions are typically engaged on a contingency basis, whereas executive and most key positions are usually done on a retained basis.
Just remember that you are trying to maximize the ROI on this hire.  The right hire can be tremendously rewarding—and the wrong hire can be catastrophic!  If you need help making this happen, then just like that plumbing issue, get it!
Cendea is in its 25

th

  year of securing great talent for great opportunities.  Please feel free to call us at 512.219.6000. Note that with the proliferation of SPAM calls these days, please leave a message for Wade Allen, President & CEO, x101, or  Jim Bledsoe, Senior Partner, x121, and we'll call you right back!
What Startups Need to Know When It Comes to PEOs
It takes some awareness to not get hurt on the playground.
In this months blog, the PEO (Professional Employer Organization) model is explained as well as why startups like the PEO model. From an insurance perspective, what implications does working with a PEO have on your commercial program? Find out how insurance agents and PEOs can complement each other to benefit your startup.
What Is a PEO?
Let's start by making sure everyone knows what a PEO does. In short, a PEO is an outsourcing firm providing multiple services to small businesses. Most PEO relationships are contingent upon becoming the employer of record. This makes the PEO responsible to file Federal and State Unemployment taxes and allows your company to be part of their benefits and insurance program pool. The purchasing power savings are passed along to the company. Top tier PEOs also have sophisticated technology platforms that are pretty slick and very user friendly.
PEOs are best known for providing:
Enterprise level Benefits
Payroll services
Outsourced HR
Compliance
Insurance
Why Do Startups Like PEOs?
Pied Piper and it's VC from the hit comedy Silicon Valley cheering good news.
In talking with startups and VCs, this is why many startups choose the PEO model:
'Turn key' HR solution – startups can turn on the solution with 2 employees and have access to a treasure trove of support with minimal effort.
Outstanding Benefits – most startups are looking to attract top talent. This often includes a requirement for solid benefits. Being a part of a PEO often means a richer benefit package can be offered for the same dollar amount as the open market.
Controlling Medical Renewal Costs– This can be beneficial for easing the increase of medical benefits year over year, often keeping it to single digits. This can also help startup CFOs forecast and make more clear plans for growth.
Outsourcing HR Support and Compliance – this is a big deal for most startups, especially for multi-location organizations. Keeping up with all the employment laws in California, for example, can be difficult. This is where compliance can be critical to a startup's survival.
Scalable – As a company scales, PEOs can handle high growth mode with ease.
Shifting the liability – because of the employer of record letter, the liability is often shifted to the PEO, making it more attractive to VCs, Private Equity and potential acquiring companies. PEOs are often the fiduciary on a 401k plan as well, which can be attractive.
Insurance Coverage: What PEOs Provide and What They Don't
Workers Compensation and Employers Liability –PEOs will provide WC as part of the payroll services they provide for a company. This is great for a company who has multiple locations across the US and certainly beneficial for compliance related issues.
What to watch out for:
Ease of Certificates of Insurance processing – I have run into this with multiple clients where a bank or client is asking for a Certificate of Insurance (COI)
Employment Practices Liability Insurance (EPLI) – PEOs often offer a $1M or $2M limit for this.
What to watch out for:
Limits – are they shared? Often times smaller PEOs will offer a limit, but it is shared with hundreds of other companies. Not good!
Self-insured Retentions – often times the retentions on employment practices liability are pretty high. In some cases, they are $25k or can be as high as $100k. Retentions are not always explained well during onboarding since the focus is on benefits and payroll. Be sure to ask what this means to your company in a sexual harassment or wrongful termination scenario.
Coverage specifics– not all EPLI coverage is created equal. It is important to ask what kind of coverage is included and what is not. For example: is 3rd party EPLI coverage included? The common scenario is an employee making an off-color comment to a client. Find out if the PEOs policy would respond to a claim like this.
It is also important to note they DO NOT provide coverage for General Liability, Errors & Omissions (E&O), Cyber or Directors & Officers (D&O) insurance. You will have to get with your insurance agent on these lines of coverage.
Why Lumen Works Well with PEOs
There are a few reasons Lumen works well with PEOs. PEOs all require their companies to carry general liability and make them an additional insured on the policy. It is nice of our PEO reps to have a resource in the startup community to make sure these requirements are met. The second is Lumen is well versed on what PEOs offer and what they don't. At a minimum we can help our clients ask the right questions, especially when it comes to EPLI coverage. We can complement what PEOs have in place by providing coverage to fill the gaps.
If you are looking to work with a PEO, there are certainly lots of options out there. Find out who best serves your vertical and ask around to find out who your peers use. You might find some consistencies with a few select PEOs to help narrow down the field. You can also reach out to your commercial broker to find out which ESAC (Employer Services Assurance Corporation) accredited PEOs they suggest as well.
About Lumen:
Lumen Insurance Technologies is a tech-focused commercial insurance agency based in Austin, Texas. Lumen is hyper-focused on providing the technology startup ecosystem with quality commercial insurance coverage (e.g. D&O, E&O, Cyber, etc.) following a funding event and beyond.
Check us out on the web at www.lumeninsure.com to find more blog topics, general info, or to get help with finding coverage. Email us at info@lumeninsure.com if you would like to suggest a topic for future blogs.
Connect with us and stay up to date with news from our client base by following us on Instagram, LinkedIn, Twitter, and Facebook.