Community Spotlight
The Austin Chamber is taking action to help people struggling with homelessness.
Working with a range of partners, we have launched ATX Helps — a new non-profit focused on raising money to provide emergency shelter, outreach, and storage for people living on Austin's streets that want help.
To learn more and contribute, please go to www.atxhelps.org.
We all can do more to help our most vulnerable neighbors. ATX Helps was created with a focus on the heart-breaking need of people experiencing homelessness; with faith in the fundamental kindness of Austinites who want to help them; and with confidence that, working together, we can solve homelessness.
ATX Helps seeks to do so by cutting through the noise, putting politics aside, and bringing our community together to compassionately help those with no place to go. It aims to fill the biggest gap in Austin's continuum of homeless services — the need for emergency shelter, outreach, and storage.
READ MORE ABOUT THE INITIATIVE ON THE AUSTIN CHAMBER OF COMMERCE WEBSITE>>
On the morning of April 1st Austin Mayor Steve Adler, Travis County Judge Sarah Eckhardt, ATC's CEO Amber Gunst, Humana's Texas VP Brock Purslow, Amy Foster Texas Beef Council's Nutrition Coordinator, and HealthCode's ED Steve Amos; gathered at City Hall to kick off HealthCode's 6th annual Million Mile Month; a global challenge to engage people to be active and healthy, while supporting more connected communities. Watch the CBS Austin video on HealthCode's blog. We want to give a HUGE SHOUT OUT to the Austin tech community's participation.
By the end of April over 13,600 people from 70+ "states" from around the globe had accomplished 1.2 million miles of activity. Way to go!!!
Check out the global Million Mile Month Leaderboard
There were many amazing stories, but one of the coolest involved ATC's member Humana. Humana has its own innovative GO365 wellness program AND they shared the Million Mile Month with their customers.
THE RESULTS
As a result, nine of Humana's member organizations were included in the top 100 global organizations! Accomplishing over 30,000 miles of activity and burning 1.3 million calories.
Way to go Humana and your amazing members!
Plus, their client the Texas Association of School Business Officials, plans to feature the Million Mile Month and their experience in an article that will go to 850 school districts across the state. How cool is that!
"Humana is dedicated to influencing all communities positively in our communal goal of becoming healthy, happy, and genuinely connected in every aspect of life. We were thrilled to see that so many of our corporate customers, especially in the thriving tech community, not only signed up, but truly engaged their employees in the HealthCode's worthwhile programming. We hope that through this, employees not only continue a healthy lifestyle, but can attest to the holistic benefits of working in the Austin tech scene," said Humana's Brock Purslow.
Congratulations to other Austin Technology Council participating organizations who made the leader board: Humana, Retail Me Not, woom bikes, City of Austin, and Texas Association of School Boards.
No need to wait to next April, join in the fun this July with HealthCode's Triathlon in a Month OR prepare your team for the next Healthcode event – Marathon in a Month. Registration for Marathon in a Month opens August 15. There is no cost to join. Check out information at https://events.healthcode.org/wellness   or contact Steve@HealthCode.Org.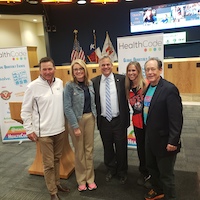 ATC & Thom Singer present the third installment of Cool Things Entrepreneurs Do Podcast: "Serving Small Businesses"
Thom Singer, podcast host, interviews thought-leaders from  ATC Member Companies regarding their unique advice for startups, thoughts on Austin's tech ecosystem, and personal heroes every first Thursday of the month.
John Del Bello, Capital Strategies
John is the Firm Business Development Director at Capital Strategies. He has developed a unique & proprietary platform offering employees & teams  at companies with 5-500 employees Free Financial Education, and Benefits that may include Financial Planning for individuals and any financial services that may not be available through their employer.
John taps into his entrepreneurial experience to help the team, help the company, and help the individual. He is a firm believer in the critical duty to support each other and help direct those in need to find their success as an entrepreneur. Listen in here or go to the episode page at https://thomsinger.com/podcast/serving-small-businesses/
Thom Singer has interviewed over 400 CEOs, entrepreneurs, business leaders, solopreneurs, and others on his popular "Cool Things Entrepreneurs Do" podcast (named on INC.com as one of 8 business podcasts to listen to in 2018). Through these in-depth conversations he learned there is no single thing that holds people back from achieving more, nor is there one solution to reaching the top levels of success.  It is unique for each person.
Capital Strategies is a client- and process-focused organization. Because every financial situation is unique, our professionals strive to be the most valuable advisors who engage in ongoing, collaborative relationships with both our clients, and specialists with expertise, to provide customized solutions.
Interested in how ATC can bring opportunities like this to your company?
Austin Technology Council is our member companies' biggest cheerleader. Our organization is frequently contacted to source thought-leaders for high-visibility media opportunities like:
live interviews with local & national new outlets
guest appearances on radio & video podcasts
community highlights in printed publications
expert speaker/panelist invites to distinguished community events
and many more
Members: email Jessica to tell us about your expertise so we can connect you to the right opportunity
Future Members: email Caitlin to discuss this and more member benefits like it and how ATC can help your company reach its goals.