Categories 1
Walgreens recently announced that they would be closing 160 in-store clinics they had staffed in hopes to make a dent in the traditional healthcare delivery market. This could be positive or negative depending on which stance you take. Many were disappointed as this business model could change the healthcare industry and acted as a sort of disrupter in the market, Others were relived as traditional healthcare delivery prevailed over Walgreens' model.
The company has agreed to maintain 220 clinics which are integrated with the local healthcare systems. This can allow them to tweak their business model and fix the inconsistencies within their execution. Healthcare consumers have seen an increase in the costs of healthcare and companies such as Walgreens, CVS, and Walmart to name a few have stepped in to provide lower costs at a higher convenience for the consumers.
Traditional healthcare providers have voiced concern over the quality of service and accurately diagnosing and treating issues. The crux of the issue is that if traditional providers paid better attention to their patients' needs, they wouldn't be looking for alternatives. It isn't easy to change the mindset of consumers and these businesses coming in to disrupt the traditional system will take time to implement their ideas but can ultimately help countless Americans nationwide. Kupplin helps these avenues to be pursued by providing a variety of IT resources to the healthcare industry.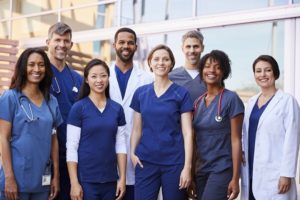 Technology is an ever present facet of society that continues to aid in our advancement regardless of the field. Specifically for nursing, there have been recent innovations that have the potential to restructure the healthcare landscape and ease the pressure that many nurses feel.
Advances such as the EchoNous Vein which provides an immediate image of veins can ease the process for medical practitioners and allow the patient to feel more confident in the care they receive as it reduces the chances of a failed IV insertion. There are now chip monitors as created by the company Admetsys that constantly measure blood glucose levels and can control the amount of insulin or glucose administered through the drip connected to the patient. This eliminates the need for nurses to do the test and saves their valuable time to be used elsewhere. Even the process of monitoring patients has changed slightly through the introduction of the AvaSys TeleSitter video-observation system to aid patient safety and decrease staffing costs. The system allows multiple patients to be remotely monitored and kept in constant contact with a medical staffer for maximum care. This system is unique as it doesn't require nurses to watch their patients 1:1 and allows them to remain working on the floor.
The medical field is growing with creative uses of new technology and medical practices that benefit both the patients and the providers. It's exciting to see the possibilities of better healthcare treatment as different implementations of technology are becoming more and more frequent and positively changing the field itself.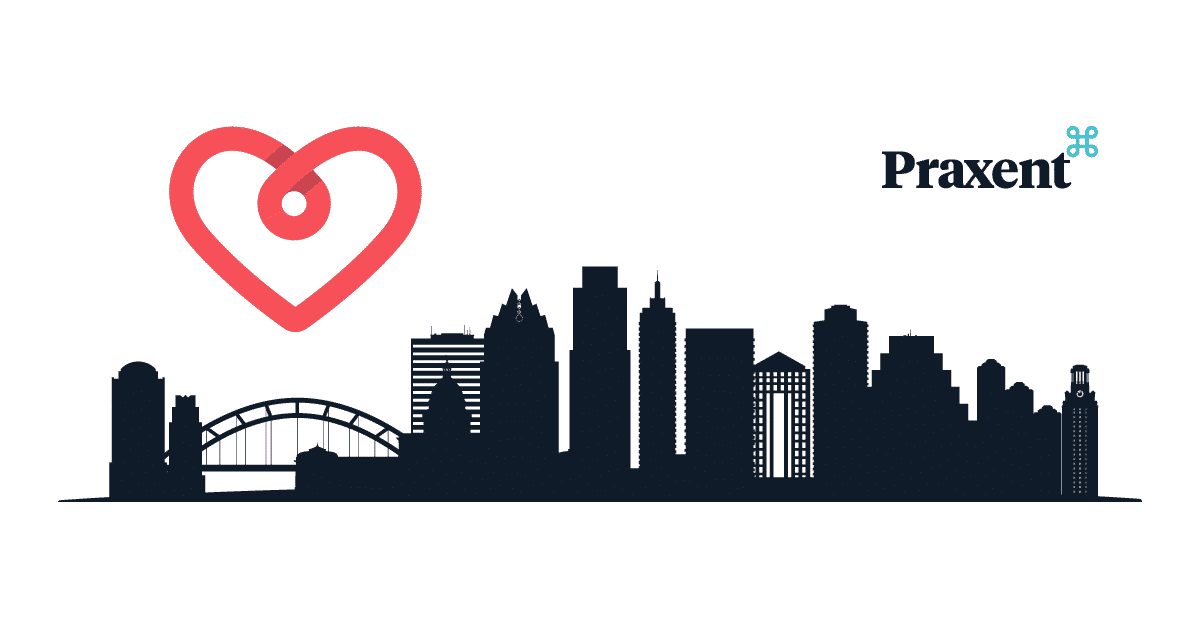 We collected over 100 responses to three survey questions on Twitter to uncover exactly what makes Austin so attractive to the many designers who choose this city for daily life, work and creative inspiration.
Austin has tons to offer designers eager to improve their craft and develop professionally. But what really draws top design talent to this city and keeps them here? Opportunity? Networking? Events that serve as hubs for new ideas and learning? Creative brands and trendy hangouts on every corner?
While all of those aspects of the city make Austin a design haven, our survey revealed that a positive social network of designers, combined with an abundance of inspiration are the top draws to live and work as a designer in Austin.
Several other aspects of the city appear to have a draw as well. Here's what the community had to say on Twitter:
Most Loved Design-Related Events in Austin
We asked designers on Twitter: What is your favorite design-related event in Austin? Results revealed Austin Design Week as a top choice, with the Fresh2Design Meetups and the East and West Austin Studio Tours tying for second place.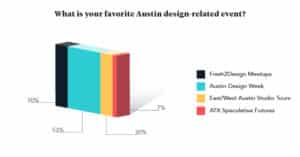 About Austin Design Week
Check out hundreds of locally led workshops, studio tours, presentations and more during Austin Design Week each year in November. Experts from all over Austin offer educational and innovative sessions on everything from visual, interactive, mobile and web design, to product, industrial, civic, fashion and architectural design.
About fresh2design Meetups
A growing group, currently over 2,500 strong, fresh2design is the place to be for community-led storytelling events, happy hours and workshops. The group offers multiple events a month with the freshest ideas in the city.
About Austin Studio Tours
The East and West Austin Studio Tours offer the public a chance to visit neighborhood designers and artists on site in their studios for free. Over a span of two weeks, visitors can engage in self-guided tours, taking in the distinct design flavor of each neighborhood.
Check out the East Austin Studio Tour and the West Austin Studio Tour.
Favorite Austin Design Events: Honorable Mentions
These local events were also called out among the favorites:
Refresh Austin
AIGA Afterhours
Vurv
Service Design, ATX
Austin UXPA
Favorite Part about the Austin Design Scene
Designers weighed in with their thoughts on what makes the Austin design scene so attractive. The top reason was a tie: 31% of respondents said their favorite aspect is the positive and inclusive social environment, while 31% of other voters said the hip, cool vibes make Austin a design destination.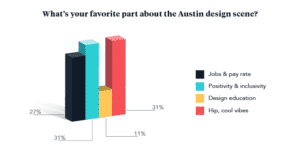 >> Confused by all the different types of designers? Read 8 Designer Job Titles & Why They Shouldn't Matter Much in Your Search for Talent.
Austin's Greatest Impact on Designers
Austin offers more than just a fun, creative atmosphere and excellent networking, it's also an environment that actually challenges and shapes the creatives who work here.
We asked designers, "What about Austin has had the greatest impact on you as a designer?" 61% responded that the inspiring environment has had the most significant effect on them. The intense competition for the best design jobs and the high standards set by the design industry in Austin was voted the second-most impactful characteristic of the city.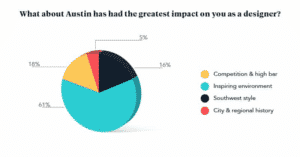 Thank You Austin!
Fresh and upbeat design-related events, a positive and inclusive community, ample opportunities to learn from the best, constant creativity that inspires and challenges designers to grow and innovate, and a plentiful array of high-paying design jobs make Austin a much-loved city by some of the nations best designers.
Perhaps the amount of amazing design talent in Austin has a culminating effect. As more designers move to Austin, the creativity, inspiration and innovation builds on itself, leading to even more fresh ideas and refined skills. Each time the bar is raised, it challenges the competition to outperform itself again and again.
The result is a vibrant, never-dull city of free thinkers and beautiful sidewalks. Welcome to Austin.