Categories 1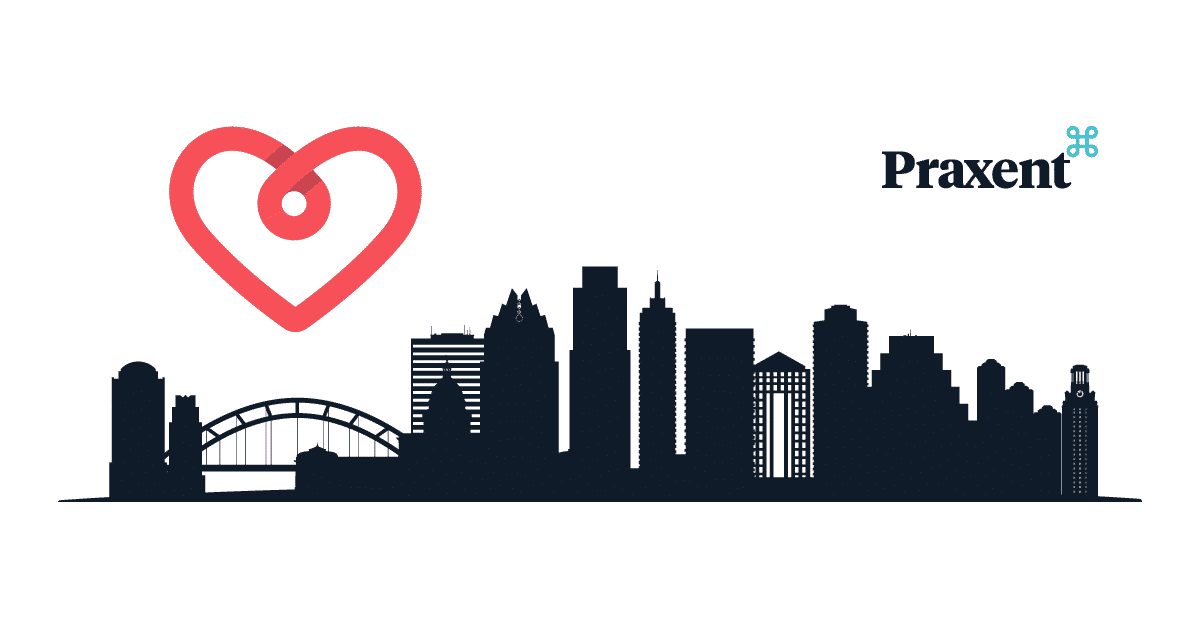 We collected over 100 responses to three survey questions on Twitter to uncover exactly what makes Austin so attractive to the many designers who choose this city for daily life, work and creative inspiration.
Austin has tons to offer designers eager to improve their craft and develop professionally. But what really draws top design talent to this city and keeps them here? Opportunity? Networking? Events that serve as hubs for new ideas and learning? Creative brands and trendy hangouts on every corner?
While all of those aspects of the city make Austin a design haven, our survey revealed that a positive social network of designers, combined with an abundance of inspiration are the top draws to live and work as a designer in Austin.
Several other aspects of the city appear to have a draw as well. Here's what the community had to say on Twitter:
Most Loved Design-Related Events in Austin
We asked designers on Twitter: What is your favorite design-related event in Austin? Results revealed Austin Design Week as a top choice, with the Fresh2Design Meetups and the East and West Austin Studio Tours tying for second place.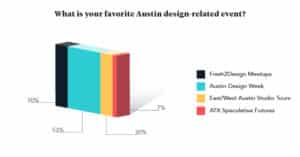 About Austin Design Week
Check out hundreds of locally led workshops, studio tours, presentations and more during Austin Design Week each year in November. Experts from all over Austin offer educational and innovative sessions on everything from visual, interactive, mobile and web design, to product, industrial, civic, fashion and architectural design.
About fresh2design Meetups
A growing group, currently over 2,500 strong, fresh2design is the place to be for community-led storytelling events, happy hours and workshops. The group offers multiple events a month with the freshest ideas in the city.
About Austin Studio Tours
The East and West Austin Studio Tours offer the public a chance to visit neighborhood designers and artists on site in their studios for free. Over a span of two weeks, visitors can engage in self-guided tours, taking in the distinct design flavor of each neighborhood.
Check out the East Austin Studio Tour and the West Austin Studio Tour.
Favorite Austin Design Events: Honorable Mentions
These local events were also called out among the favorites:
Refresh Austin
AIGA Afterhours
Vurv
Service Design, ATX
Austin UXPA
Favorite Part about the Austin Design Scene
Designers weighed in with their thoughts on what makes the Austin design scene so attractive. The top reason was a tie: 31% of respondents said their favorite aspect is the positive and inclusive social environment, while 31% of other voters said the hip, cool vibes make Austin a design destination.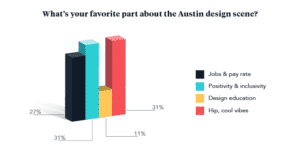 >> Confused by all the different types of designers? Read 8 Designer Job Titles & Why They Shouldn't Matter Much in Your Search for Talent.
Austin's Greatest Impact on Designers
Austin offers more than just a fun, creative atmosphere and excellent networking, it's also an environment that actually challenges and shapes the creatives who work here.
We asked designers, "What about Austin has had the greatest impact on you as a designer?" 61% responded that the inspiring environment has had the most significant effect on them. The intense competition for the best design jobs and the high standards set by the design industry in Austin was voted the second-most impactful characteristic of the city.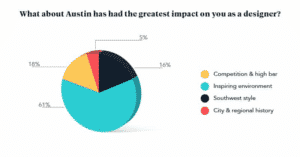 Thank You Austin!
Fresh and upbeat design-related events, a positive and inclusive community, ample opportunities to learn from the best, constant creativity that inspires and challenges designers to grow and innovate, and a plentiful array of high-paying design jobs make Austin a much-loved city by some of the nations best designers.
Perhaps the amount of amazing design talent in Austin has a culminating effect. As more designers move to Austin, the creativity, inspiration and innovation builds on itself, leading to even more fresh ideas and refined skills. Each time the bar is raised, it challenges the competition to outperform itself again and again.
The result is a vibrant, never-dull city of free thinkers and beautiful sidewalks. Welcome to Austin.
As a follow up on our prior blog, The Office 'Non-Denominational Holiday Mixer': Tips for keeping Everyone Safe and Out of Trouble During Company Holiday Parties, we recap the best measures the party planning committee can implement to keep everyone safe during the holiday season. In this blog we focus on keeping the party from getting out of control and getting everyone home safely.
Alcohol and Liability:

The two biggest tips regarding alcohol are:
Use vendors that carry liquor liability insurance and use TABC Certified Servers
Create an environment that encourages alcohol consumption in moderation
Using vendors that carry liquor liability insurance and use TABC certified servers certainly helps shift the liability. Having the party at a reputable bar, restaurant, or hotel will take care of this. If the celebration is at a private venue, and a bartender service is needed, you will want to make sure you ask the right questions. Choosing a bartender service carrying liquor liability shifts the liability off of the company, so be sure to ask for a certificate of insurance (COI) to verify they have liquor liability in place and not just general liability. TABC certified servers are trained to know when someone has been overserved, so make sure the bartender service useS TABC certified servers.
The next tip is to create an environment that encourages alcohol consumption in moderation. We have all been to parties where two or three drink vouchers are offered per person. Clearly this is not foolproof, but it helps set the tone towards consumption. If an open bar is the direction a company chooses, it might be wise to limit the amount of time the bar is open. The longer the party, the more opportunity people have to consume alcohol. Shutting the bar down for about 30 minutes or 1 hour before the party ends is also a good idea.
Get Home Safe!

Making sure everyone gets home safely is by far the biggest concern executives should have when throwing a holiday bash. The best tip here is to do everything you can to facilitate safe rides home. Suggest your employees have a DD or use a ride share. We looked up the link to set up ride sharing vouchers for your event in case you would like to implement:
Here's info about Lyft Events: https://www.lyft.com/events
Here's info about Uber Events: https://www.uber.com/us/en/business/uber-events/
Encourage your employees not to use scooters or electric bikes for a safe ride home. It is illegal to ride them while intoxicated and dangerous to ride at night. Encourage everyone to have a plan prior to the party to avoid any game time decisions. We want to make sure everyone gets home safe…always!

Summary of Top Tips:
In summary most companies have the desire to have fun but be safe. These are the top items founders, co-founders, execs and the party planning committee should consider:
Use third party vendors that have liquor liability and use TABC certified servers
Make it an environment that moderates alcohol consumption
Encourage everyone to have a plan for getting home prior to the party
Encourage the use of a ride share
Don't ride scooters or electric bikes after drinking at night
Bonus Tips:
CEOs: Don't go to the afterparty…ever!!!
Chat with your legal counsel about your liability and agent if you have questions about coverage for your holiday party.
ThreatWarrior, a leader in AI-powered network threat analysis, announced today that it has established a partnership with Involta, an award-winning national IT service provider and consulting firm.
The partnership combines ThreatWarrior's Cyber Immune Response™ technology with Involta's diverse IT and security services, bringing enhanced defense and hybrid IT capabilities to clients nation-wide.
"With cybercrime increasing daily, it's critical businesses have advanced technology to defend themselves, and also the support to manage and execute their defense strategies," said Pete Slade, founder and CEO of ThreatWarrior. "Through this partnership, Involta's customers will benefit from AI-driven cybersecurity and hybrid IT intelligence, helping them remain diligent in the fight against ever-changing cyber threats."
Leveraging advances in behavior analytics and machine learning, the ThreatWarrior platform detects and neutralizes threats in real time. It utilizes multiple engines to decrease the complexity of cyber defense, helping organizations of all sizes identify and respond to network anomalies. With ThreatWarrior, businesses can expedite and enhance how they handle cyber threats.
"The integration of ThreatWarrior within our SOC services portfolio is very exciting for Involta. It allows us to provide next generation security solutions for our clients that need advanced, alternative ways to detect and respond to threats inside their network," said Annalea Ilg, CISO of Involta.
The partnership will accelerate adoption of the ThreatWarrior platform and provide significant cybersecurity advantages to Involta's national clientele.
About Involta:
Involta is an award-winning national IT service provider and consulting firm. Involta helps organizations plan, manage and execute hybrid IT strategies using a broad range of services, including colocation, cloud computing, managed IT, cybersecurity, fiber and network connectivity. Involta has industry-specific services for healthcare, manufacturing, financial and technology, and delivers advanced hybrid IT solutions while maintaining its brand promise of Superior Infrastructure, Operation Excellence, and People Who Deliver.
About ThreatWarrior:
ThreatWarrior is lowering global cybercrime by democratizing advanced cybersecurity, making it possible for all organizations to defend themselves. The cybersecurity platform combines adaptive AI, network traffic and behavior analytics, incident forensics and response in a single solution to protect businesses from constantly-evolving cyberattacks. With ThreatWarrior, businesses can predict and eliminate cyber threats before they've caused damage. To learn more, visit https://threatwarrior.com, and follow us on Facebook, LinkedIn and Twitter as we deliver cybersecurity to the masses.