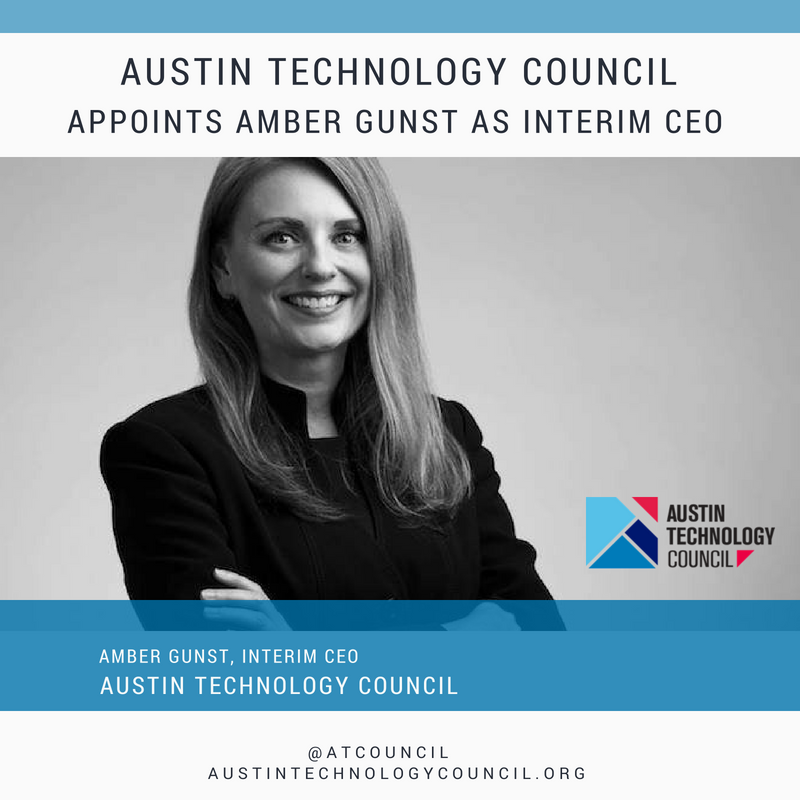 Austin Technology Council Appoints Amber Gunst as Interim CEO
The Austin Technology Council (ATC) is pleased to announce that Amber Gunst has been appointed their Interim CEO.
Mark McClain, CEO & Founder of Sailpoint and Chairman of the Board of ATC, notes that ATC was able to accomplish several key objectives under the leadership of Brunner. "We have refined and refocused our offerings to member tech companies, most of whom are established and scaling companies, assisting them as they grow their businesses and expand their markets.  As the voice for this largest segment of the tech community, ATC is committed to helping Austin grow its established tech companies to become next generation leaders in the market. We are grateful to Barbary for her contributions and wish her well on her new role."
Gunst will now continue to implement ATC's mission and gave the following statement on her new role: "I am honored to continue the great work ATC has done under Barbary's tenure, and look forward to further increasing ATC's support for our member companies, along with reinforcing the close relationships we have developed with our community partners. The programming we have created supports our goal of growing 10 Austin-based tech companies to their first billion in revenue, and another to 100 companies to $100M is key to growth in our community. My mission is to keep ATC and our members at the forefront of Austin's future."
Gunst first joined ATC in the role of Head of Sales and Membership Services and worked alongside Brunner and the leadership team to craft a new vision for member engagement and growth. Their efforts resulted in doubling membership in less than a year while also significantly increasing the retention rate of our current members.
She is starting her new role after an impressive 20-year career in sales and business development. She is an expert in member association sales and services, having spent four years at the Greater Austin Chamber of Commerce, where she was the top sales and retention leader of all Chambers of Commerce in the state of Texas. She ranked in the top seven nationally in sales of Chambers with revenue over $1.5M. Directly prior to her role at ATC, Gunst worked for a global staffing firm where she was responsible for client development and management and consulting staff management. This role allowed her to develop a strong understanding of the talent and staffing needs for our region's tech companies. She also serves as a mentor for the Founder Institute's global accelerator program.
"Amber is a natural choice to immediately step in to continue the plan we have created to help grow Austin tech companies. I have no doubt that she will provide enormous value to our member companies, and the tech ecosystem as a whole for Austin. I'm looking forward to seeing ATC grow even more under her leadership," said Brunner.
---
About Austin Technology Council (ATC)
The Austin Technology Council (ATC) is the voice of Central Texas' diverse and thriving technology and life sciences industries, representing more than companies and more than 60% of Austin's tech workforce. The Austin technology sector contributes $22.3 billion annually to the regional economy and supports more than one third of local jobs. By convening Austin's top technology leaders, ATC is leading the effort to meet the future needs of the industry through increased access to capital, new and diverse technical talent in the region, mentorship for emerging companies, and connectivity across the industry and with key stakeholders in Texas and around the world.  For more information, please visit www.austintechnologycouncil.org.